Any child of the 1970s likely spent some time drooling over a Heroes World ad, if you are a Mego collector, you probably still do. In those pre internet days, those beautifully drawn pages were the only evidence that certain toy lines existed. Nothing spread the word about Super Hero merchandise like a Heroes World Catalog. We here at the Mego Museum wanted to pay a little tribute to this wonderful operation: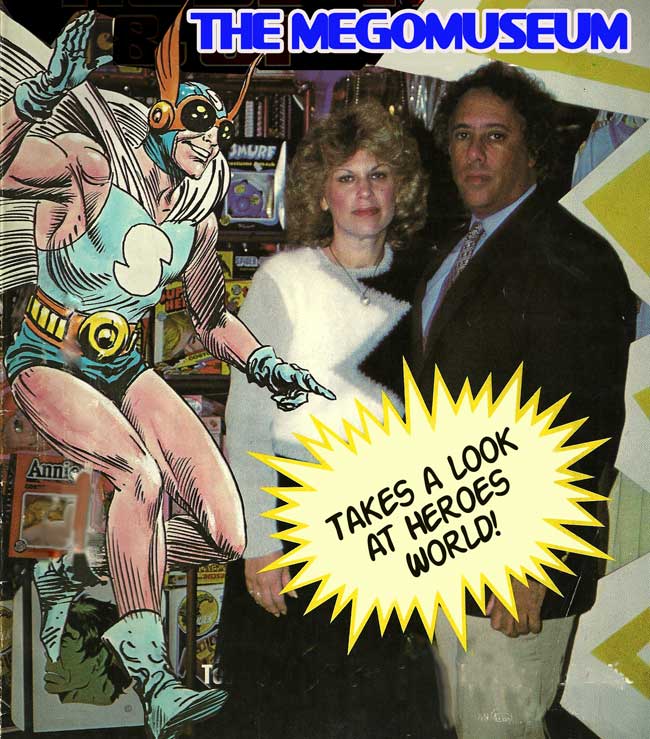 By Brian Heiler
Heroes World was started by Ivan Snyder, a CPA by trade who while working for Cadence (who owned Marvel Comics at the time) started their mail order division in the early 1970s.
While every ad in comics was devoted to children, Snyder explained in a 1982 interview "Nobody had done anything specific to the comics such as a Spider-Man doll. The licensing department of Marvel reported to me. When I was there (in 1972) it was in infancy."
Sndyer contacted Marvel licensees such as Mego and Durham to check on the availability of toys and novelties. He placed ads for these items in the comics themselves and drew unexpectedly strong response.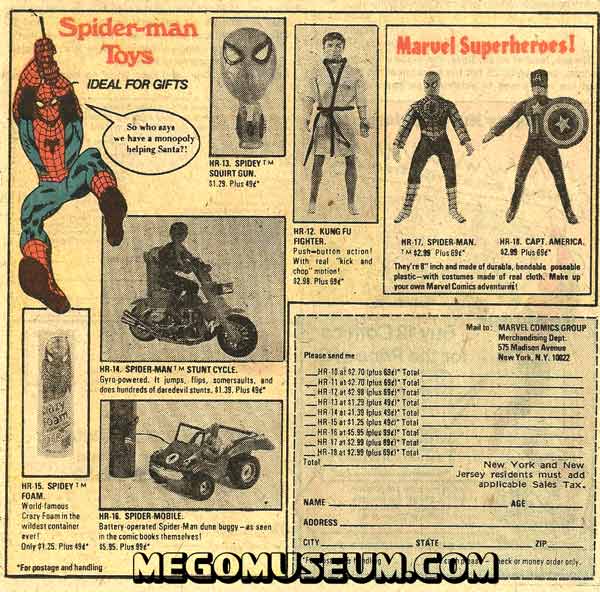 Above: Early Marvel Comics Merchandising Ad put together by Ivan Snyder, note the fact that he's selling circle suit Spiderman figures.
However, after Marvel had a change in management in the mid 1970s that no longer wished to pursue mail-order. Snyder decided to buy the business. In 1975, Superhero Enterprises was born with its first location being the basement of the Snyder home.
Not much later the company relocated to the Morristown, NJ. The first store was set up like a catalog showroom store, a customer entered looked at what was on display and an employee would fetch the merchandise from the back.
The success of the retail location spawned a second outlet, this time in a Livingston, NJ shopping mall. At this time an agreement was made with DC comics and now both houses were carried by the growing chain.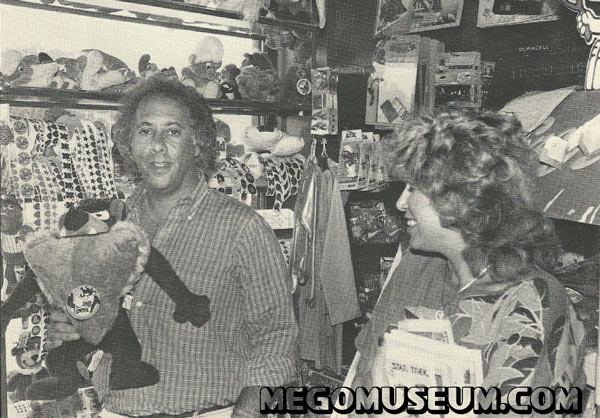 Above: Snyder poses with a familiar plush doll while his wife looks on, you can see all sorts of fun stuff in the background.
Due to the fact that the term "Superhero" is owned by the big two companies (After it was purchased from Mego) the Snyders changed their business name to "Heroes World" after being granted permission by the big two for the word "Hero".
The early days had the Snyders recieving numerous calls for "Batman" sometimes ten times a day, the Snyder's humoured these people as many seemed to be sincere!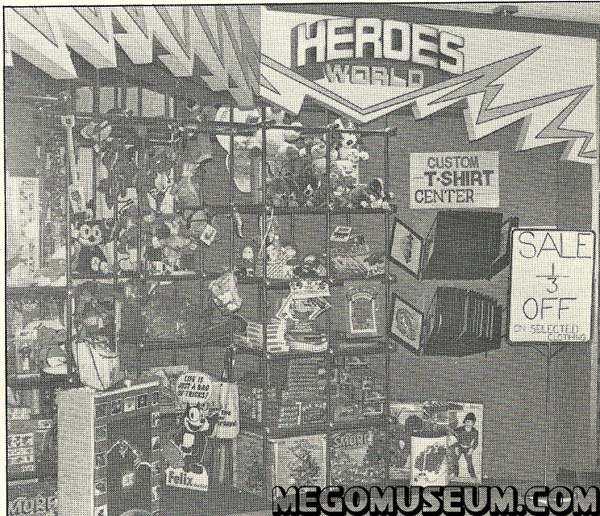 Above: A Heroes World outlet, as a kid I always wanted to see one of these.
Snyder kept a close eye on trends in his fad orientated business, he didn't increase buying Superman items when the movie came out but was quick to jump on Smurfs. He considered Star Wars to be the most successful for the HW chain and considered their items "Basic stock". While the Heroes World chain bought smart for the most part, Snyder mentioned in a 1982 interview he'd made a few blunders "For example" he mentioned " We bought Battlestar Galactica".
By 1982, the HW chain consisted of 12 stores, ten of them in Mall Environments. Initially Mall agents didn't want to rent to Heroes World stores but changed their tune when it was shown just how much traffic they were generating.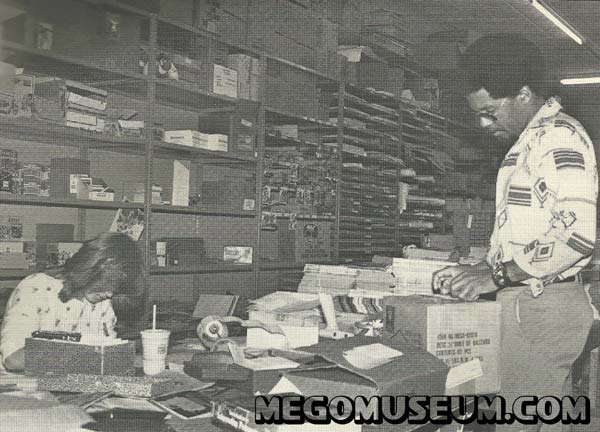 Above: Heroes World employees pick and ship lucky customers mail order items.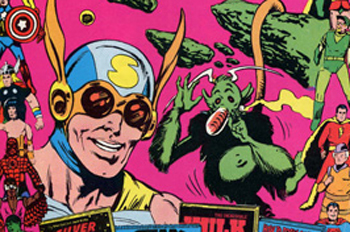 The Heroes World Catalog was produced in conjunction with the Joe Kubert school of art. Kubert and the Snyders collaberated on their hero "Snyder-Man" who Snyder described as "A Super-Hero in his own right who fights bad toys and guides readers through the pages of the catalogue." Snyder-Man is accomponied by "Snidey" his green furry sidekick.
In 1995, Heroes World was purchased by Marvel Comics, the company it spun out of some twenty years earlier. It was the end of a great era of Super Hero Merchandising.
Thank you Ivan Snyder, you made the 70s a better place.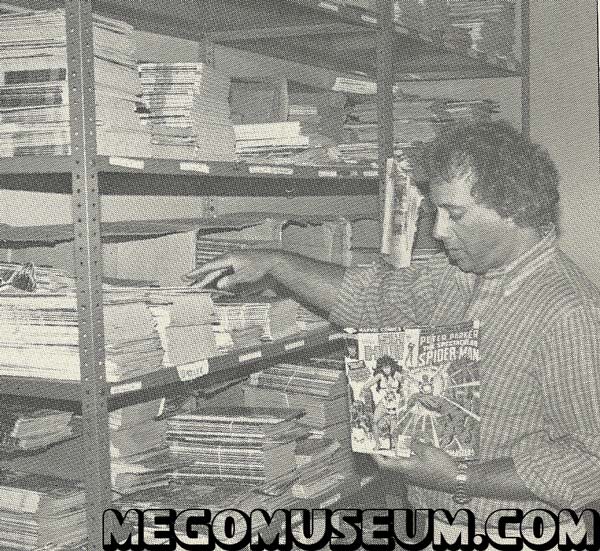 Snyder shows off some #1 issues that he sells through his catalog.
Visit the Mego Museum Heroes World Ad Gallery
Got a Heroes World Memory you'd like to share? Visit the MegoMuseum Forums and have your say.