Planet of the Apes Treehouse and Fortress Playsets. Photos provided by Calvin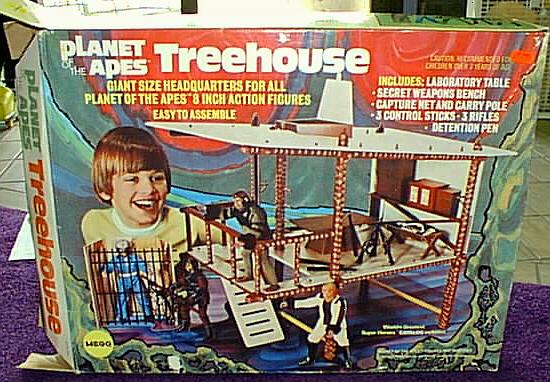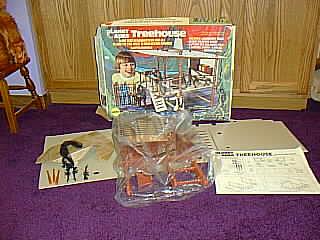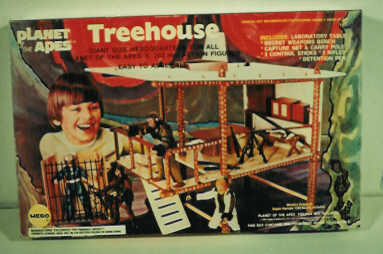 The Canadian Treehouse Box (top) is actually smaller and a desired variation.
Treehouse came with:
house building (vinyl over cardboard) with "fold down" staircase
Work Table (vinyl over cardboard)
Capture Net
It also had a set of 3 rifles and 3 "control sticks"and a Jail Cell.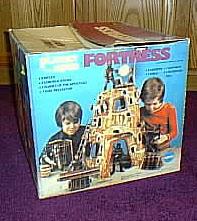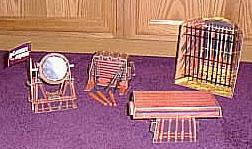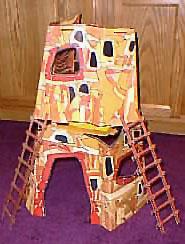 Fortress - included:
2 story fortress structure, with "floor" between them (glossy finished
cardboad)
"Sun reflector" and POTA flag (paper flag on wooden stick) which goes on top
Jail Cell, small, holds 1 or 2 (cozy)
Work Table (cardboard)
"Gun Rack"
2 Ladders
3 rifles and 3 "Control Sticks" which all fit on
the "gun rack".

Rare Planet of the Apes Rock Launcher which was only available as a separate piece in the UK (ala Brain)

mego