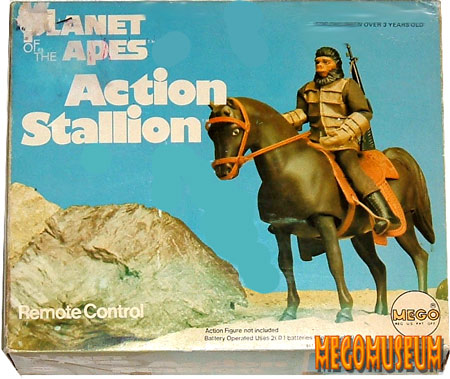 Planet of the Apes Action Stallion
Mego did a fair bit of recycling from Action Jackson to the planet of the apes line, from the M16's to the Astronauts entire wardrobe. The Action Stallion however is one bit of recycling that made a terrible amount of sense. Horses played such a major role in the series that this piece is essential to a Mego Planet of the Apes collection. Note that the front of the box features a prototype Mego Soldier Ape.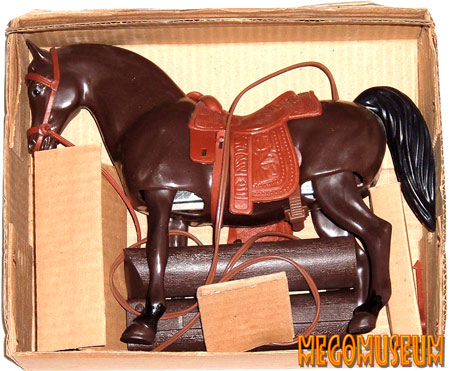 Mego would continue to use this horse logically in other lines such as the Super Knights , Dinah-Mite and the Western Heroes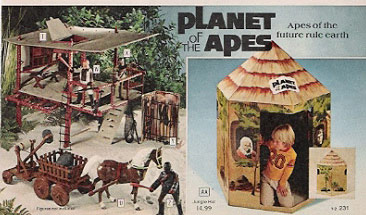 The Action Stallion from the 1975 Sears Catalog, for more on this check out the Mego Christmas Catalog Section of the Museum.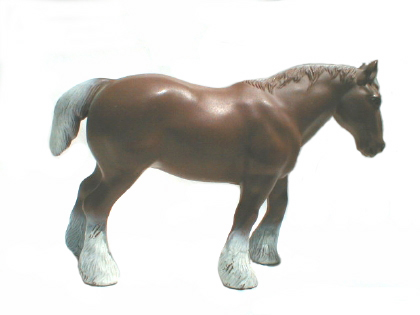 There is a second Apes Horse! Parkdale Novelty (Canada) and Cipsa (Mexico) released this non articulated horse with the Catapult and Wagon set. This Horse was also proposed in 1976 as part of the Mego Waltons line but it never materialized.(Courtesy of ABMAC)

mego