DareDevil was another Marvel favorite that despite being created in the silver age, never got the 8 inch Mego treatment in the 1970s. To be fair, the character hadn't quite had the media exposure that superheroic peers like the Hulk and Thor had at that point. Mego heads for the last 30 years or so,  have been relying on their own custom versions of Matt Murdock.
Flash forward to today, times have changed and DD has enjoyed a string of popular comic adaptions, a feature film and is now the star of his very own and popular TV series.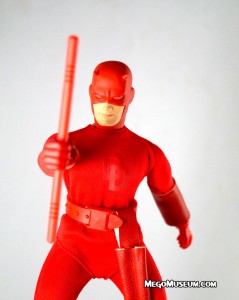 He is truly the perfect subject for a Diamond Select/EMCE toys Mego style set and one that has been greatly anticipated on the Mego Museum Forums.
While we try to do these Up Close reviews as subjective as possibly, leaving the decision making up to you opinion, a few thoughts:
1) The heads are squishy vinyl! While the solid cast heads never really bugged us here at the MM, this was a subtle and appreciated detail that made it seem a little more retro.
2) The head sculpts are again by Andrew Covalt, giving this Marvel universe a sort of uniformity that is greatly appreciated as it expands.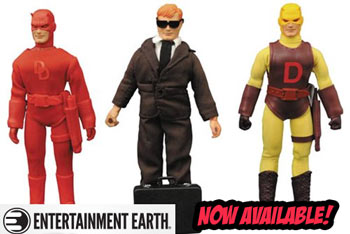 3) This set is available for purchase at our sponsor Entertainment Earth, all purchases go to fund the Mego Museum in a small way and are greatly appreciated.
Anyway, as with all our Up Close photo reviews, let the pictures do the talking and you be the judge!