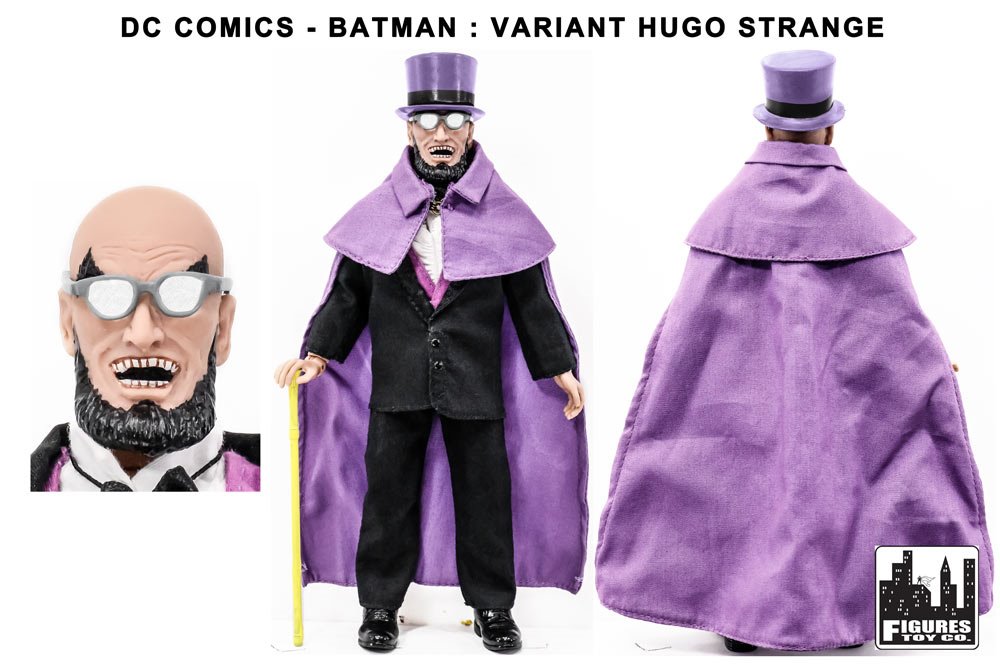 Capitalizing on the buzz of their recently released Batman Retro Series 6, Figures Toy Company is ready to reveal the cast of characters for upcoming waves based on the world of the Caped Crusader. In today's #MMFTCNEWS, FTC is giving you your first look at one of Batman's most formidable foes, Dr. Hugo Strange!
Not only does FTC have plans to debut Strange in an upcoming edition of the Batman Retro Series, but as you can see by the enclosed image, the one shown here is a variant version of the sinister scientist! This version of FTC's Huge Strange figure is dressed in a black suit with a purple cape and top hat, and comes with a cane accessory. His maniacal laugh has also been captured perfectly for the figure's head sculpt. This is a figure that will look great doing battle with Batman, or on display with the rest of the rogues from the Retro Series!
You can expect Huge Strange to see release some time in 2019, but there is an amazing amount of new items to keep you busy until then! www.figurestoycompany.com has just stocked all new assortments of retro figures, from the new US Presidents line, more releases from the Scooby-Doo series, and DC Comics characters like Man-Bat, Cheetah, and the Super Friends style Joker! There's still plenty of time to get some of these figures for Christmas, so make the collector in your life smile with some new figures from FTC's popular retro lines! If Hugo Strange is any indication, 2019 will be another year of big releases for Figures Toy Company, so be sure to join us every Friday for exclusive #MMFTCNEWS to see what else you can expect in the new year!