Our new friend Thomas sent in some vintage scans of Action Jackson being offered in Danish Toy Catalogs, the one above is from 1974.
The year that might be the most interesting is 1975 which plainly features the European exclusive (and AJ collector holy grail) Royal Guard outfit, which for years we at the Museum believed was exclusive to Holland.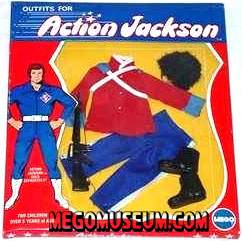 Even more interesting is Thomas's mention that the outift bears a striking resemblance to the Danish Royal Guards. Perhaps it was created strictly for this market? Hopefully some day, we'll find out.
Related posts: