ACTION JACKSON : ORIGINAL ACCESSORIES AND KNOWN REPROS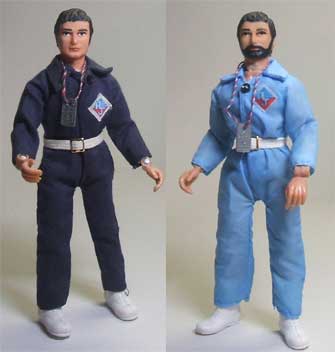 Bold adventure may be his game, but consistency is not. When trying to list what comes with what AJ set, there are tons of variations. Some suits came with different items over time, and some were redesigned. Variations abound with AJ accessory sets, especially since they were released under different names at different times. As a result, we've taken packaged AJ suits, removed them and cataloged each piece present in the sets we had. However, some items vary in some sets, which will make this section a work in progress for a while. If you have an item not pictured, please let us know. We'd love a pic of the variation to add to the section. Email dave@megomuseum.com.
Right now the this section contains information on the boxed sets. The carded sets are harder to come by, and as we get photos of those parts we will add the carded sets to Accessory Check. So far only a couple are represented. If you have these loose and would like to help out, please email dave@megomuseum.com.
Action Jackson and his accessories have not been reproduced. However, some factory reproduction pieces exists because they were available on other figures that were reproduced. Those have been noted, but for the most part, the AJ section has less description and comparision of parts, and is more a checklist of accessories.
A quick note on emblems. Most AJ sets have the AJ emblem sticker somewhere stuck on a piece of uniform. Some on a hat, some on a shirt, etc... These stickers often fall off in the packaging making it appear the piece came without a sticker. Often, the sticker simply was never there in the first place. It is difficult to determine what ALWAYS had a sticker and what sometimes had a sticker. Therefore we have chosen not to mention whether a piece should or should not have a sticker in the Accessory Check pages since it is very probable that the stickers were often omitted in the factory. Most commonly, there is a sticker on the chest of each uniform.
Special thanks to Paul Clarke who provided the AJ sets for photography.