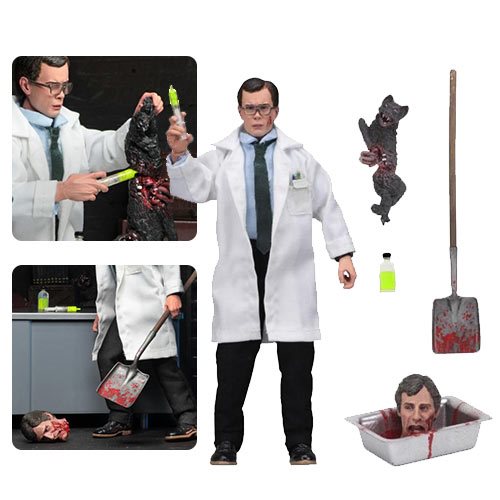 Horror fans rejoice, NECA has some wonderful 8″ scaled terrors for us.
First up Re-Animator Herbert West was teased a couple of months ago but is now available for pre-order.
As a clothed action figure, Herbert stands 8-inch tall and is dressed in his lab coat. He comes with a bottle of reanimation reagent, syringe, bloody shovel, Rufus the cat, and a tray containing the severed head of the last guy who tried to steal his invention. The Re-Animator Herbert West 8-Inch Cloth Action Figure comes in a resealable clamshell packaging.
Herbert West has a good head on his shoulders… and another one on his desk… From Re-Animator, the movie based on HP Lovecraft's classic tale of terror, NECA presents the mad scientist Herbert West in action figure form! The 1985 movie has achieved cult status for its dark and hilarious mix of science fiction, horror and comedy, and starred Jeffrey Combs as a medical student who will stop at nothing to perfect his reanimation serum.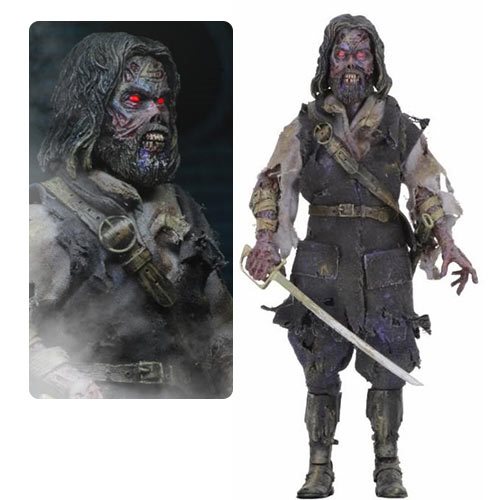 From the cult classic 1980 John Carpenter movie "The Fog" comes this wonderful surprise in the form of this 8″ Captain Blake figure.
Bolt your doors… lock your windows… there's something in the fog! From John Carpenter's 1980 horror film
The Fog,
the vengeful ghost of
Captain Blake
joins NECA's clothed action figure line. Blake is dressed in tattered fabric uniform and comes with a sword accessory that fits in a sheath at his belt. Blister packaging with resealable protective clamshell features artwork created just for this release.