by Brain Heiler
Mego- A name synonymous with "Superhero" in the 1970s and certainly one of the pioneers of licensed action figure success, while they are no longer, their formula and creativity live on today (hey, you may have heard, we're fans).
While the World's Greatest Toy Company had an incredible, unprecedented amount of success in the 1970s and 80s with the stable of characters from both the houses of DC and Marvel, there always is going to be something that just didn't make the cut.
Here are our ten favourite Superhero items that we never got to play with: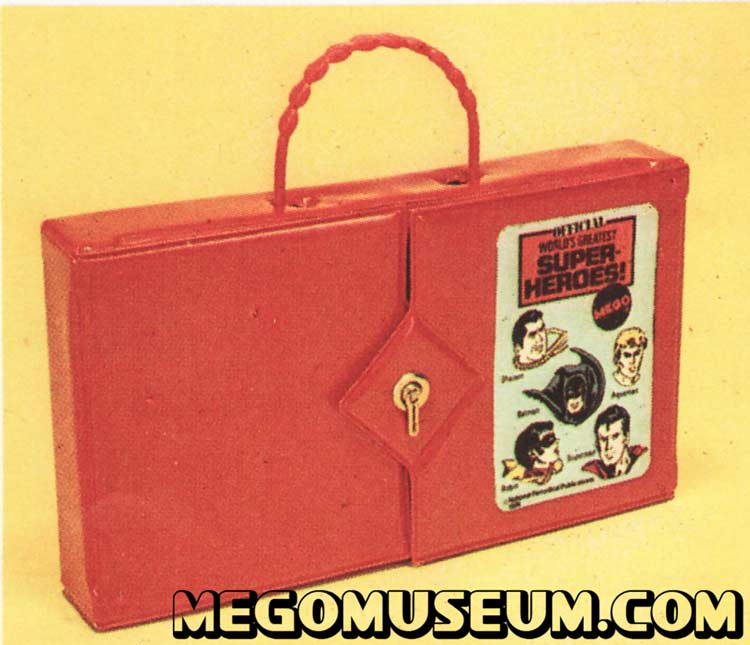 10) Bend N Flex carry case (1974)
The Bend N Flex World's Greatest Superheroes were a lower cost alternative to the regular 8″ figures and in 1974 Mego pitched a carrying case to carry all your rubber good guys and bad guys in.
Why it didn't make the cut- It was probably a case of "one case too many" for buyers, Mego was also pimping a carry case for the 8″ World's Greatest line and well, you could put them all in the same one!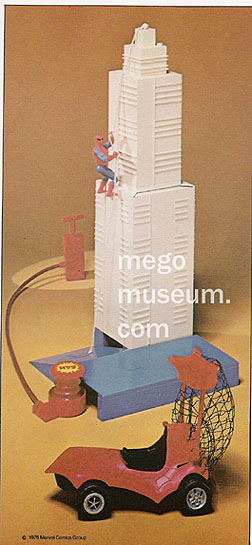 9) Spider-Man Exploding Tower (1977)
The Comic Action Heroes line was created so Mego could offer more elaborate playset environments for the Superhero concept. This particular playset involved Spider-Man trying to stop a building from exploding, which I guess he fails to do. It also included the Spider-Car which was a big hot when introduced the year previous in the 8″ "World's Greatest Superheroes" scale.
Why it didn't make it- The playset was pitched a year after the debut of comic action heroes and sales of the initial offering probably didn't warrant a new higher cost item to be introduced. The following year, the CAH Spider-Car was offered in a scaled down gift set that would remain a Mego staple until the early 80s.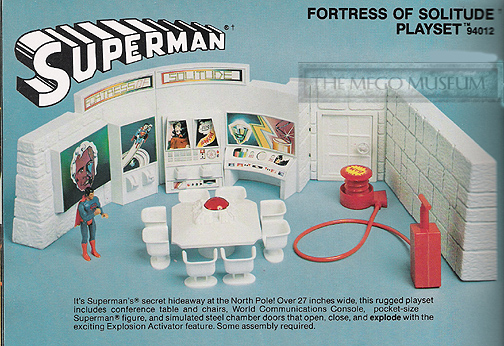 8) Superman Fortress of Solitude Playset (1979)
Pitched for the 1978 debut of "Superman the Movie", Mego had re-purposed a number of Comic Action Heroes playsets in hopes of catching the expected heat from "Supermania"
Why it didn't sell- In the toy industry, this is often called "Label Slapping" meaning that Mego had the molds and just repainted the existing toy and hoped it would sell. Toy buyers likely still had an inventory of the previous Comic Action Heroes sets and passed.

Shop at the Mego Museum Red Bubble store for amazing Mego inspired designs, all proceeds go right into our bandwidth fund.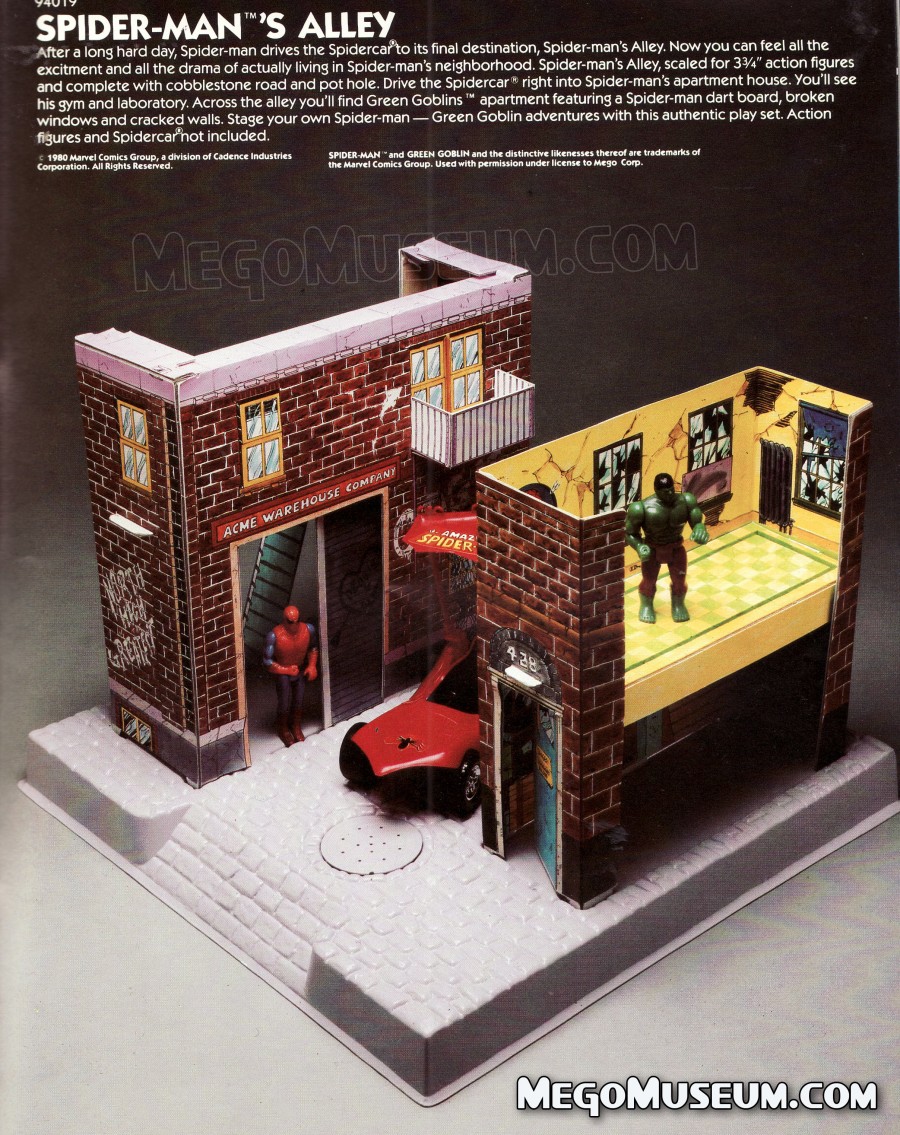 7) Spider-Man's Alley (1980)
The Mego Pocket Super Heroes line sold well enough that they explored making this Playset where Spider-Man and Hulk could have adventures in a filthy neighbourhood.
Why it didn't get made- To be frank, it's not very terribly interesting is it? Mego didn't even give Spider-Man his own lair complete with computers and crime lab, just a dingy apartment. As concepts go, this one was pretty soft and it's not surprising that buyers chose the Batcave over this.
6) Superman the Movie 12″ Playset (1978)
Pitched in the 1978 Catalog, this "3-way action" (yikes) playset environment featured a series of backdrops, the Fortress of Solitude, Jor-El's lab on Krypton, Luthor and Zod's evil lair and the Metropolis skyline.
Why it didn't get made- The set is not one of Mego's stronger efforts, it appears to be made entirely of cardboard and features little to no play value for a child.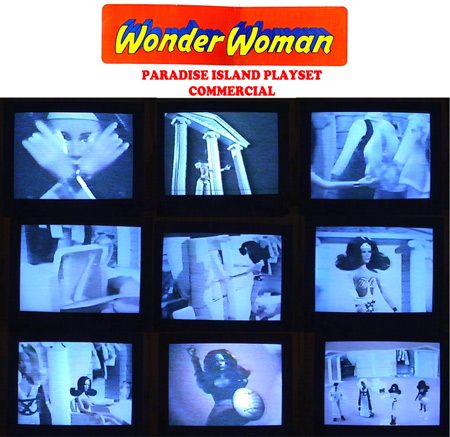 5) Wonder Woman Paradise Island Playset (1977)
This playset for the Wonder Woman line included a paradise island throne room that Wonder Woman could actually destroy. Not sure why she's wreck her mom's place like that but….fun!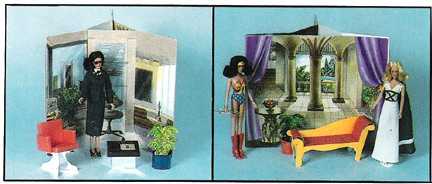 Why it didn't get made– Mego tried twice to produce a playset for the 12″ Wonder Woman line, this deluxe version in 1977 and then a lower cost item similiar to the Superman the Movie piece in 1978. Both times the product was shot down. Despite the popularity of the series. It's really hard to say why it didn't get picked up, perhaps with so many other competing toys like the Bionic Woman and Mego's own Cher vying for the same shelf space, Wondy simply lost out?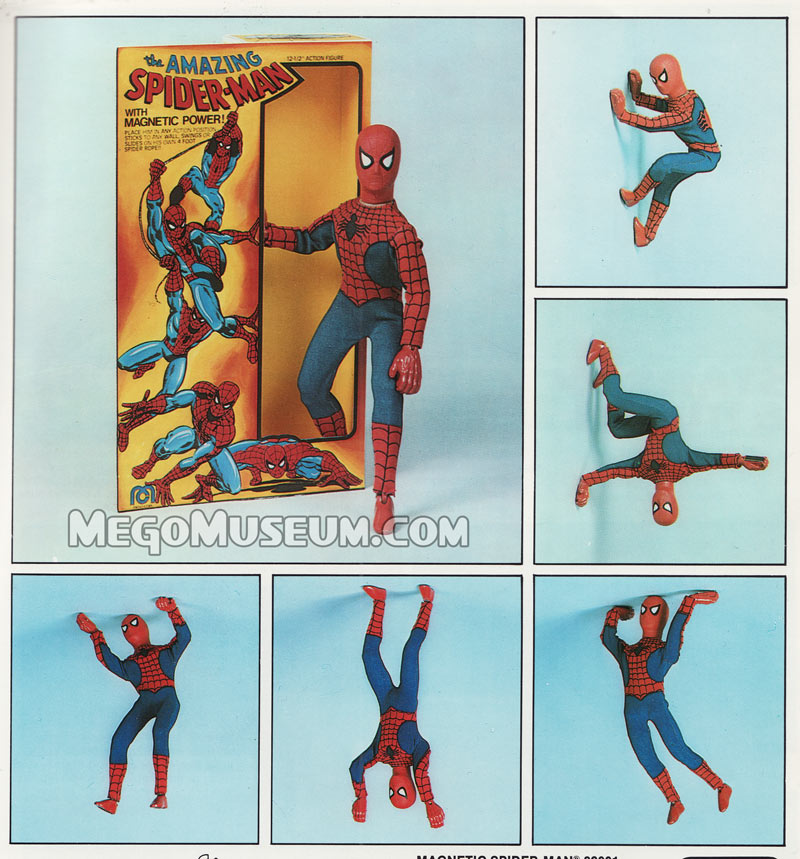 4) Magnetic Spider-Man (1978)
A Spider-Man doll that actually stuck to stuff, well duh, what kid wouldn't want that? Well, it never happened.
Why it didn't get made- According to our records, it seems Mego seems to have done a bit of a 180 turn on this figure. It was offered in the 1978 Toy Fair catalog but when their 1978 Spring Supplement came out a month or so later, the 12″ Spider-man was no longer magnetic and was on a card (see below). He was the only 12″ Hero Mego offered in such packaging….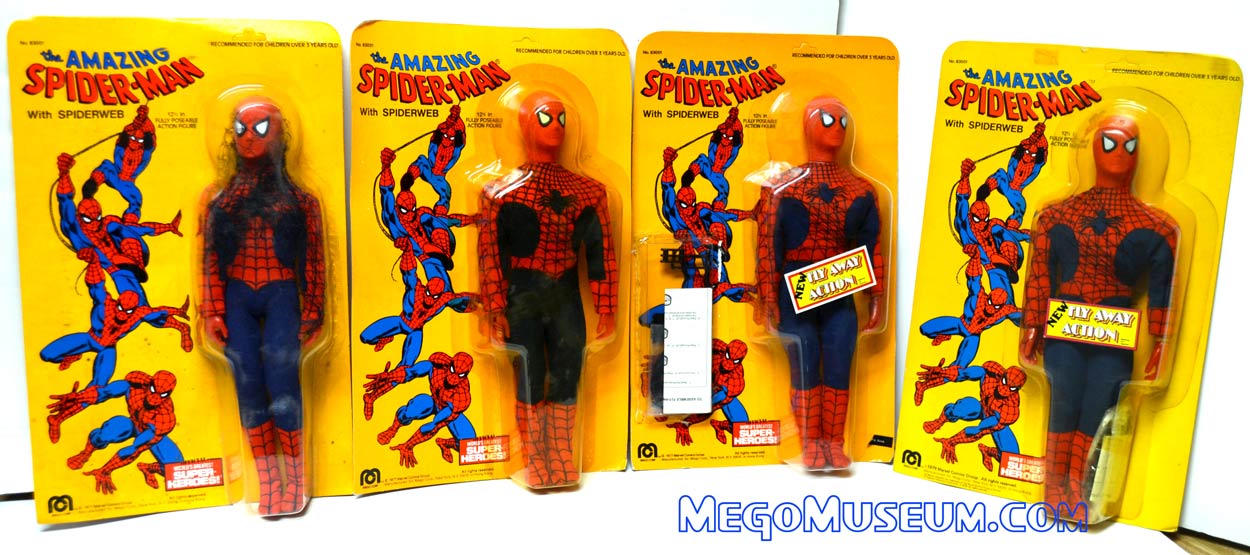 The best theory we can think of is, Mego had started developing the "Web-Spinning Spider-Man" concept that they launched later and thought that would make the better "deluxe" concept. So instead, they swapped magnetic Spider-Man with a lower cost version as a placeholder of sorts and judging by the look of things, sold a bundle of them. We may never know if that's accurate.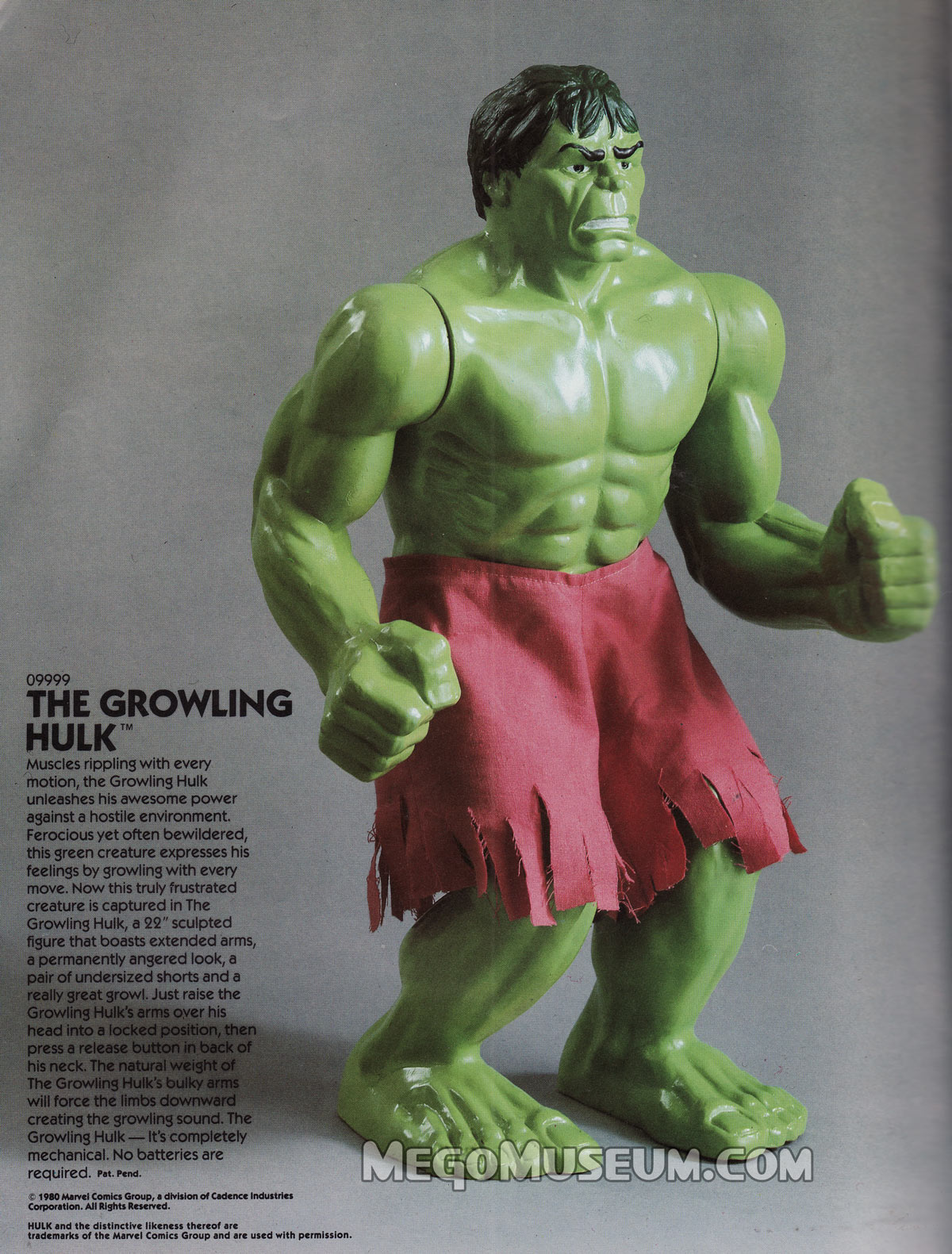 3) The Growling Hulk (1980)
Pitched in the 1980 Mego Catalog, this deluxe hulk stood 22″ tall, had very little articulation and made growling noises when you raised his arms and pushed the button at the back of his neck.
Why it didn't get made- In 1980, competitors Remco and Funstuf both had large Hulk figures that had special features on the market already. It's likely Mego created this likely expensive figure as a way to combat competition but alas it was probably a case of too many Hulks.

Shop for Mego on Ebay and each click supports us a little bit, thanks!
2) 12″ Mr. Fantastic (1976)
Parkdale Novelty and Mego teamed up to create the first wave of 12″ Superheroes in 1976, the Marvel packaging famously featured two heroes that were not in the first wave Captain America and Mr. Fantastic.
The inclusion of Mr. Fantastic went worldwide and he appeared on packaging in France, Italy and the United Kingdom leaving children puzzled globally as to if he ever got made.
Why it didn't get made- When we spoke to Lorne Kotzer, son of Parkdale Novelty head Morris Kotzer, he revealed that he didn't know of any plans to make Captain America or Mr. Fantastic and they were likely just placeholders on the packaging (the DC packaging also featured three characters). While Mego would eventually make a 12″ Cap to coincide with his newfound TV success, our Stretchy hero never even got on the drawing board.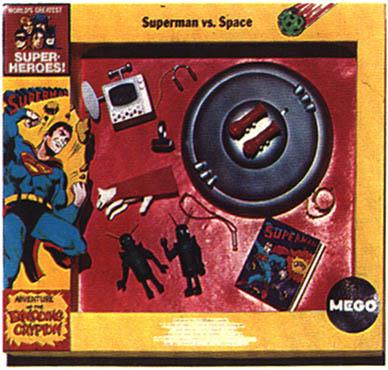 1) Superhero Adventure Sets (1974)
In the early days of the World's Greatest Superheroes Mego pitched a concept of different adventure sets for characters. This "Razors and razor blades" approach was common in boys action figure lines at the time, so much so that these sets borrow some pieces from GI Joe and other toy lines like Captain Action.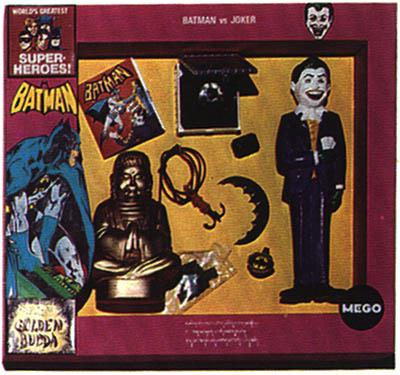 Why it didn't get made- While the World's Greatest Superheroes were white-hot sellers, these concepts seem to be a bit of slapdash effort. Mego seemed to change their direction and focus on playsets and vehicles to complement their figures, so it's possible the idea was altogether abandoned in favour of that avenue.
Discuss this on the Mego Museum Forums!