A common question among travelling Mego collectors is "Any places to shop when I'm on vacation?" So we thought it was time that the Museum and it's members compiled the ultimate listing of vintage toy shops around the world. Did we miss your local haunt? Fill out the form below and tell us, we'll add it to the directory.
Toy Anxiety
10210 N. 32nd St. Suite B3
Phoenix, AZ 85028-3827
(602) 308-0292
Large selection of new and vintage action figures, including > Mego and Classic TV Toys.
Frank and Sons
19649 E San Jose Ave
City of Industry, CA 91748
(909) 444-7955
Over 150 of the Finest Collectible Dealers under One Roof!
Emerald City
249 Seminole Blvd.
Seminole, FL 33772
727-398-BOOK
A pretty great selection of toys both modern and vintage. Mego content ranges from original MOC figures to a wide selection of customs and reproduction figures. Well worth a visit if you're in the Tampa/Clearwater area.
______________________________________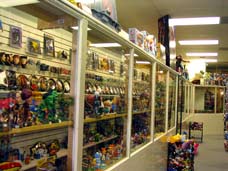 Acme Super Store
905 E State Road 434
Longwood, FL 32750
(407)331-0433
Open since 1980, Acme Super Store almost resembles a grocery store with it's wide aisles full of toys, both recent and vintage. Prices can lean toward the high side but bargains are still possible, about 15 minutes from the downtown Orlando area, it's something you should see.
Big Shanty Antique Market
1720 N Roberts Road NW
Kennesaw, GA 30144
(770)795-1186
Always a nice selection of vintage toys here.
Vintage Stock
8416 W. 135th St.
Overland Park, KS 66223
913-681-1999
Awesome store - MEGO's toys, records, movies music, all the vintage goodies you could want, several locations, 2 in Kansas, 5 in Missouri and there are stores in OK and AR as well!
Brass Armadillo
1450 Golfview Drive
Grain Valley, Missouri 64029
888-847-5260
550 dealers in a 42,000-square-foot showroom. There's a bunch of everythng here. Many a MEGO spotted as well. Features "cased" stuff as well as loose booth style content. Prices are all over the place, and it changes a lot!
Play With This Toys
4340 N. Route 130 @The Grand Marketplace
Willingboro, NJ
609-835-4888
Large selection of Mego POTA (including MOC) as well as some some loose WGSH. Also features assorted other Megos, vintage Star Wars, Super Powers and Classic TV Toys.