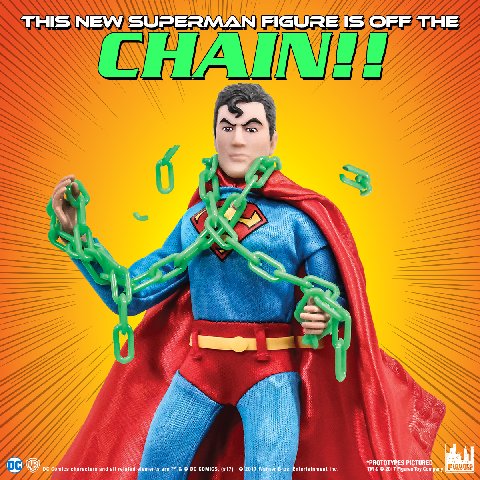 Figures Toy Company's latest exclusive is off the chain! Get ready to recreate one of the most iconic DC Comics covers of all time in retro figure style, because their latest release is a new Superman figure based on Neal Adams' Superman #233 cover art!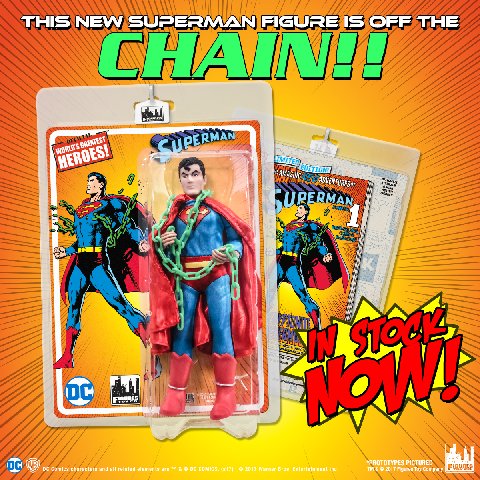 The famous artwork, depicting Superman breaking free of his Kryptonite chains, is one of the most recognized renderings of the Man of Steel. FTC's new figure not only features an updated Supes sculpt, but includes a Kryptonite chain accessory! By the way, it's not really Kryptonite, so don't go getting any crazy ideas. It is limited however, with only 500 of these figures being made available to purchase! Last, but not least, the famous cover art is also depicted on the packaging to show collectors where the inspiration for this figure came from!
Figures Toy Company's new Exclusive Superman can be found in stock now at Figures Toy Company along with several other new releases from beloved toy lines for The Monkees, The Three Stooges, and KISS! More of your DC Comics favorites are now available on old school Mego style cards, and additional exclusives can be found on FTC's website and purchased through their friends at Emerald City Comics! This new Superman could sell out faster than a speeding bullet, so bring him home and help him break his chains today! For more retro awesomeness, follow Figures Toy Company and Mego Museum on social media, and keep an eye out for #MMFTCNEWS to find out all the latest information as it's announced!
Discuss this on the Mego Museum Forums!
Like the Mego Museum on Facebook