True believers...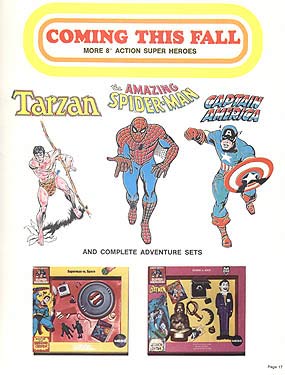 The Marvel Comics Superheroes were an after thought to Mego when they first devised "The World's Greatest Superheroes" line and that shouldn't be a surprise.
Most of the Mego crew had given up reading comics long before Stanley Lieber decided to make his Super Heroes have real problems. It took the foresight of a child, in this case Ken Abrams, son of Mego chairman, Marty Abrams who looked upon the first four WGSH and asked
"Where's Spider-Man?"
The 1973 Mego Catalog showed the four primary DC characters but announced that by fall, Spider-Man and Captain America would be hitting toy shelves.
Mego Spiderman was an instant hit and remained popular throughout the run of the line, in fact, every Mego Superhero line contained Spider-Man.
The initial success of Batman and the DC heroes heavily influenced Mego for it's 1974 figure and vehicle releases but that began to change.
1975 saw the release of 5 new Marvel heroes to the WGSH, one of these characters was the Incredible Hulk. While an initial slow seller, the Hulk received a sales boost of Heroic proportions thanks to the character's CBS Television series.
Hulk's sales paved the way for more Marvel heroes in '76 including Marvel pioneers, the Fantastic Four. By the end of the WGSH, Marvel characters equate to almost half with two characters being Mego's top sellers, not bad for an after thought......