Super Softies
1974: Mego had it's first sweeping success with the
Worlds Greatest Superheroes
line of action figures but what to do with the next toy buying season? Expand!
Mego took the bull by the horns and created not only new product for the WGSH line but created three new Superhero toy lines as well.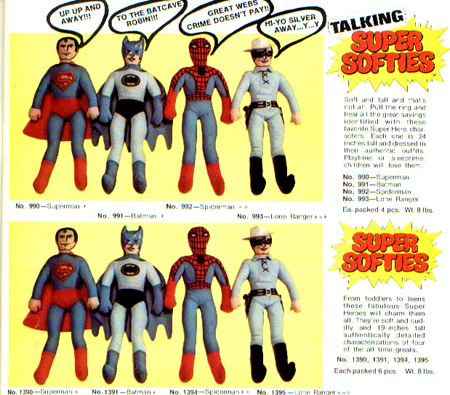 The three new series included the lukewarm Super Savers Banks , the popular Bend N Flex series and the Super Softies. Softies "were a bomb" according to the late Neal Kublan Mego VP of R&D, who added that Mego didn't ship many.
In today's market The Super Softies make perfect sense, stuffed talking Superheroes are a commonplace item in todays toy store but for some reason Mego wasn't able to crack into the plush aisle. As a collector item, The Super Softies are a joy to own, especially packaged (which is difficult) due them being king sized versions of the 8" WGSH window boxes.