Accessory Check : 12" Black Hole Original and Known Reproduction Parts
The 12" Black Hole line features many accessories, none of which have been factory reproduced. These pages can be used as a checklist of proper accessories for each figure.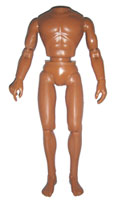 The Mego 12" body is very similar to the 8" type 2, with a different joint for the shoulders. Most of the males in this line come on the 12" "skinny" body. Nicknamed so because the other available body Mego made for the 12" line is more muscled and wider. All males in the line, except Booth, was made using this body. It has not been factory reproduced.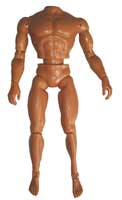 Mego also made a more muscular 12" body for some of it's characters. In the Black Hole line, only Booth should have this body. It has not been factory reproduced.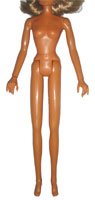 Kate McRae comes on the standard Mego 12" female body. The arms and legs of this body are made of a rubbery material, not the hard plastic common on most mego body parts. This body has not been factory reproduced.