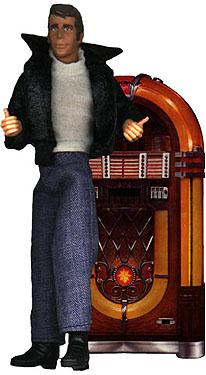 The Mego Happy Days line is one of the better television toy collections. Although there are some likeness problems, particularily with the dour Richie Cunningham, the collection is far better than Mattell's Welcome Back Kotter Series, for example, if only because of the superior Mego possability and 8 inch scale. The Fonzie doll, with his jointed thumbs and "thumbs up" action through the mechanism in his back is one of Mego's better efforts, and was a popular toy in his time.
Happy Days was the number family sitcom at the time, it was a logical choice for Mego to produce figures of these fabulous fifties characters, but to hear Neal Kublan explain it, the line only had one real bright spot for Mego. "Happy Days the first year was really
a bomb, but then Fonzie emerged" he adds "I don't know how many pieces of the other characters we sold but the Fonzie doll sold like crazy for a year."
The detailing of the high school letter sweaters on Richie and Potsie is particularily nice. This line was rounded out with a Fonzie's Garage playset and Fonzie's Motorcycle.
The line debuted in 1977 and continued in 78. Note that Richie and Ralph are wearing white tennis shoes with dark side stripes. They would ship with standard Mego dress shoes.
Two more figures and a 12″ Fonzie were planned for 1978 but eventually dropped.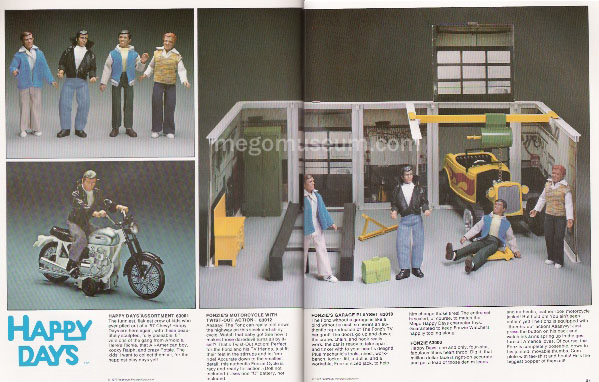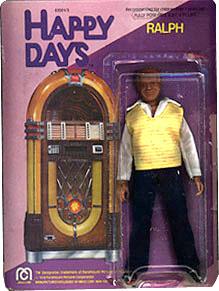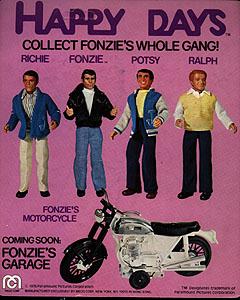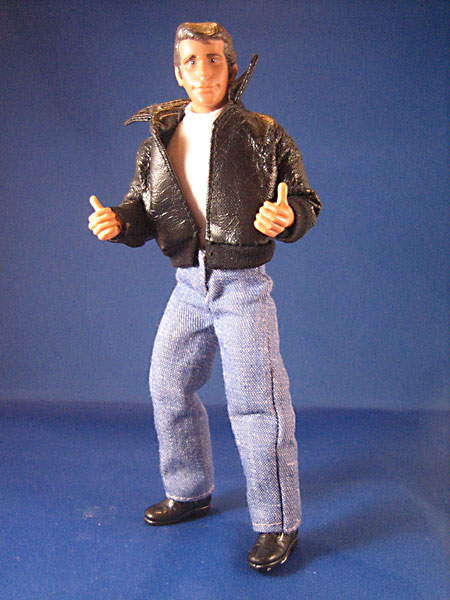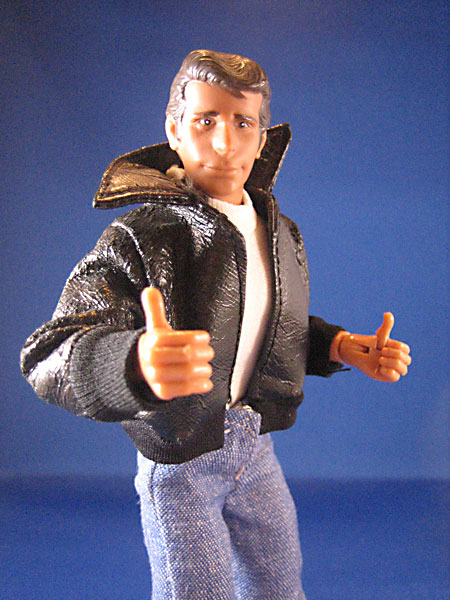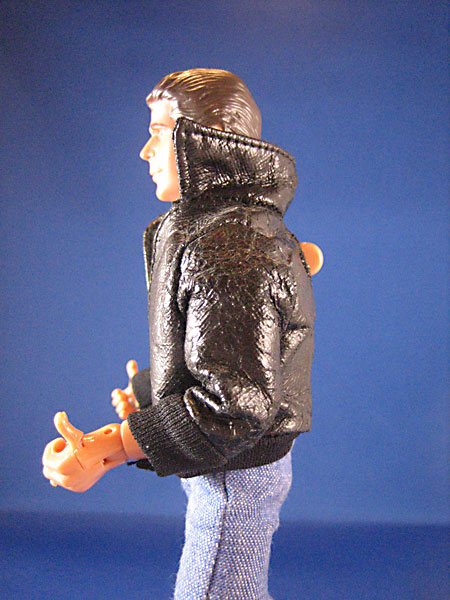 Fonzie came on his own card that supported his unique body type and
allowed kids to try his thumbs up motion. He also came boxed briefly
and was sold as a stand-alone piece. This particular card came from
the UK and has a distributor name on it (Wiggins Teape Toy Distributors)
Italian Harbert Cards are known to exist as well.
Outside of the United States, Fonzie was marketed on his own in Canada (Parkdaly Novelty), the UK (Wiggins Teape) and in Italy (Harbert). There are no other known foreign releases for the Fonz.
Mego had planned to create a 12″ version of the Fonz and even sculpted the head, the figure was scrapped for reasons unknown.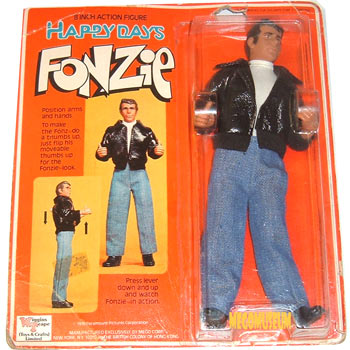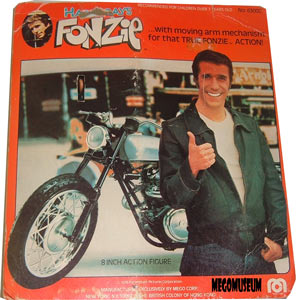 Fonzie was sold by himself in Italy. The character being Italian-American probably didn't hurt his popularity in Italy.
Mego struggled to get Fonzie's look right and also originally had him slated as a 12″ doll, as evidenced by this catalog shot from Aldens showing a doll with not only a giant head but a completely different look.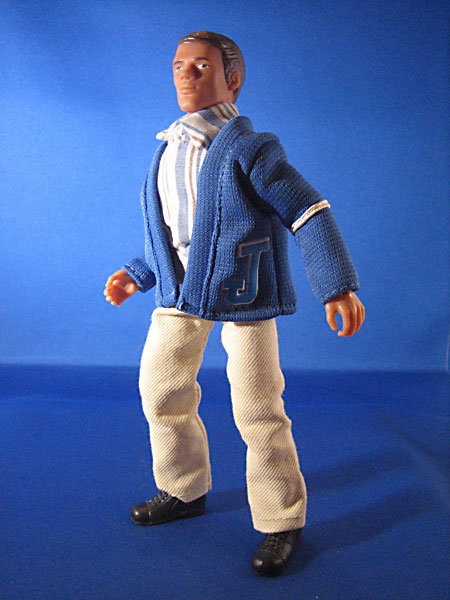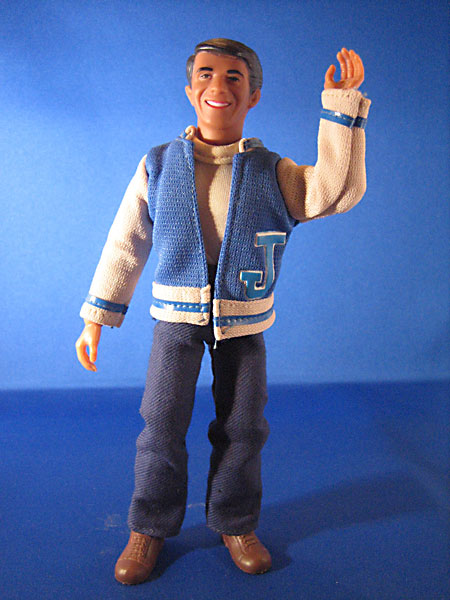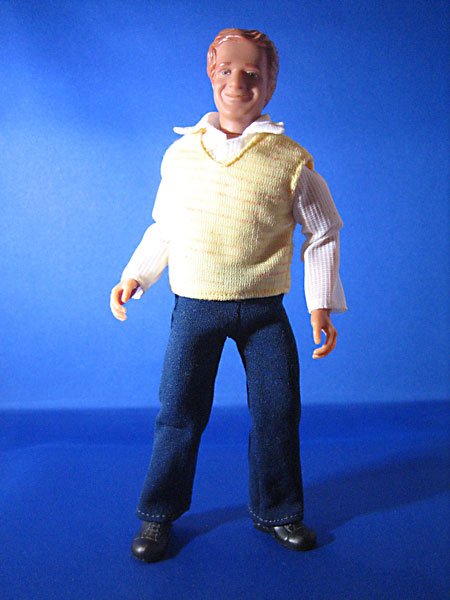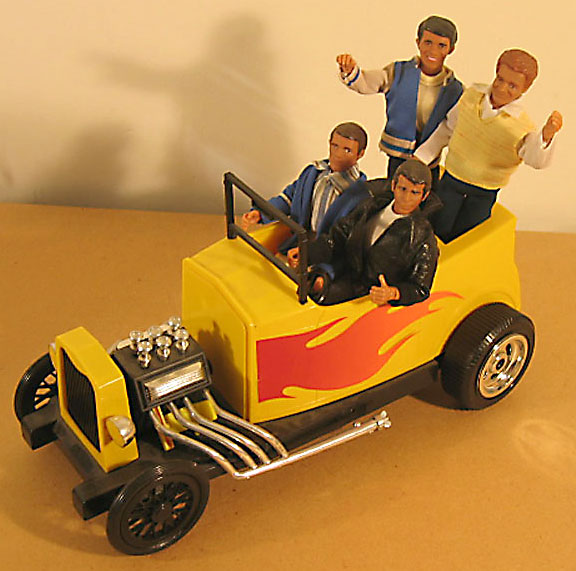 Fonzie's Jalopy or Hot Rod was sold seperatly or it was sold as part of
the Garage playset. Later Mego pitched it as "Greased Lightning" for the proposed but never produced 8″ line for the hit film Grease.
Back to the Mego Museum Happy Days Page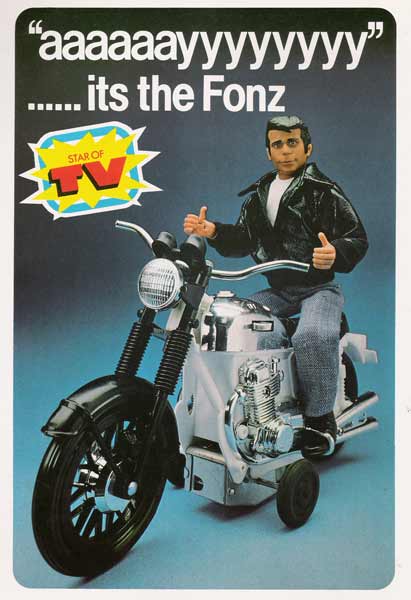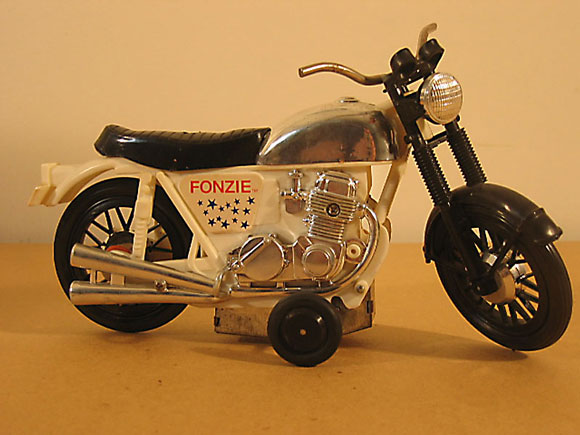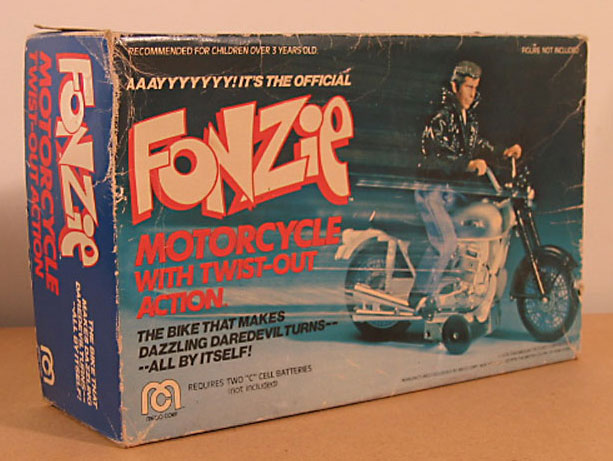 The Fonzie Motor Cycle would later make an appearance as the CHiPs Cycle but the twist out action would be removed by this point.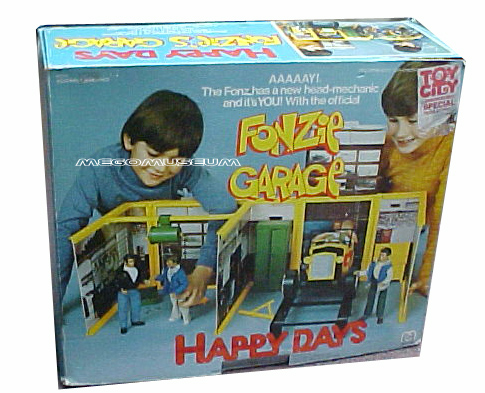 The Garage Playset included Fonzie's Hotrod and is
tough to find. The backdrops for the garage are actual photographs
of a garage(!)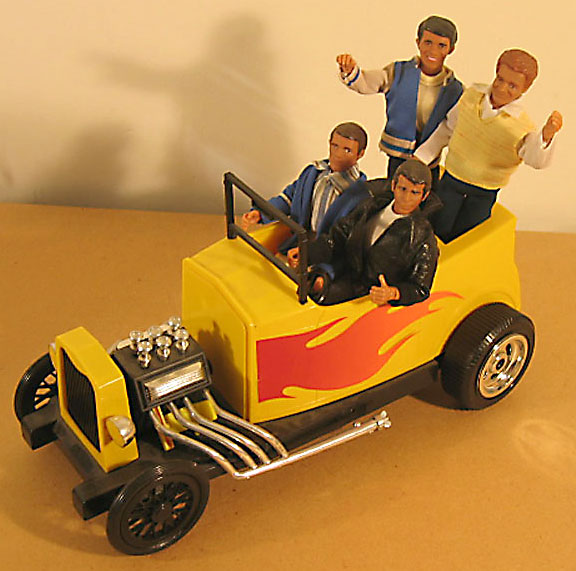 A tight little package.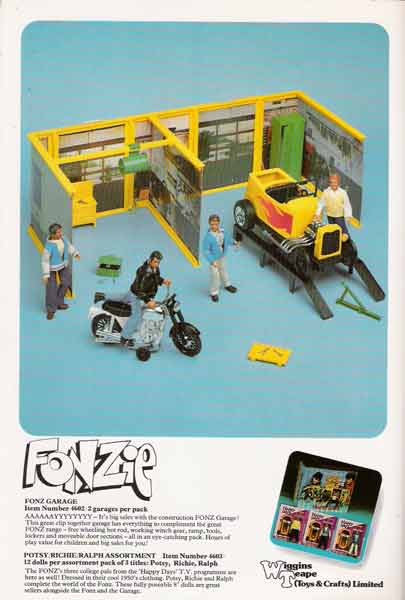 Related Images: