She Stands on Her Own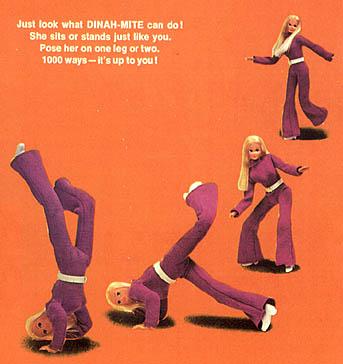 DINAH-MITE!
Often neglected by collectors, Dinah-Mite was Mego's answer to Barbie as AJ was to GI Joe. Her advertising featured her as an incredibly poseable doll who "sits and stands"; An overt shot at Barbie, who famously cannot "stand on her own".
Dinah seems to have fared better than AJ, as she was advertised in their catalogs up to 1975. Since most of her stock did not languish in warehouses, her accessories and outfits are much harder to find.
Thanks to Rob Chatlin for catalog material, and Steven Leach for design help.