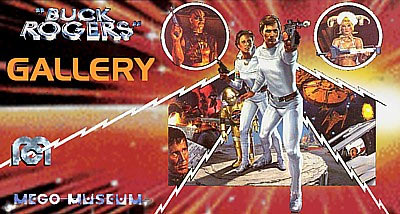 Original Line Artwork for the 3″ Buck Rogers line including the playset. Rumour has it this line was bought as a favor to a licensing agent who had helped Mego out in the past.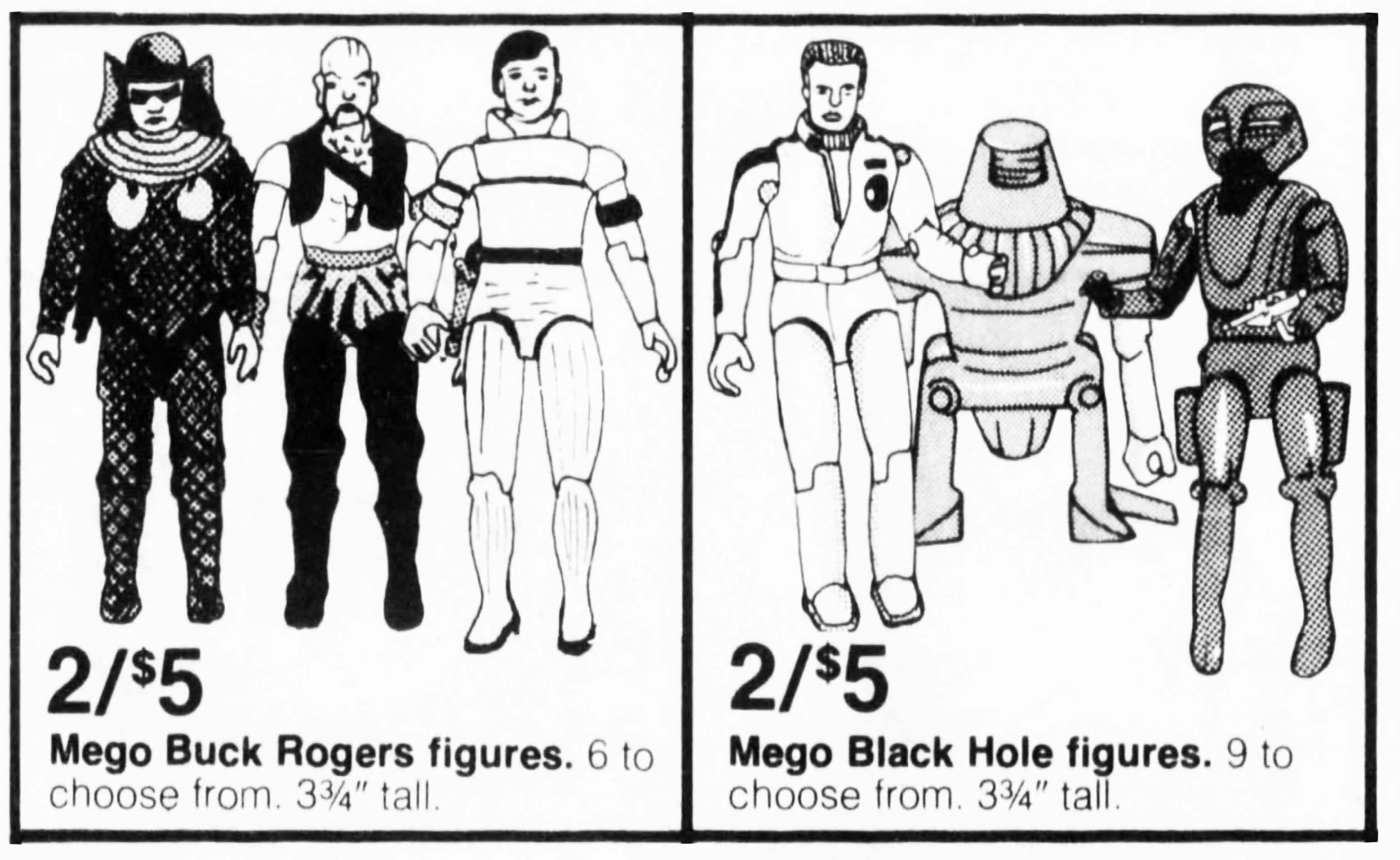 Despite this Mego put high quality into the Buck Rogers line, the 3″ figures are more articulated than Kenner's Star Wars line and the 12″ figures set a benchmark for Mego production. Sadly, the line suffered somewhat because it based itself solely on the pilot movie, the main villain figures only made sporadic appearances on the series (King Draco was never actually seen!)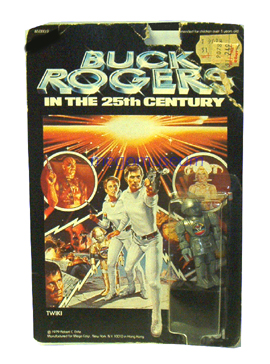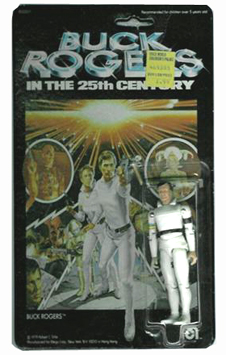 The Buck Rogers 3 3/4″ Figures were sculpted by Bill Lemon, a veteran of the business, Lemon is described as having a great eye for detail and it shows with these figures clean and attractive sculpts. MOC Twiki and Buck (thanks to Greg Mason).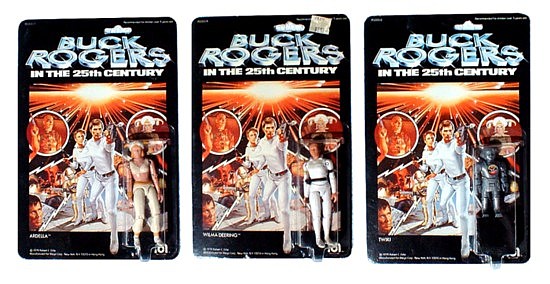 Ardalla, Wilma and Twiki(courtesy Mike Farrence)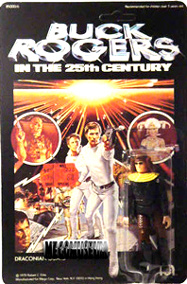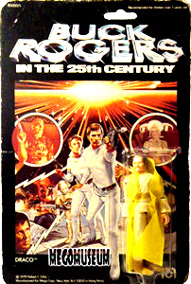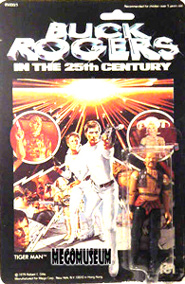 Draconian Guard MOC, Draco MOC Tigerman MOC(All courtesy of Troy)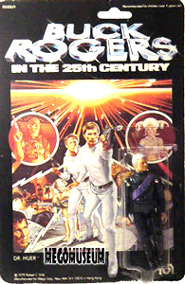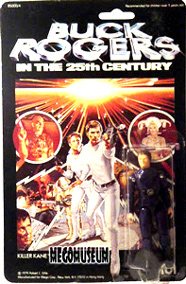 Dr Huer MOC, Kane MOC (All courtesy of Troy)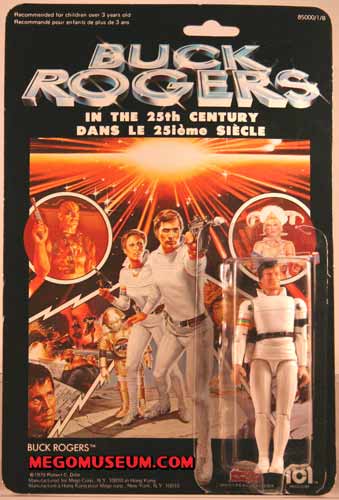 Buck Rogers on a rare Canadian Grand Toys Card, courtesy of Craig MacKillop.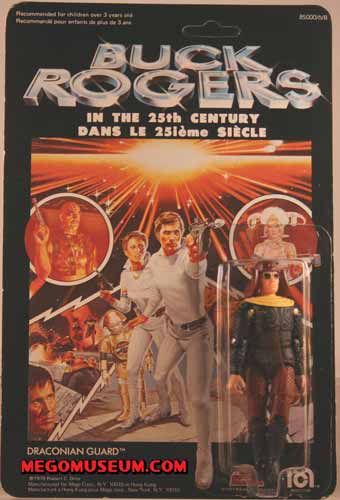 Draconian Guard on a rare Canadian Grand Toys Card, courtesy of Craig MacKillop.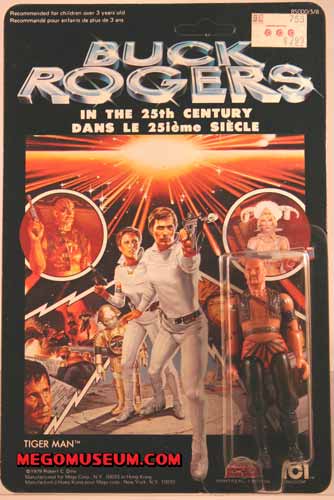 Tigerman on a rare Canadian Grand Toys Card, courtesy of Craig MacKillop.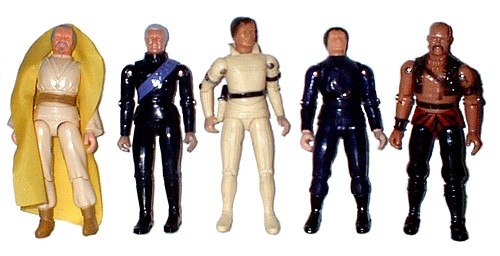 Draco, Dr Huer, Buck, Kane, Tigerman (courtesy Mike Farrence)

Original Line artwork for the Buck Rogers Vehicles
Despite the series short run, Mego sold the toyline for three years
and made a number of vehicles and playsets. In the early eighties
Mego planned to extend the line using vehicles from the sagging
Micronauts line including Micro rail city. The Star Searcher was
released in a Buck Rogers box (despite the fact that the instructions
still said "Micronauts") but buyers didn't bite when the series
didn't return for fall 1980. Mego also tried to repackage the Star
Trek Mission to Gamma IV as the "Draconian Fortress" but sadly, it didn't fly.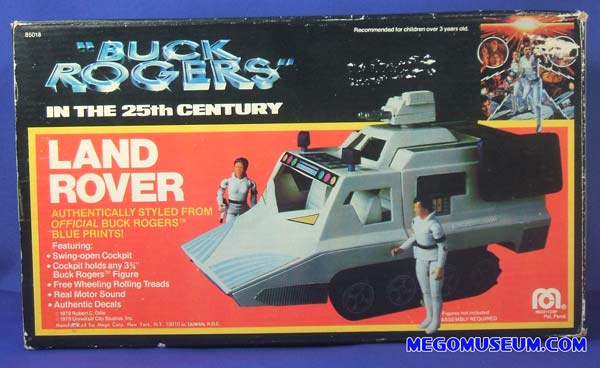 The Buck Rogers Land Rover was featured briefly in the pilot and then later made a cameo in the "Flight of the War Witch" two parter, Mego made a terrific rendition of this piece.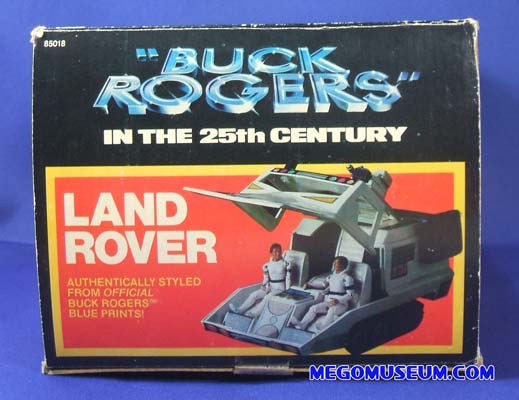 The Land Rover is one of the most difficult pieces to find MIB in the Buck Rogers series.
Laser Scope Fighter MIB
Star Fighter MIB is the most desirable piece in the series, proving
it's one of Science Fiction more enduring designs.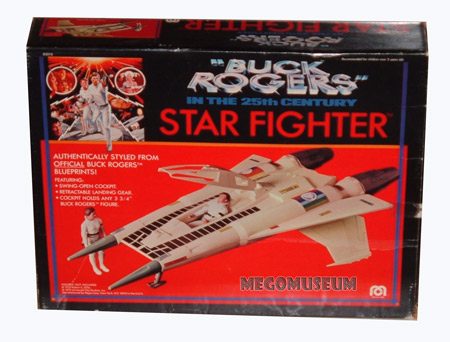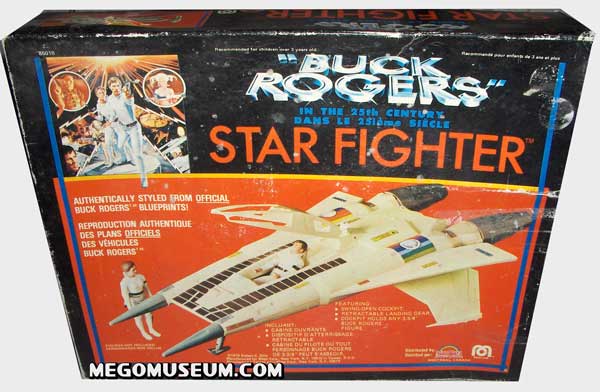 This Canadian boxed Star Fighter is a truly rare item, not many are kicking around. Photo courtesy of Mark Schmidt.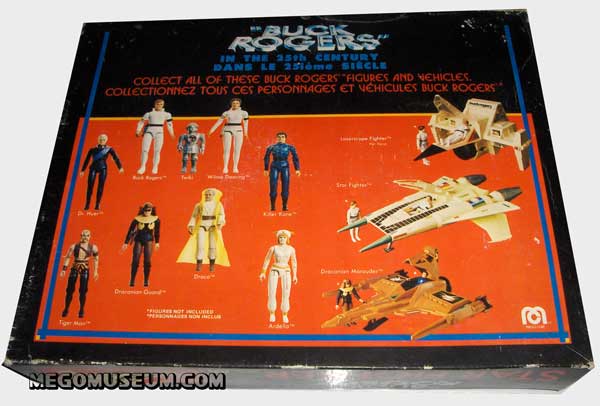 Back of the Canadian box, notice it's bilingual. The Buck Rogers Command Center playset is another styrene piece similiar to the Star Trek TMP Enterprise Bridge and the Pocket Heroes Batcave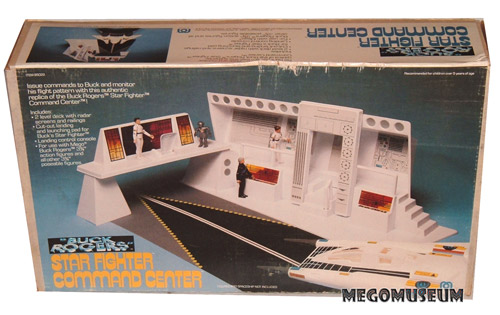 As you can see, in order to complete the playset you must first
mangle the box. Don't expect pics of that anytime soon.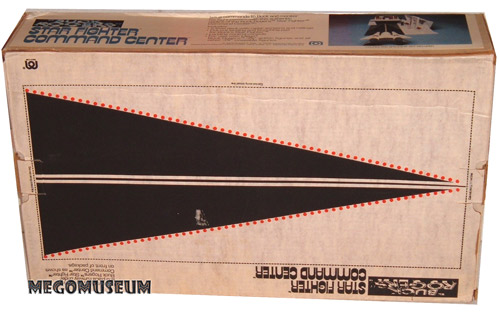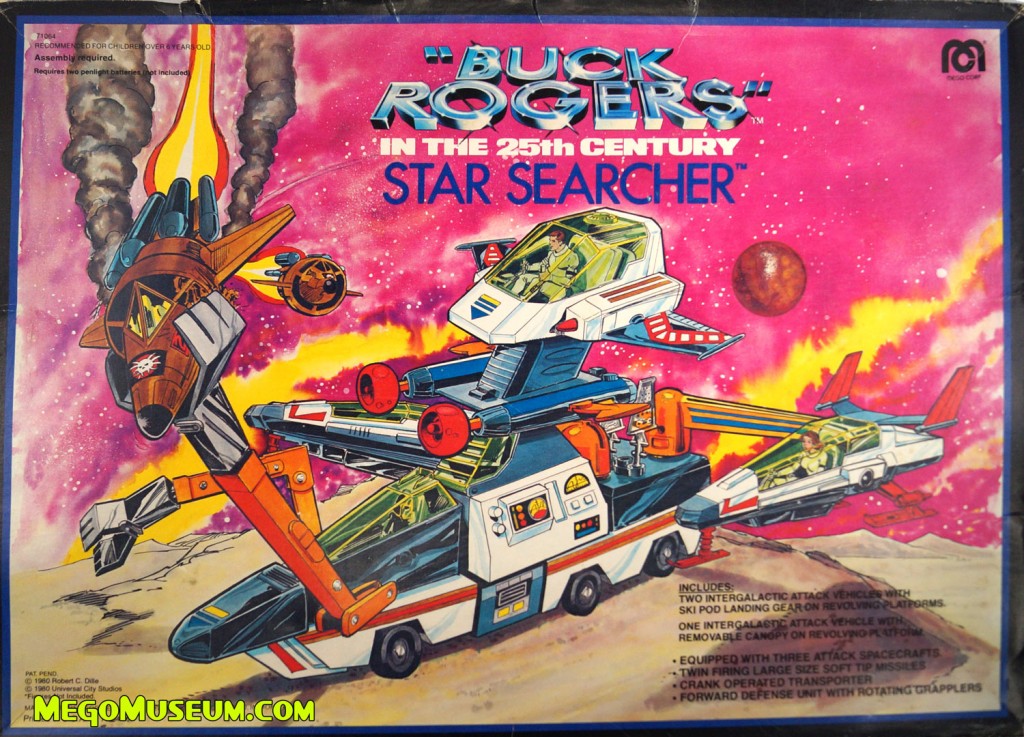 The Buck Rogers Star Searcher is the grand old toy industry tradition of recycling toy molds. It had nothing to do with the Buck Rogers television series and is actually a Micronauts Star Defender vehicle repackaged under the Buck Rogers brand. Even the name "Star Searcher" is a trademark from an earlier Micronauts "Star Defender" vehicle. The most significant change being the box artwork which features Buck, Wilma and Twiki fighting Draconians. It seems that this toy was made to sell unsold Micronauts toys using another brand.

Mego had planned to retool many existing Micronauts play sets for the then popular Buck Rogers brand, even the Star Trek Mission to Gamma 6 play set was pitched to buyers as a "Draconian Fortress", the Star Searcher is the only Buck Rogers item to feature recycled Micronauts tooling to make it into release.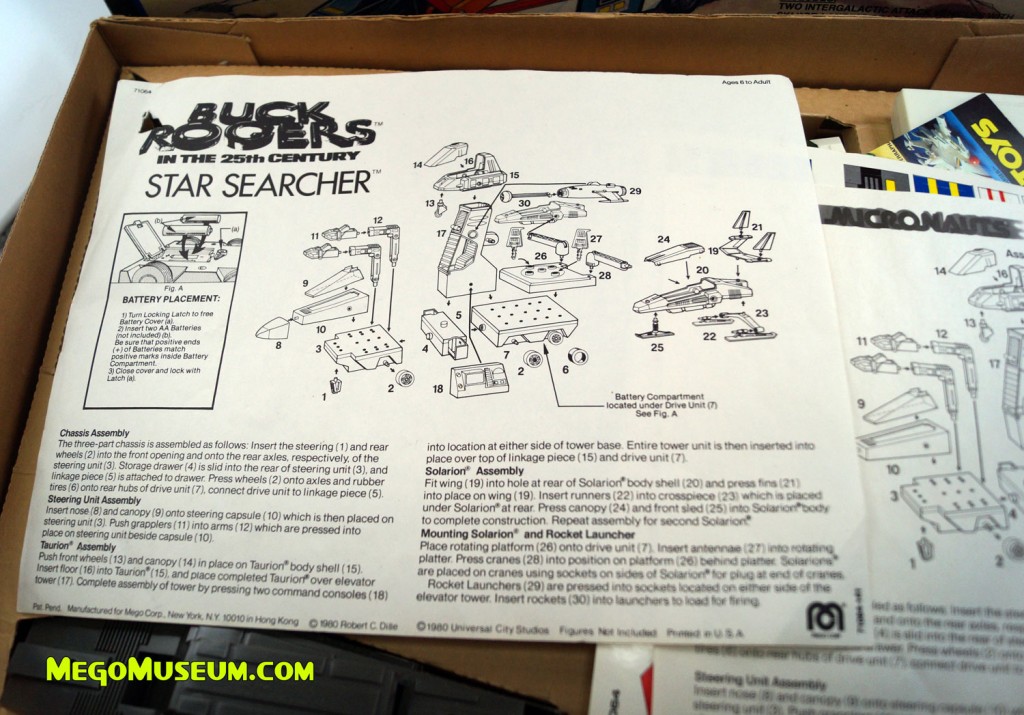 Note that the instructions for this set say Buck Rogers but there is an additional set of Micronauts branded instructions, even a catalog!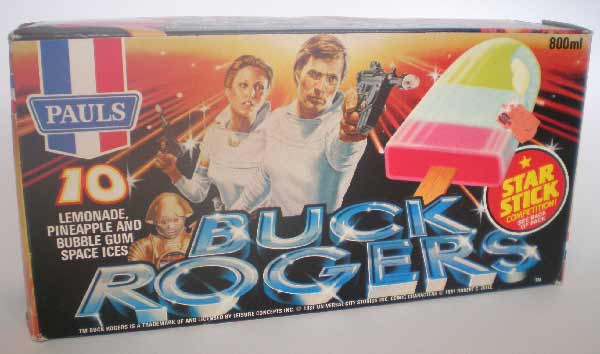 Courtesy of Toltoys.com we have this cool Buck Rogers Ice Cream box from Australia, which adveritsed a contest to win a series of Mego Action Figures, I wonder who the lucky kid was?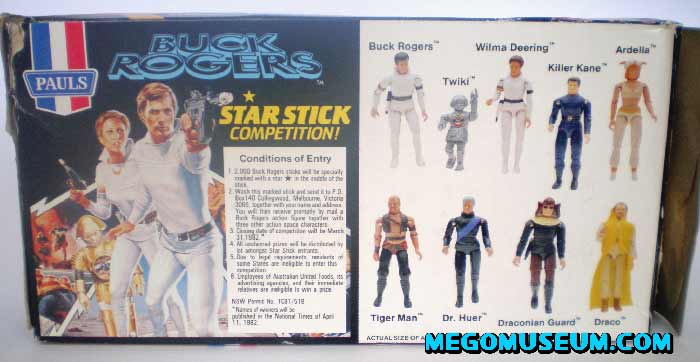 In Canada, there was a similiar contest involving Shreddies cereal and Mego Black Hole figures. Does anyone have a scan of that box?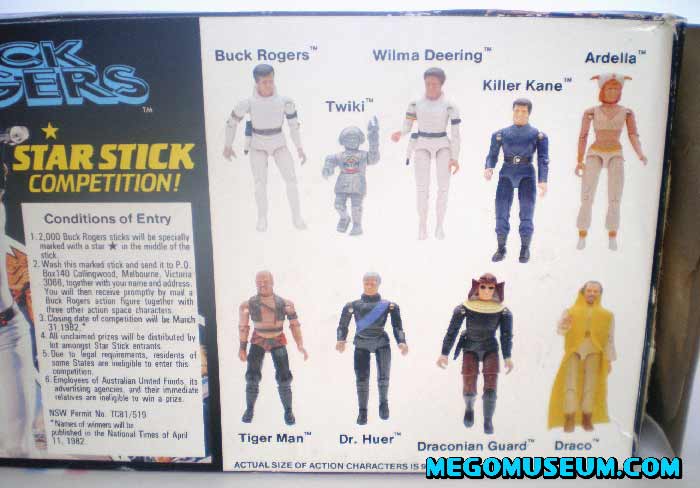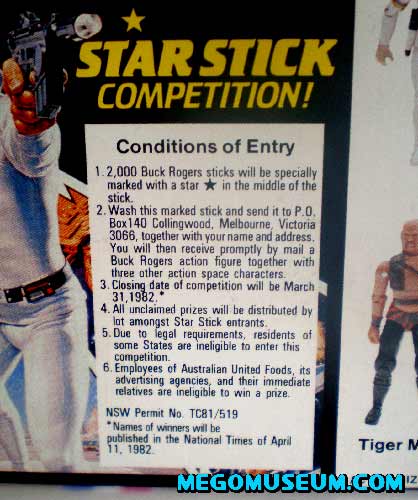 I guess it's too late to enter.
Related Images: