Lt. Uhura (Item No. 51200/4), communications officer of the Starship Enterprise, as portrayed by Nichelle Nichols. The head sculpt on this figure is, regrettably, kind of "blah," reflecting more of a generic female face than the character itself. It's serviceable, but it wins no awards for modeling. However, it is to Mego's credit that this figure exists at all. The manufacture of this figure flies in the face of all the frugality and economy that Mego traditionally holds dear. They could have easily made Chekov or Sulu as a sixth edition to the first series, since they already wear practically the same uniform as Kirk. However, the toymaker took the higher and rockier road, patterning an entirely new uniform top for this lone, female, African-American figure.
The figure came outfitted in a red tunic, brown tights and black boots. The tunic was detailed with a black neckband, one gold foil rank stripe on each arm, and a silver foil insignia. (This insignia is particularly problematic for loose collectors, as it consists of a stiff adhesive gray backing and a whisper-thin sheet of silver foil. This backing is almost always found on the tunic, as it is well-glued onto the fabric. However, the foil is delicate and typically curls, tears, and/or falls off after even five minutes of play time.)
A blue tricorder served to complete the ensemble.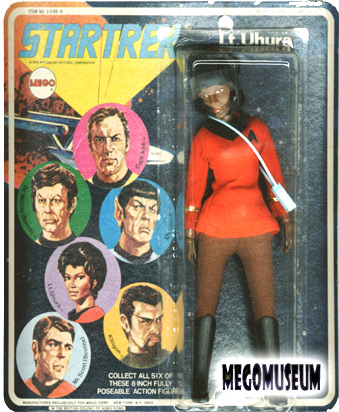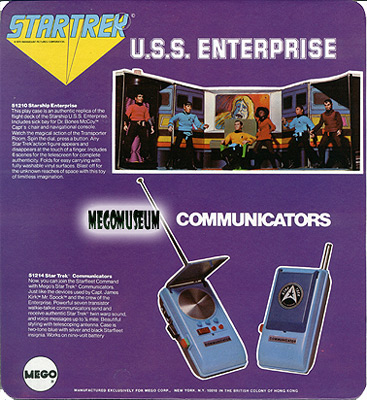 Lt Uhura on a "6-face" card with the name in white lettering.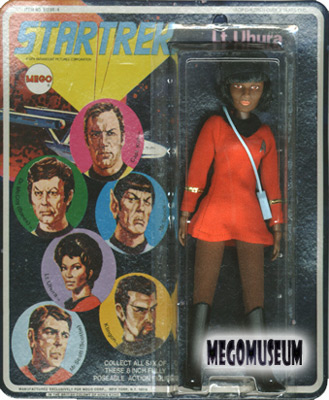 Mego Lt Uhura on a "6-face" card with the name inpurple lettering.(the backer is the same)
Uhura : Original Accessories and Known Repros