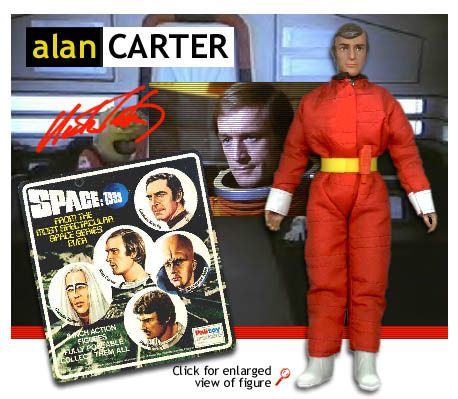 Alan Carter (Nick Tate)
The Mego Alan Carter figure is the most unique in the line,eventhough he was pictured in the Palitoy catalogue as wearing a moonbase uniform Mego decided to put him in an ersatz version of his space suit (he was a pilot)but his helmet is all wrong and shouldn't his hands be white? Still the toughest doll in the line and a fine likeness.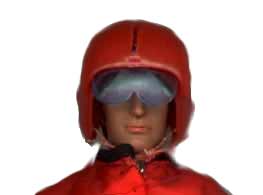 Alan Carter's helmet was also used for Action Jackson, Dinah Mite and the Planet of the Apes Astronaut just in different colors.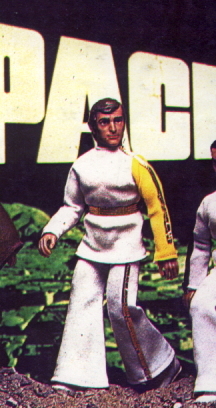 The original Alan Carter prototype featured in the 1976 Palitoy Catalog showed him in his Moonbase Alpha unfirom. One might venture a guess that Palitoy decided it looked too generic to have three of their characters in white
Actor Nick Tate continues to pop up in movies and TV usually as a crusty "Crocodile Dundee" type. He has appeared on Star Trek:TNG and many TV commercials. Ironically, the original pilot for Space:1999 had Carter being killed but Tate proved so likeable that they kept him on.
MOC Carter courtesy of Brian (Palitoy)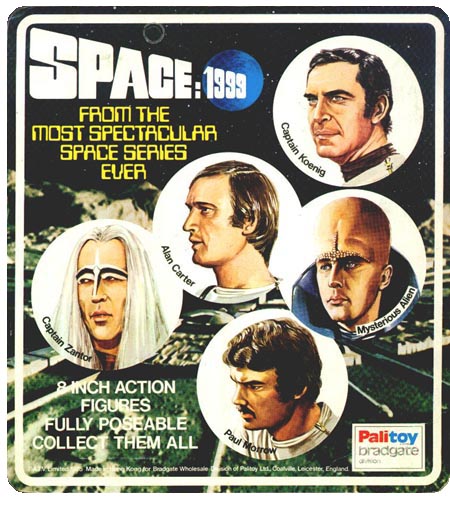 Alan Carter: Original Accessories and Known Repros