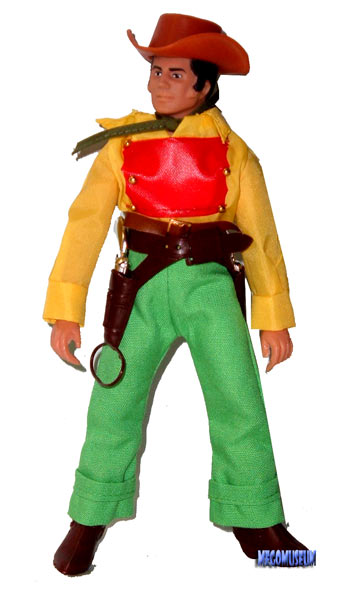 Kit Willer, is Tex Willer's half Navajo son, in the spirit of pulp characters like Tarzan, Tex has a full grown son but doesn't look a day over 35.
The Mego Kit Willer Figure like all in the Tex Willer line, cleverly reuses existing Mego parts from the American West line, but it's done in a way that it doesn't interfere with an accurate depiction of the character. The Mego Kit Willer head was also used for the  Planet of the Apes Astronaut, and was proposed to be Don, boyfriend of  Dinah-Mite but a certain Man of Steel won that title when the figure actually went into production.
Kit Carson's head sculpt was reused more than once at Mego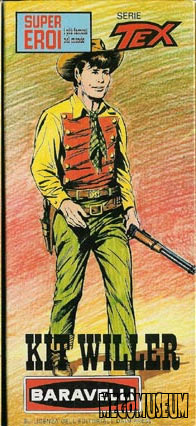 The Rifleman: The Mego Kit Willer packaging shows Kit carrying a rifle, don't panic if you can't find your rifle, he didn't come with one!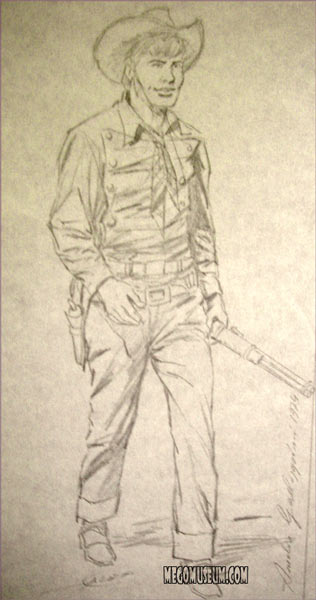 Holy Cow Dept: Courtesy of Super Collector Rudy Zerbi we have the original Mego Kit Willer Box art as drawn by Galep. Truly one of the cooler discoveries of the last ten years. Many thanks to Rudy for sharing this wonderful piece of Mego history.
Kit Willer: Original Accessories and Known Repros