Accessory Check : Willer Original and Known Reproduction Parts
The Tex Willer line has been reproduced by Classic TV Toys as complete figures. This makes for plenty of reproduction parts for this line. This section will help you identify those reproduction parts.
The original Willer line was only available on the Mego type1 metal rivet body. Since the reproductions were made on CTVT's version of the type2 body, guides to both body types are included on this page.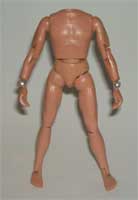 Original Willers are only available on this body. The first version of the mego male body was a metal rivet, less muscled body strung together with elastic. It has not been factory reproduced.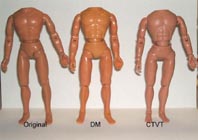 Original Willers are NOT available on this body, only the reproductions. This second version of the male body was more buff and had plastic joints instead of metal rivets, and strung together with hooks and rubber. Both Doctor Mego and Classic TV Toys offer factory made repro Mego bodies. DM's (marked 7th Street Toys on the back) is very accurate in detail and appearance but with a heavier feel and more rubbery hands. CTVT's bodies (marked Figures, Inc. on the back) tend to run a touch shorter, are more fragile, and have a slightly different design. A telltale sign of the CTVT body are the legs that tend to snap together at the knees.