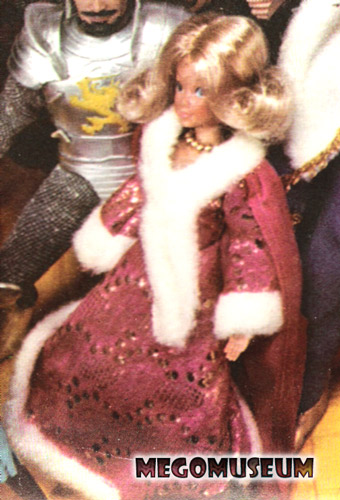 One of the most requested scans I get is for this blond beauty. Appearing twice in the Mego 1975 Catalog, Mego's addition of Guenivere is a logical (and somewhat frugal) decision. The figure is a essentially a Health-Spa Dinahmite in royal garb complete with a golden necklace.
It is unlikely that Guenivere was ever produced, although she is pictured in the catalog, there is no mention of her in the listings or order form itself, it seems she was cut from the lineup before the catalog was finished but still made for great set dressing.
With the recent discovery of the Knights Jousting Horse in Germany, it is entirely within the realm of possibility that Guenivere was produced somewhere, somehow.
Perhaps that's the greatest appeal of Mego collecting, the hunt never ends.