Customizer Gallery - Anthony Durso
I originally started customizing with parts from Dr. Mego and some of my earliest figures included the obligatory Hal Jordan Green Lantern, Hawkman, Julie Newmar Catwoman and Yvonne Craig Batgirl. Then I tried my hand at designing a box for an Adam West Batman, utilizing a "pop-art" style with images I had developed for a poster. That proved to be quite popular on e-bay to my surprise and , long story short, I decided to try to improve on it and began to design all sorts of cards and boxes.
Once I redid the Adam West Batman box, this time using actual photos of the characters, I also added Robin and Batgirl to the mix.These boxes represent what I would've loved to have seen as a kid, being a big fan of the '66 show which was in reruns at the time. The figures in the boxes are courtesy of ace-customizer Brian Leitner.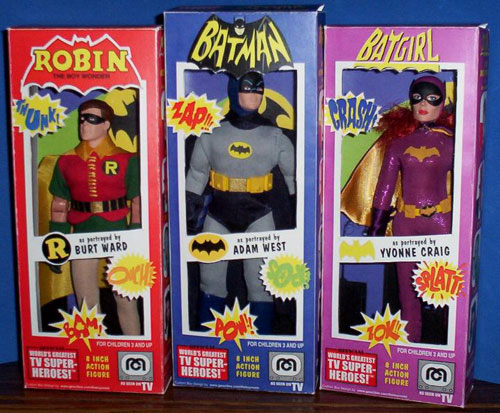 In a similar vein, I took the concept of a George Reeves Superman box and went one further by doing black 'n white and color versions to reflect the changes in the series. Phyllis Coates' Lois appears on the b/w and Noel Neill appears on the color. I thought of the black and white because I remembered seeing pics of a black and white Superman custom figure somewhere. Come to find out it was done by Dave Mc.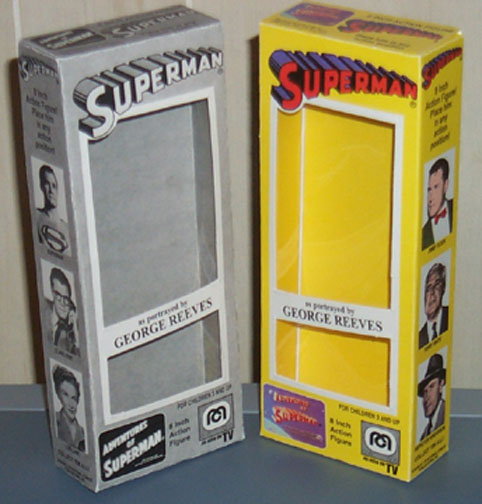 On a semi-related note, besides 8" Mego scale, I've also designed different size boxes for other customizers (9", 12", whatever...). These are two I did for Tony Moe for his Robot series...George Reeves Superman and Adam West Batman. The idea was to mimic a style of Japanese toy robot packaging.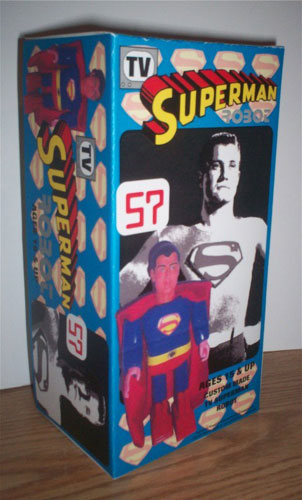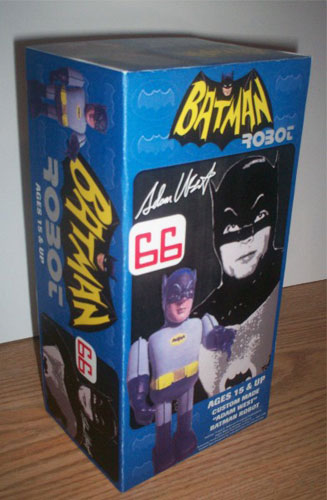 And while on the subject of other sizes and TV heroes, a 12" Mego-style Lynda Carter Wonder Woman box. I've done several versions of these (ABC and CBS...this one is the CBS design).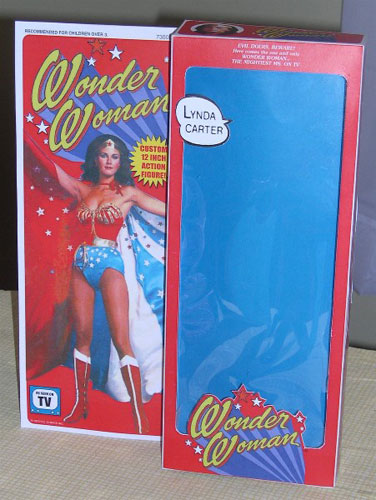 As far as cards, I took some of the elements of my TV Batman series and transferred them to blister cards. These are the backs...remind me of large trading cards. Collect 'em all!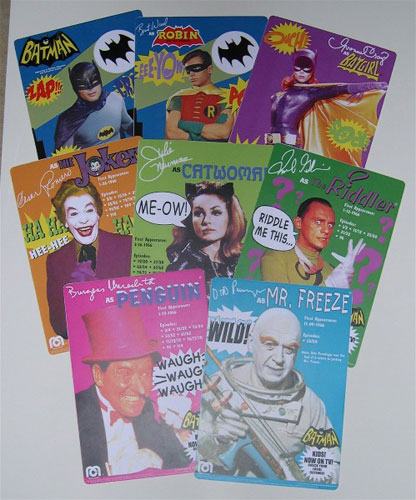 Often, once I design a particular box I feel the need to add to the line and finish it out...what would be the logical choice if the series was followed through? So in that aspect...Watchmen boxes inspired by the Alan Moore series (I'm surprised you don't see many customs based on this):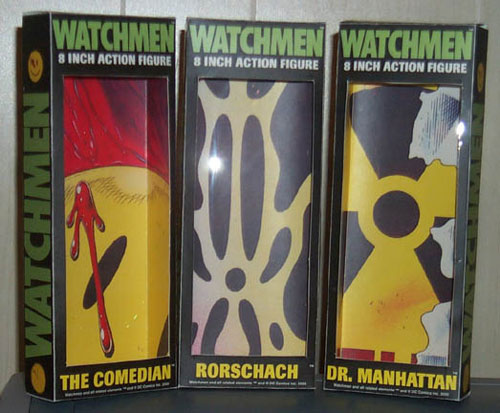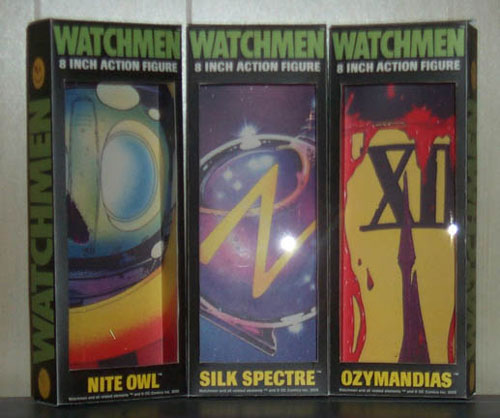 When asked to do an Alter Ego Clark Kent box, I completed the line with Bruce, Dick and Peter and also added Bruce Banner/The Hulk: [pic Alter Egos-Back]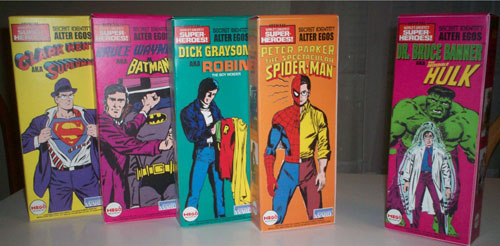 Recently, I worked with Brian Leitner on a box for his Frankenstein figure and ended up adding to the line under the banner "Famous Monsters of Filmland"...all Universal Studios inspired: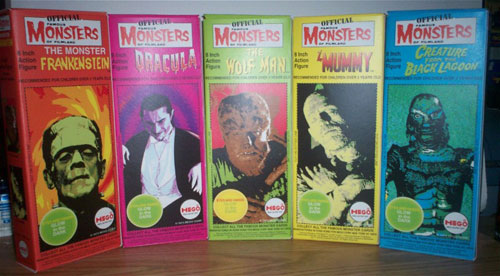 Even though I'm primarily a graphic designer at heart ("box/card guy"), I still feel the occasional need to do a custom figure (often with the sewing assistance of Brian Leitner and Jason Roberts since I can't sew...they're great to work with on my hairbrained schemes).
I have a great love and appreciation for all things Silver Age DC, primarily Superman and Batman and all of their friends and foes.
One of my earliest in this area was Silver Age Jor-El complete with Phantom Zone Projector. Made up mostly with repro parts from Dr. Mego and LOTS of craft-foam! The box was my attempt to do something different...I tried to combine the Mego aspect with the packaging style of the DC Direct line. Not sure if it worked out that way but I still try for that "Mego Direct" look...best of both worlds.I've since abandoned this fifth-panel box style for my customs and I hope to revisit Jor-El in the future...minus the craft-foam.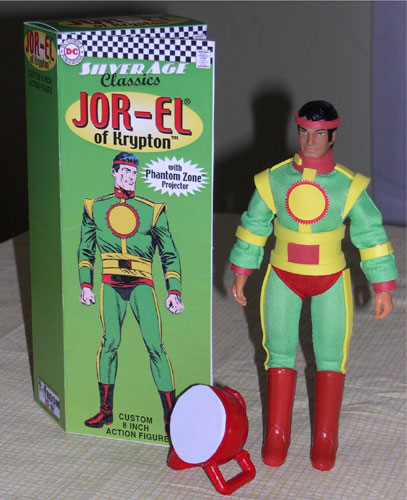 Silver Age Batman (circa 1961)...original Mego Batman with repro gloves, boots and cape, new emblem and repainted face to capture that goofy grin. Carded instead of boxed because sometimes I think one works better than the other depending on what I'm trying to accomplish with the figure.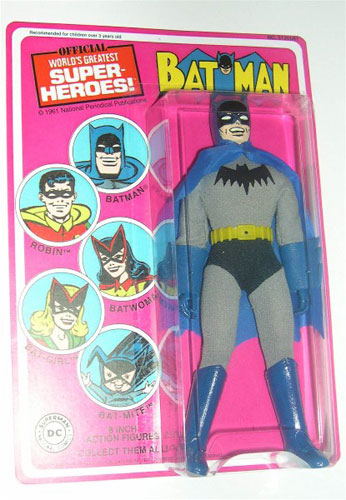 Silver Age Nightwing (Superman) and Flamebird (Jimmy Olsen)...suits sewn by Brian Leitner, everything else by me. Jimmy Olsen's head is a repainted Mego Shazam. Double carded set...I love doing these.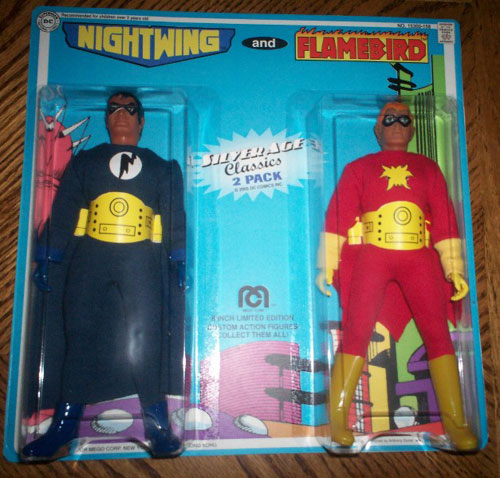 Silver Age Superman-Batman Revenge Squad...another double set inspired by the odd-garbed villains from World's Finest #175.Suits and capes sewn by Jason Roberts, all else by me. [pics Supes-Bats Revenge 2 and Supes-Bats Revenge 3].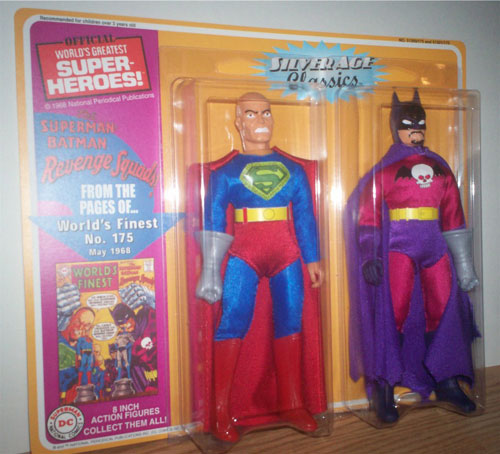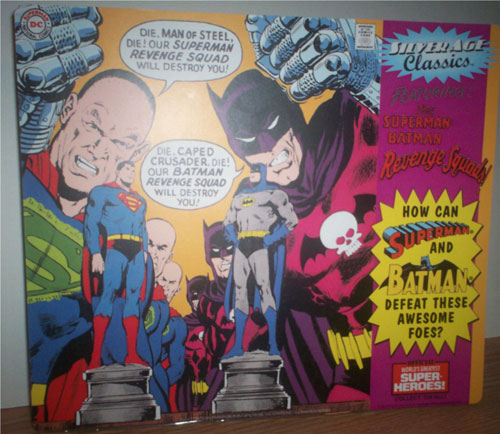 The Red Hood...aka the Joker (before the accident). CTVT tuxedo on original Mego Joker body. No idea where I got the helmet (won a parts lot long time ago) and it's removable.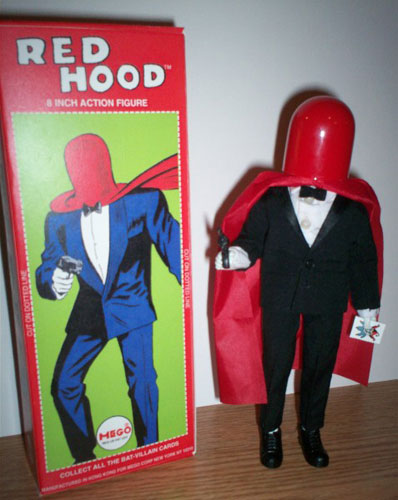 What if Superman Was The Flash?....kind of the concept behind this from Action Comics #314. All repro parts on an original Mego Superman with embelishments by me, including sculpted mask.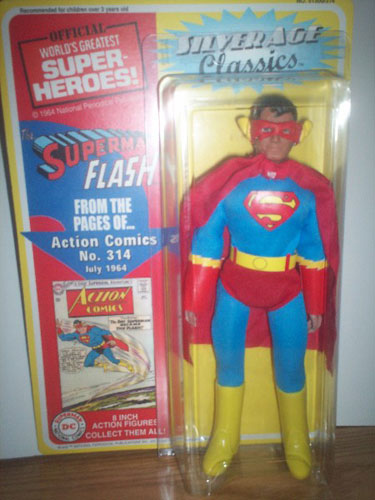 Silver Age Super Nova...recently revived/updated in DC's "52"...was originally Superman in disguise after he lost his powers in World's Finest #175. Suit and cape sewn by Jason Roberts on original Mego Superman, embellishments and sculpted helmet (removable) by me.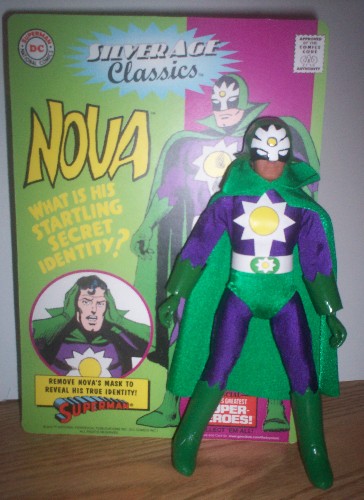 Obscure Bat Villains....from left to right: Firefly, Calendar Man, Killer Moth, Signalman, Zodiac Master. Firefly: suit and cape sewn by Jason Roberts, embellishments/removable helmet by me, repainted Bruce Wayne head. Calendar Man: suit sewn by Jason Roberts, cape and cowl by me. Killer Moth: suit sewn by Jason Roberts, wings and removable helmet by me. Signalman: all repro material except for cape (sewn by Jason Roberts, signal emblems by me), Head has since been replaced with one more in scale. Zodiac Master: suit sewn by Jason Roberts, emblems and cowl by me.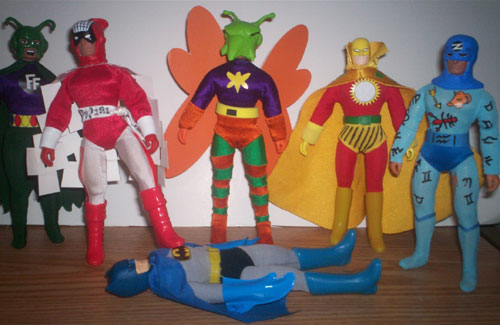 Silver Age Kryptonite...not exactly a figure but still in Mego scale. Something I wanted to see done for a long time. I originally had designed a little pamphlet/brochure on "Kryptonite: Everything You Need to Know About the Dangerous Element" and adapted the idea to this format with actual "samples".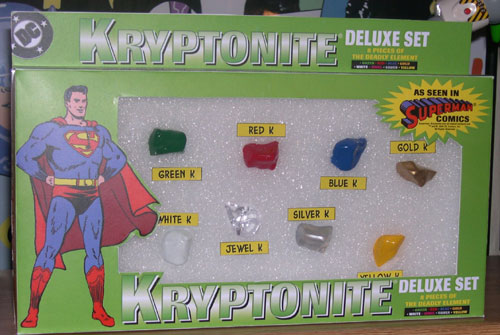 Silver Age Mr. Freeze (Mr. Zero): My Silver Age stuff prompted another customizer to contact me about doing boxes for his favorite Batman customs, the 50s to early 60s "Atomic Age" as he calls them. This is one of the many colloborations I've done with "Off-the-Wahl" (Kevin Wahl). Only the box is by me, everything else is by Kevin. We've worked on quite a few of these deluxe sets in this style.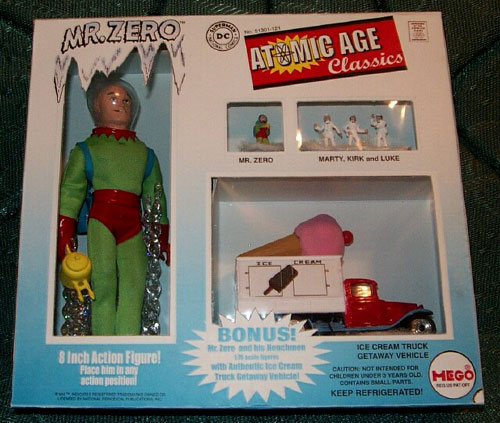 Since I like doing the carded 2 packs, I thought of doing Crisis on Infinite Earths sets with counterparts from Earth-1 and Earth-2 represented. 1) Earth-1/Earth-2 Superman: Both figures completely by Brian Leitner, only the card design is by me.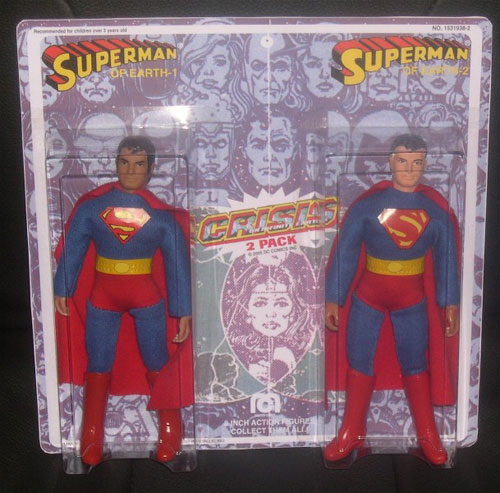 2) Earth-1 Flash and his tormentor Earth-2 Psycho Pirate. Earth-1 Flash by me (repro parts mostly) and Psycho Pirate by Jason Roberts.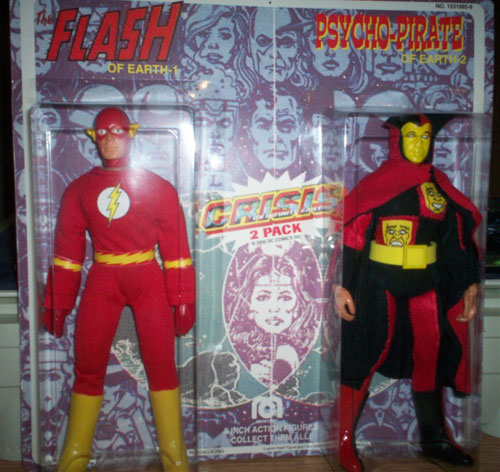 3) Earth-1 Supergirl and Earth-2 Power Girl: Supergirl suit and cape by Brian Leitner, rest finished by me. Power Girl is all Brian Leitner. I'm currently working on Earth-1 Batman and Earth-2 Robin.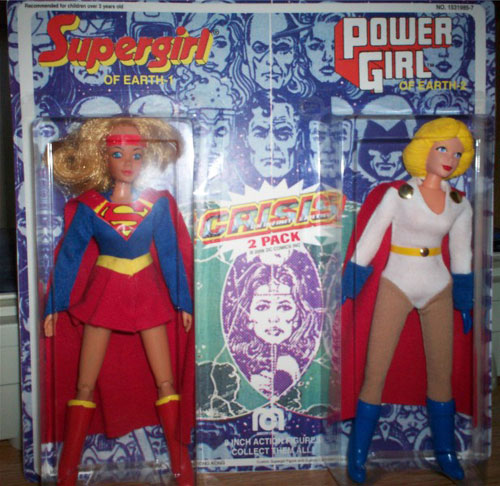 Sometimes I do stuff just to see how it'll come out. Some oddball stuff: - Bulletman from the old G.I. Joe Super Adventure team in Mego scale. All repro parts...I sculpted the removable helmet, did emblem and card.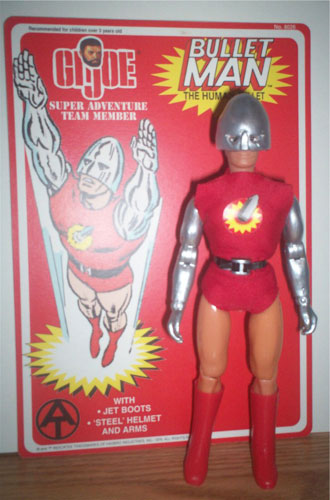 - Spirit. Clark Kent repro suit. Head from Customslab. Tried to have the card evoke a Will Eisner splash page.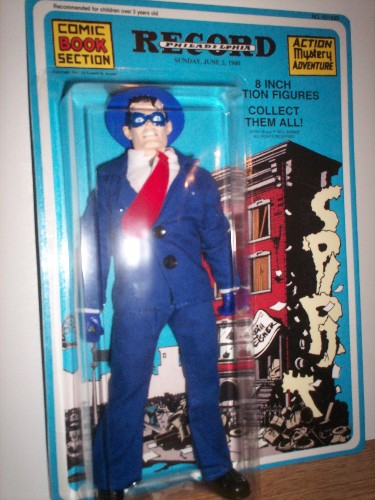 - Mr. Incredible. My youngest daughter asked me to do this after seeing the movie. All repro clothes on a Mego fat body with a Pez head. I tried to replicate the Fantatsic Four Mego box design with this one.
- Honey West. Never saw the show but I dig Anne Francis (back in the day) and think the concept of the character is cool. All repro with a Supergirl repro head. The box is inspired by the Gilbert Honey West figure box from the 60s.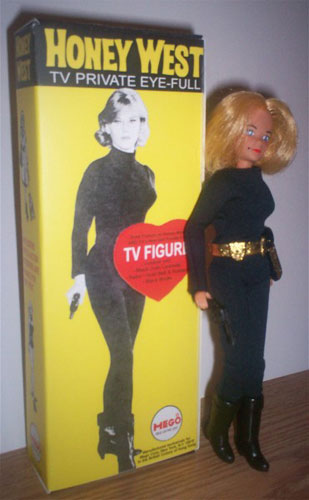 - Adam Strange. Originally started this a long time ago but got frustrated when I saw JMC's (I thought I can't top that one). I finally decided to finish him and came up with the idea of replicating the cover to an old Mystery In Space story with the figure replacing the artwork. I like the figure now! Head from Customslab and the main clothing is repro. The harness and belt is new.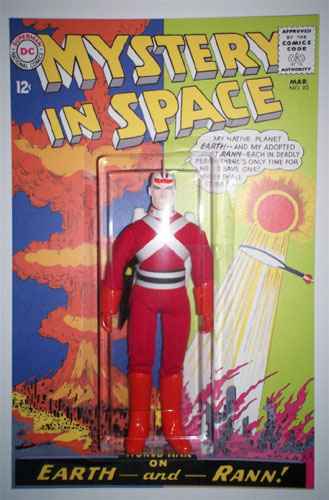 So anyway..that's some of my favorite stuff. I must say that working on box and card designs for other people has also been very rewarding, challenging, fun and cool! Thanks for looking!