Customizer of the Month- March 2007- Tim Arnold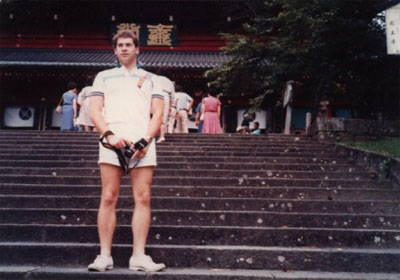 Name: Tim Arnold
CM: Any Personal Info you are willing to share: (married? Kids? Pets? Occupation? Where from? Other hobbies,/Interests?).
TA: Single. I live in N. E. Tennessee in the city of Johnson City. Born, raised and lived most of my life here. Iíve been a detective in a large law firm for the past 12 years. I really enjoy my job because it keeps me out of the office most days and Iím always doing something new but itís not near as exciting as one might think. Besides collecting Megos I collect most anything superhero related from slurpee cups, posters, trading cards, and toys from the 1970s or anything that might bring back my childhood memories. Comics, I love comic books!
CM: How did you get started collecting mego?
TA: Iíve always been collecting comic books at one time or another. While in a comic shop in 1998 I picked up a copy of The Toy Shop paper and after digging through it I came across some ads for Megos. I thought it would be fun to grab a Captain America and Spidey figure just for old time sake. After getting those I figured Iíd try and get a few more that I had as a kid. The obsession grew from there.
CM: What is your favorite original mego figure and line?
TA: Easy question. Iíve always been a Captain America fan. I must have went through about 5-6 of the CA Megos as a kid. My favorite Mego line has to be the 8Ē WGSHs probably followed by the POTA, Trek and so on.
CM: What is, in your opinion, the biggest "hole" in mego's original lines. (what figure or figure line is missing that should have been done).
TA: Iíd have to agree with the consensus in that the villains should have gotten more attention. Personally Iíd have loved to have seen a Red Skull, Doc Doom, Lex Luthor.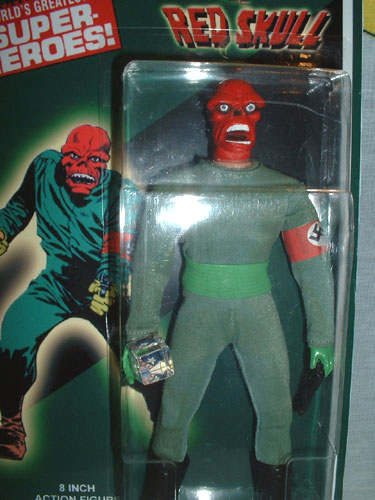 CM: What motivated you to start customizing?
TA: As kid I used to customize my Megos by taping paper on the figures head and then drawing the characterís mask or face on it. As an adult came across a customizing article by Matt Jaycox and I was hooked. I thought it sounded so easy, HA! If only Iíd known what I was getting into.
CM: What was your first custom?
TA: Probably like many people my first custom was a Sub Mariner figure. I certainly hope there are no pictures of it because itís isnít my proudest moment.
CM: How did it come out? (looking back on it now)
TA: Terrible. My first attempt was made using auto bondo as a mold and cheap clear resin for the casting. I had to whittle the cast out of the bondo. Even though it was far from a success it did come out reconizible. My skills for making a suit and putting it all together were pretty bad.
CM: What have you done/learned that has improved your customizing skills?
TA: PATIENCE & Practice! Itís something that I usually lack but when it comes to customizing it helps so much. Also dremmel skills and painting. Iíve taken tips from others and improved my painting techniques quite a bit.
CM: What areas of customizing is your strongest points, or favorite things to do?
TA: While Iíve done 8Ē and 12Ē figures right now I really enjoy doing custom vehicles, especially the ďvansĒ. The hard part is finding them at a reasonable price. Iíve got so many ideas for future vehicles and I hope to do a couple more in the next few months.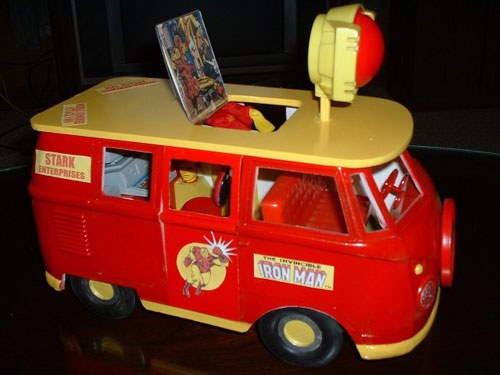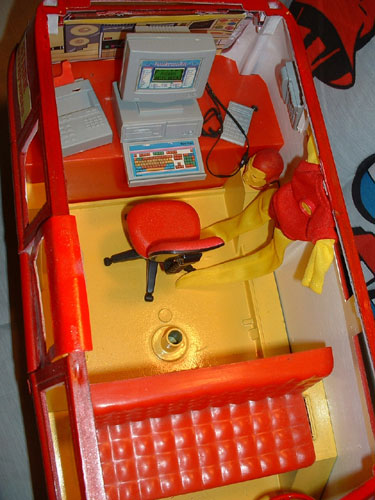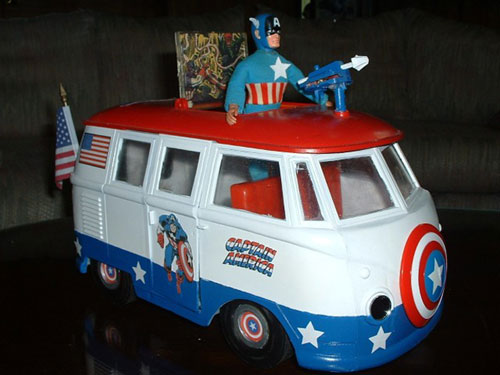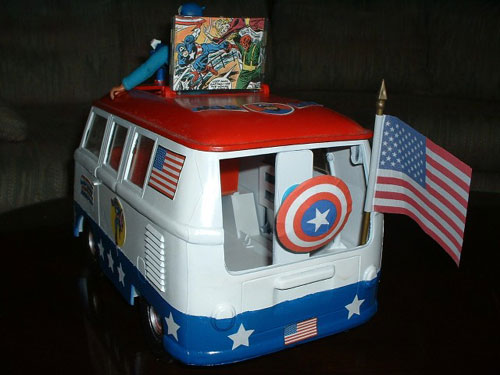 CM: What resources make it easier for you as a customizer? (is there a source for parts? Information? Etc. that aids you more than anything else?).
TA: In the beginning for me there was only Doc Mego. I made most of the heads myself. Now with great people like Doc Mego, Dave Mc, Austin, Russ, Anthony, Buk, David Lee, Darmo, Mego73, Joe D, Paul (Hulk), Paul Evans, Brian L. and a few others who can supply a person with endless repro and custom pieces that are now available. Also there are more ideas and parts out there by robbing other figures now. Many of the customs on the Custom Board of the MM are very inspirational and itís a great place to bounce around ideas.
CM: What is your favorite custom you've done and do you think it's your best work? If not, what do you think is your best work?
TA: My favorites would have to be my 12Ē Red Skull, Nick Fury, Cap Lab and Iron Man Van. Honorable mention would be my Kid Colt and Two Gun Kid. Iíve always had fun doing those.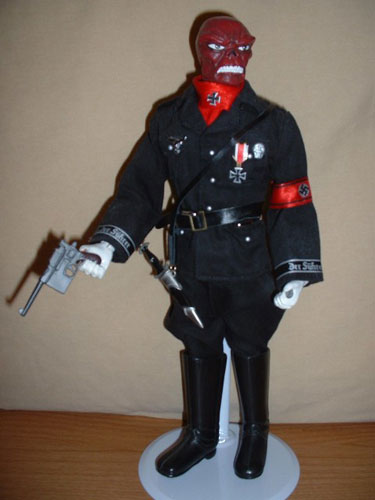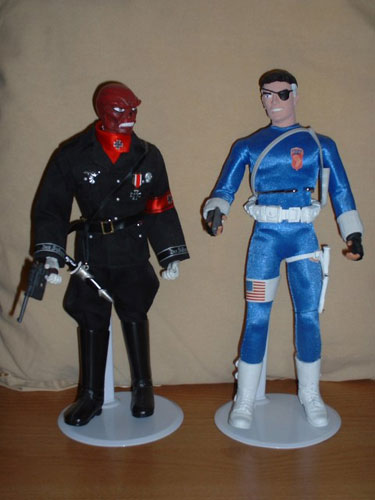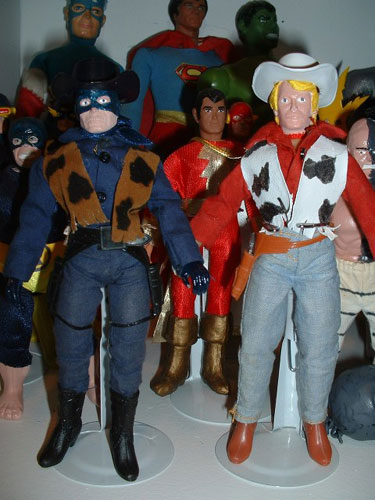 CM: Why do you choose the projects you choose?
TA: I only do figures that I have fond memories of as a kid. Youíll rarely catch me doing any heroes or other figures that are from the 1980ís and up. Itís all about nostalgia for me.
CM: What are your favorite customs others have done and why?
TA: My favorite customs are most anything by Captain Mego, His stuff is the best in detail and so realistic looking. Austinís Wrecking Crew, movie Captain America and Circus of Crime are my favorites because I loved the comics and the silly movie they appeared in. Todd Waters custom Shocker, Harry Osborne and Vampirella are so cool in the old Mego style. James Bradyís Gorn and JMCís Nova are other favorites. Wow, there are so many others itís hard to pick and choose. By tomorrow my list may change.
CM: What is on your "to do" list in the near future?
TA: Right now Iím looking forward to doing a Rawhide Kid, Night Rider, Hawkeye, Ghost Rider and definitely more vans.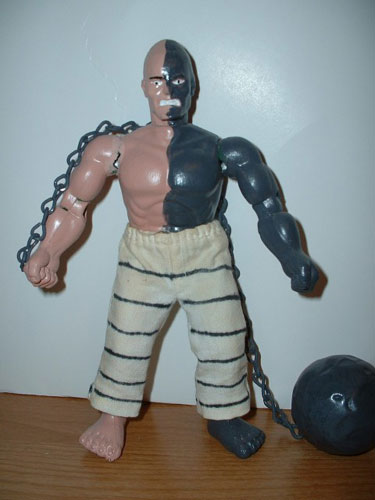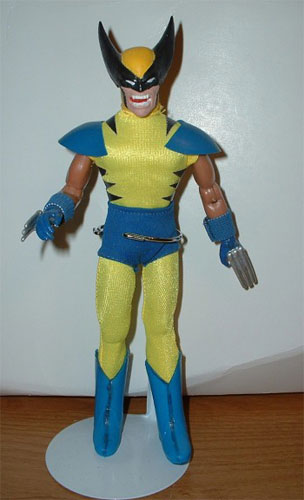 CM: How do you think customizing affects the mego collecting hobby?
TA: I feel it enhances the Mego collecting community as a whole. Some people who may not have been fans of all the figures Mego made can now look forward to making or buying the ones they felt were left out. It also brings in collectors from other areas such as monster and trek fans.
CM: Any tips or words of customizing advise to new customizers?
TA: Again, patience and donít be afraid to take otherís comments and critisizm. Most of all have fun. If itís not fun then youíre doing it for all the wrong reasons.
CM: Do you sell custom figures or parts? If so, why?
TA: I have sold a few figures and parts. Only because I used the money to further my Mego collection. Looking back I regret selling some of them. As far as selling parts, Iíve probably given away more than Iíve sold. I enjoy sharing this hobby and it makes me happier than a dollar or two would.
CM: What does your family/friends think of your mego custom work/hobby?
TA: At first they thought I was nuts and would be out of it in a couple months. Now they look forward to seeing what I can do next. Iím always showing them something Iím working on or a custom that someone else has done.
CM: Thanks for chatting with us Tim!