Customizer of the Month- November 2008- Mike L. (MikeOz)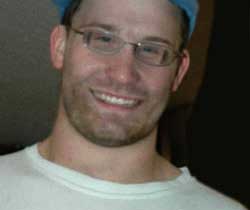 Name: Mike L. (MikeOz)
CM: Any Personal Info you are willing to share: (married? Kids? Pets? Occupation? Where from? Other hobbies,/Interests?).
ML: I've been happily married for eight years. My wife and I have three kids - two boys and a girl. They are the pride and joys of our lives! I work in the financial field, and life is pretty darn exciting right now. I'm able to work out of my house quite a bit, so during down times, I work on my customs. I'm also a diehard skier and like to hunt.
CM: How did you get started collecting mego?
ML: I got my first Megos in the late `70s. I really liked the Adam West Batman series, so my first Megos were Batman and Robin, of course. Later, I got the Penguin and Joker. My older sister had some of the Wizard of Oz figures and a friend had the Star Trek figures. By the mid 80s, I became interested in other things (girls, sports, etc.) and had basically forgotten about Megos. About a year and a half ago, my kids and I found my Megos in my parents basement and they fell in love with them. My daughter loved the Wizard of Oz figures. I didn't know what the value of the figures were, plus they were actually my sister's Megos, so I started checking on ebay for prices and then began buying the figures from the WOZ line. I was hooked again! I've now begun collecting all the WGSHs, Trek, Planet of the Apes and several CTVT lines of figures as well.
CM: What is your favorite original mego figure and line?
ML: Since I had the Batman line and was familiar with the Wizard of Oz line as a kid, I'm partial to those two. Plus, I think the WOZ figures are some of Mego's finest. My favorite Mego, though, is Spock.
CM: What is, in your opinion, the biggest "hole" in mego's original lines. (what figure or figure line is missing that should have been done).
ML: I'll probably be tarred and feathered for saying this, but I think Mego covered the WGSH line pretty well (although, I have several WGSH customs in the works). I think the Winkie Guard and the Flying Monkey would have been great additions (and sellers) to the WOZ line.
CM: What motivated you to start customizing?
ML: I found the Mego Museum and started checking out all the customs made by the talented customizers here. I couldnít believe how cool they were. Plus, my daughter really liked the Wizard of Oz figures I bought her and wondered why there wasnít a Flying Monkey. That inspired me to get customizing.
CM: What was your first custom?
ML: It was the Winkie Guard from the Wizard of Oz. My daughter wanted me to make her a Flying Monkey, but I couldnít find the parts and didnít have the know-how. I decided I could make her a Winkie Guard, though.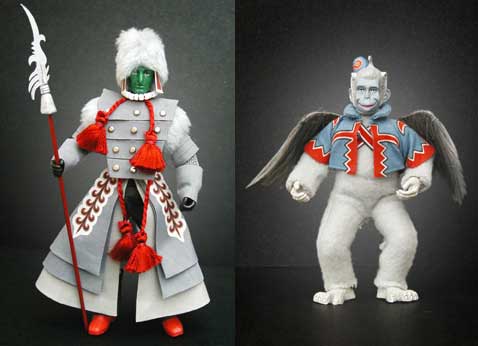 CM: How did it come out? (looking back on it now)
ML: Decent. I had read a lot of the tips and resources from CustoMego, so at least I had an idea of how to start. It still is one of my most detailed customs.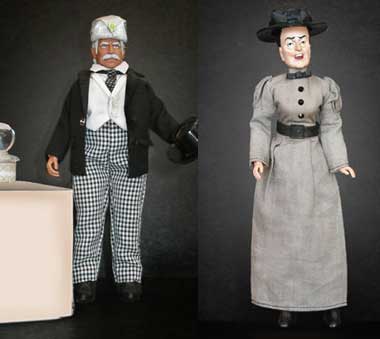 CM: What have you done/learned that has improved your customizing skills?
ML: Iím better at hand sewing (still havenít touched a sewing machine). I also found Super Sculptey.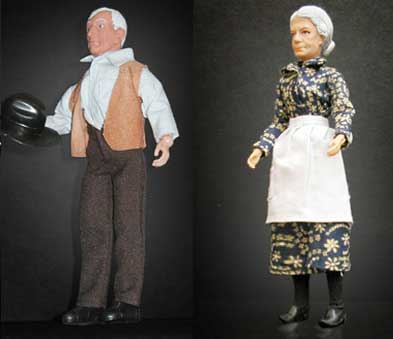 CM: What areas of customizing is your strongest points, or favorite things to do?
ML: I donít do many customs from scratch. In fact, I think my strongest customizing skill is my ability to find resemblances in existing Mego and Mego-like parts to figures I want to customize. I really enjoy painting heads, too.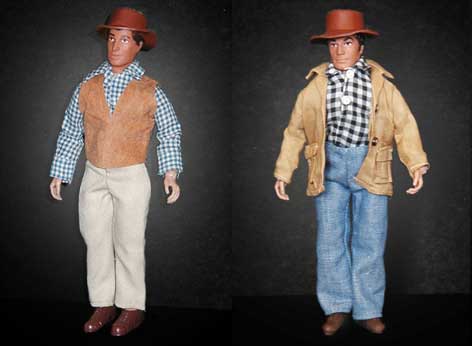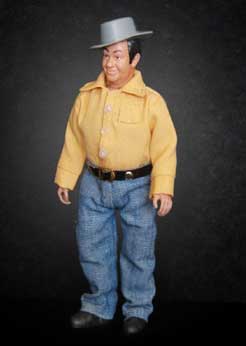 CM: What resources make it easier for you as a customizer? (is there a source for parts? Information? Etc. that aids you more than anything else?).
ML: Definitely the CustoMego links! Since I havenít attempted to fully sculpt and cast my own resin heads, I rely on Dave Mc, Doc Mego, Reproheads and Brian Leitner to supply me with parts.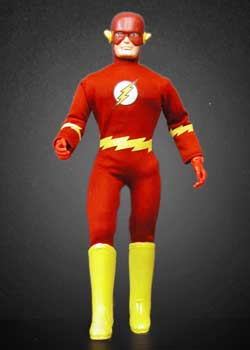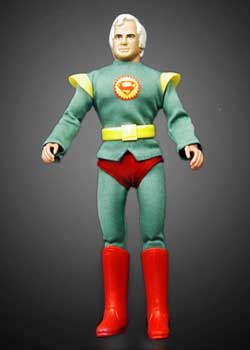 CM: What is your favorite custom you've done and do you think it's your best work? If not, what do you think is your best work?
ML: My favorite custom Iíve done is the Winkie Guard. It was my first custom, so I probably became more attached to it than I do with the rest.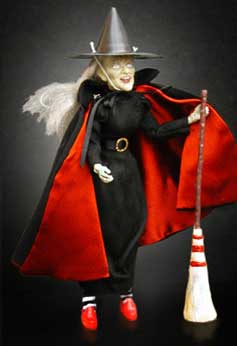 CM: Why do you choose the projects you choose?
ML: I make quite a few customs for my kids, so they pick what they want. Thatís the main reason I made so many WOZ customs. A lot of times, I see a custom on the Mego Museum site and decide I want one, too and then make it.
CM: What are your favorite customs others have done and why?
ML: I love looking at all customs and I am totally impressed with the quality I see in the customs posted on the forum. I tend to make customs that are fairly simple, and for lack of a better term, Mego-like. I think thatís why I gravitate toward James Bradyís, Dave McCormickís and Austin Houghís customs. They look like they were professionally made by Mego.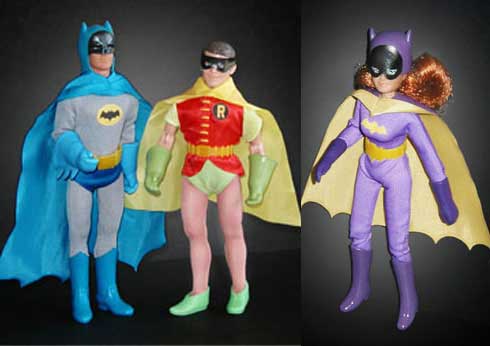 CM: What is on your "to do" list in the near future?
ML: Iíve got a Lex Luthor and a Zod head coming from Reproheads and a Doc Ock head coming from Dave Mc. Those will be my next customs. Later, Iím planning some Trek and Apes customs. Iím also trying to finish a website that displays my customs and my Mego collection. We donít have enough kid safe room in our house, nor is my wife very excited about displaying my collection, so Iíll use the website as a way to show them.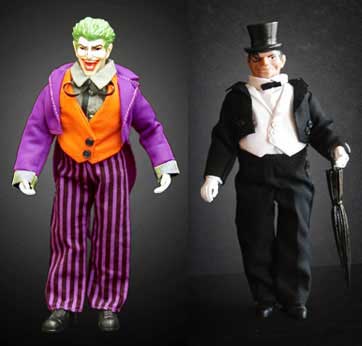 CM: How do you think customizing affects the mego collecting hobby?
ML: Itís the perfect way to fill in the missing figures. Plus, it brings a creative element into collecting. I enjoy customizing more than actually collecting the figures.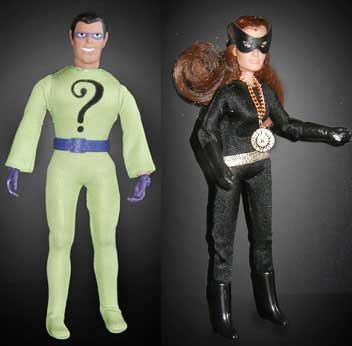 CM: Any tips or words of customizing advise to new customizers?
ML: Read through the CustoMego tips and resources. Look at examples of other customs. Itís a great way to get ideas. Always keep your eyes open when going through craft and hardware stores. You never know what you might find for a custom part.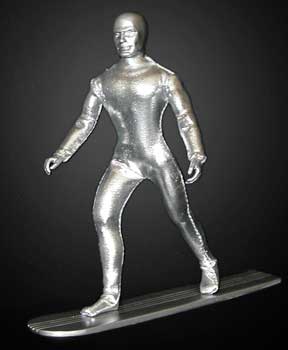 CM: Do you sell custom figures or parts? If so, why?
ML: I havenít sold any yet. For some reason, I havenít felt comfortable since all my customs have their imperfections. Someday, I might, though.
CM: What does your family/friends think of your mego custom work/hobby?
ML: My kids love it and my wife tolerates it. It can be expensive and time consuming, so I try to limit what I buy. A lot of my family and friends donít know I even customize Megos since Iíve only done it for a year or so.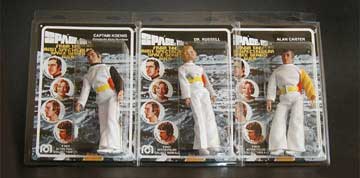 CM: Thanks for your time, Mike!