Customizer Gallery - Lennie Starr
I am by no means a sculptor. I am indeed an artist/illustrator. One day I will find the time to sculpt but I have not yet had the drive to do so. And with all the talent I've seen on these boards I have a high standard to compare. That in itself it a challenge all of it's own. I much prefer vinyl heads to resin because of the soft features and it reminds me much of Mego. Likewise, I do not care much for rubber heads recently released as re-issues I will however use them for customizing if that's all I can find available.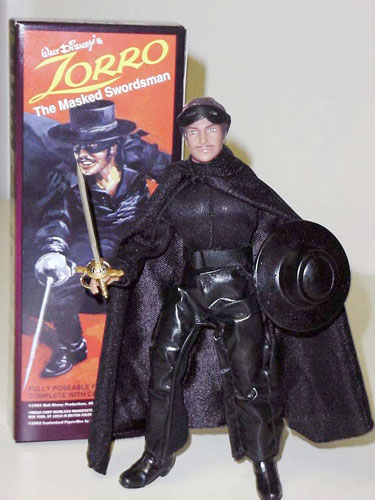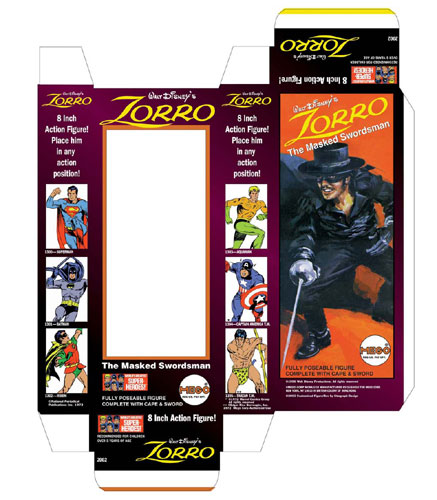 Zorro
This Removable Mask Zorro is a one of a kind Custom that initially took me several years to complete because I wanted to get it just right. It received a warm welcome in the art dept. at Walt Disney World in Florida when I brought it along in 2002 for an interview that lead to some freelance work with them. I layed the box out myself in 2002 under my business name of Stargraph Design, the box, similar to a WGSH box is in accordance to all professional printer specs. The artwork is a highresolution digital scan made from an original Palitoy Zorro box and digitally altered/enhanced by me to change the positioning of the name to better reflect a WGSH style box. I had it professionally printed by a top commercial printer located on the South-side of Pittsburgh. The drawback is that it is a digital proof and I only had three printed. Merlyn1976 has one, Boss has one, and I am keeping one for myself.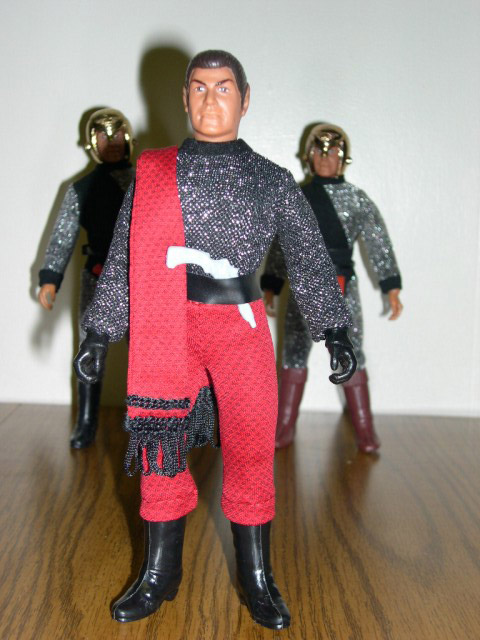 Romulan Commander
For my custom Romulan Commander, James (Lord Malvolio) was gratious enough to help get me started by emailing me a pattern for the pants (basic trek pants) and by my viewing his, among all the photos I could find online as reference. I think he did a great job and I would have bought one if I knew about them at the time. The key factors on mine that distinguish it from his is the pattern I drew in Illustrator to match the original and having it screen printed.
A lot of heart went into this. I'm not as sewer by choice but if I wanted this, I had no choice. I much prefer customizing with original or vinyl heads rather than the resin ones if possible. To me, it gives more of a Mego look when it's made from vinyl. I was looking for one for years in hopes to do this. I was finally able to land a nude Romulan from ebay for about $50., I had to get started right away.
I didn't use a dicky on mine, just a collar modeled after the original Mego trek crew. Also, for the silver material, I simply dyed an original knight suit black. This was the result.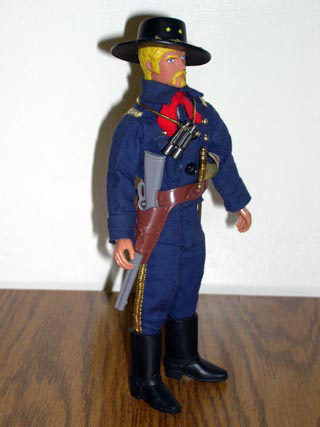 General George Custer
Living just 35 miles west of George Armstrong Custer's birthplace of New Rumley, OH, I've always known of this controversial Civil War Hero/Indian fighter. He's another one of those, "What If" characters Mego never produced. In recent years the controversy has grown much that this 19th C. American Hero is losing his status as "Hero" but no bones about it, they were at war with the Native Americans. And he lost his battle which made him infamous. What he failed to realize is that he couldn't fight the Native Americans with a confrontational charge like he did the Forces South (who would stand and fight). He could chase the Native Americans across the whole frontier without even seeing them. They wouldn't be seen unless they had their opponent at a disadvantage. He was young and head strong like a fictional character such as Capt. James T Kirk, which elevated him straight up through the ranks and I think if put in a real life situation away from TV, 'Ole Kirk wouldn't have faired too long either. Custer Memorial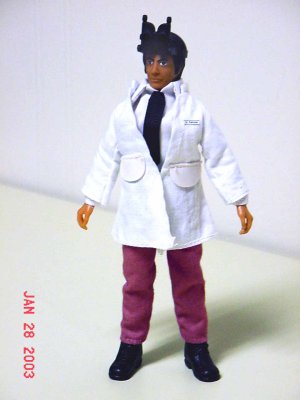 Dr. Banner
This figure started out life as a Mego Hutch. By the time it got in my hands, it was pretty much stripped of paint so I decided to paint it. I immediately saw a resemblance of Bill Bixby so the choice was rather easy who he should be. I display him proudly next to a 12" Hulk. With the 12" Mego Hulk available, I really don't have much use for the 7.5" version for my WGSH display.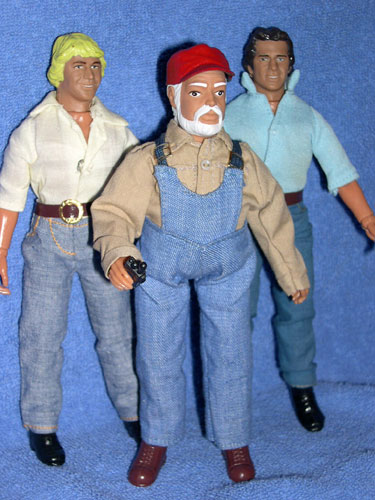 Uncle Jessie
This Duke Boy started out as a Rainfall Moses. When I first looked at the figure, I immediately saw a resemblance of Denver Pyle. That was my motive for transforming him into Uncle Jesse. When plans were under way for organizing the first MegoMeet, I got with Allan of the Kruger Street Toy & Train Museum and Paul Clark (Doctor Mego) and told them that if they were willing work with me to do an exclusive figure, I had a prototype that I thought would work. This was the prototype. I really didn't have much to do with the exclusive figure other than providing Allan's wife (a veteran seamstress) with the jean material and a pair of Grandpa Walton's overalls to replicate. Paul supplied the painted heads, shirts and the cards as well as CTVT chubby bodies. I included a walkie talkie and a red hat for my original prototype, which weren't included with the exclusive figures.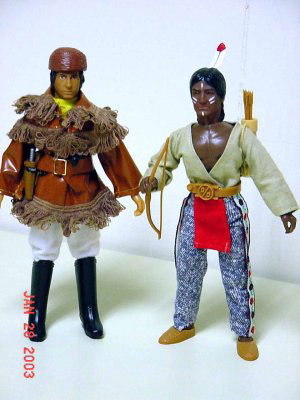 Daniel Boone and Mingo
This was another easy figure using RT Toys clothes and a Mego Peter Burke head. Mego never did a Daniel Boone figure but I distinctly remember watching the show starring Fess Parker as a small child. I've recently seen reruns of this and unlike several shows I liked as a kid, I still liked the plots, story lines and all. Of all existing Mego figures, I felt that Burke best resembled Fess Parker. I did a google on DBoone and although I could only find paintings, I saw a similarity to those as well. http://www.lawbuzz.com/famous_trials/daniel_boone/images/boone.jpg
The indian figure started out life as a Paco but later found better articulation as a Mego.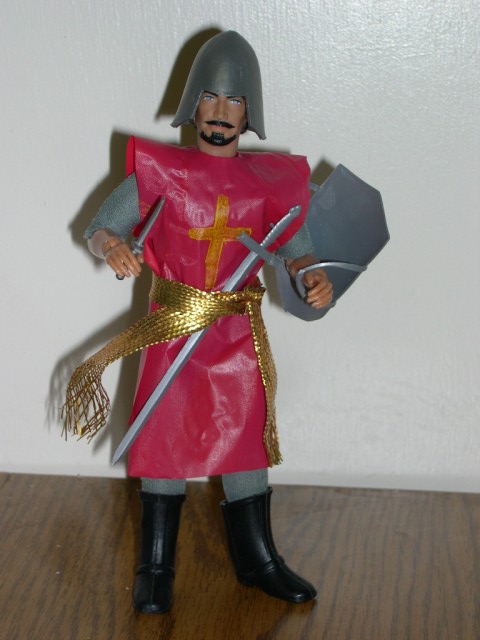 King Richard
I think that Ivanhoe is just about the best sculpt Mego ever did. I stumbled across the suit and accessories of a crusader knight at a toyshow and the Ivanhoe sculpt was a perfect "period style" choice. Fits nicely in a Robinhood set.