Customizer of the Month- February 2007- Austin Hough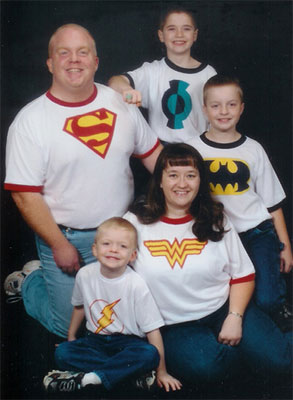 Name: Austin Hough (AKA MEGOWGSH)
CM: Any Personal Info you are willing to share: (married? Kids? Pets? Occupation? Where from? Other hobbies,/Interests?).
AH: I was born in Chicago in 1969, the year the Cubs choked away the pennant. Not a good sign. I have been married to the same wonderful woman for 13 years and we have three boys together: Austin 12, Kyle 9 and Connor 5. For Christmas this past year, Santa brought us a Wheaten Terrier puppy named Mae.
I have been in the foodservice business for most of my adult life, but since November I am an Insurance Agent and with a Farmers Insurance Agency office here in my hometown of Minooka, Ill.
Besides Mego collecting, I am an avid sports enthusiast rooting for all the Chicago teams in every sport. I am what you call a "Homer" J Super Bowl prediction: Bears 187 Colts -3
CM: How did you get started collecting mego?
AH: When I was a wee lad in the early 70s my favorite toys were Mego WGSH, Big Jim and GI Joe (I have a very fond memory of my Dad and I trying to fly the GI Joe Sky Hawk hang glider that you flew like a kite in our alley in suburban Chicago.) Most of my Megos came from Hero Headquarters in Jersey but I do remember seeing some at various toys stores in Chicagoland, specifically a boxed Iron Man at my local Penney's.
As a youngster I was obsessed with my Megos. I would even wash their clothes in the bathroom sink and use my Mom's hair dryer to dry them.
1977 is when I got full into sports specifically baseball and my Megos and other toys were pretty much left behind. Not to mention the fact that my Gramma let my little brother take my Mego Hall of Justice into his wading pool which left me emotionally scarred and unable to play with my Megos ever again.
Until 1980, that is, when my little brother and I got heavy into Star Wars toys. We have almost every playset still to this day with their original boxes and tons of figures carded and loose.
By the time they released the POTF Star Wars stuff I was out of the toy scene once again and completely back into sports and now girls.
In 1997 my brother found all my old Megos in our parents' attic and I became hooked again. That is when I found the Mego Museum.
CM: What is your favorite original mego figure and line?
AH: In order: Green Arrow, Iron Man and Thor. And with a moniker of MEGOWGSH you can only guess which was my favorite line.
CM: What is, in your opinion, the biggest "hole" in mego's original lines. (what figure or figure line is missing that should have been done).
AH: Well, that is hard to say because, as you can tell, with all the customs I have made I felt there were many "holes" in the WGSH line, but if I had to pick a figure, or figures, I would have to point to the complete exclusion of any X-men figures. I am not a huge X-men fan, but it seems that the Wolverine led team coincided perfectly with Mego's golden era. It would have been a perfect and most of all timely fit.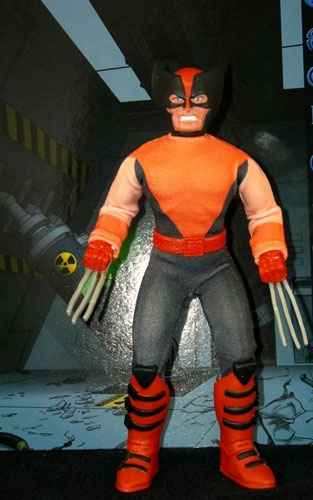 Maybe if Mego began concentrating on Super Heroes from that time period, i.e. X-Men, Punisher, Ghost Rider, new heroes and foes from Challenge of the Super Friends, etc. the line would have stayed fresh and made money. We'll never know.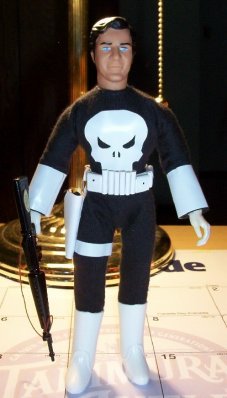 CM: What motivated you to start customizing?
AH: Bear with me on this; it's a long story.
In 1975 I asked my Dad, "Why didn't they make Flash, Hawkman and Green Lantern?" He said he did not know why but he was willing to help me try and make them for me. We made a 2-part plaster mold of a Mego Aquaman head (which I still have to this day) but did not know what to do from there. We weren't sure if we should start carving new details in the mold or what. So, we just sort of gave up. Soon thereafter I was not interested in dolls anyway so no biggie.
Fast forward to 1997. My brother stumbles upon all my old Megos in my parents' attic. I decided to do a little Internet research on Mego and found the Mego Museum. Not only did they have a complete listing of all that was Mego WGSH, but they also had a "Customs" section. I discovered that there WAS a way to make all the Mego superhero figures I always wanted as a kid and the customizers on the Museum provided me with the road map.
Specifically, the customs of Matt Jaycox, Scott Metzger and Charlie Flatt inspired me. And with all the tutorials available on the site, I was good to go! I went to my local hobby store and bought my first Alumilite kit and the rest, as they say, is history.
CM: What was your first custom?
AH: The first custom I had to make was the Flash! And he was made in 1997. I used a repro Mego Captain America head, sanded off the ears and painted it. I then took an old Mego Shazam suit and took off the belt and cuffs and added a chest emblem I made from a round white Avery sticker/dot you get from the office supply store and a lightning bolt I cut out of some yellow canvas fabric. The belt and wristbands were from the same fabric and I used fabric glue to get them all stick.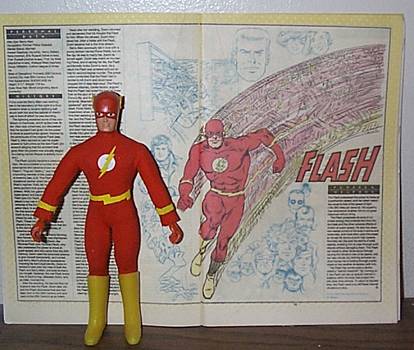 CM: How did it come out? (looking back on it now)
AH: It is a fresh slice of Megoesque "cheese", but it is near and dear to my heart. It is my first baby.
CM: What have you done/learned that has improved your customizing skills?
AH: Head molding and casting. Owe a lot of that to David Lee. My head painting has improved a lot also.
CM: What areas of customizing is your strongest points, or favorite things to do?
AH: I think my strongest suit is my ability to conceptualize a character in what we like to call "Megoesque" style. I may not be the best painter or sewer or caster or whatever, but I feel that when my customs are finished they fit in perfectly with my real Megos.
For me, my customs have to look like Mego would have made them and when people see it, they cannot tell the difference between an original Mego and my custom. They think they all belong.
I think that in someway me making customs that are Megoesque is my tribute to Mego itself. In my own small way I am paying tribute to the company that brought me so much joy as a child. So much joy, in fact, that it has carried on to adulthood where I literally still surround myself with them. It is if I am working for Mego and carrying on the torch that burned out back in 1982. I feel it is the least I can do.
I have been on a mission since the beginning of my customizing Odyssey to use every 1/9 scale Mego head used outside of the WGSH line to create at least one custom. So far, I have used at least 30, not to mention similar style heads from other manufacturers like the LJN's SWAT, Rookies and Emergency lines. Also, I have probably used Conan's head about 6 times on various customs. That is the most versatile head Mego has in my opinion. What a great snarl.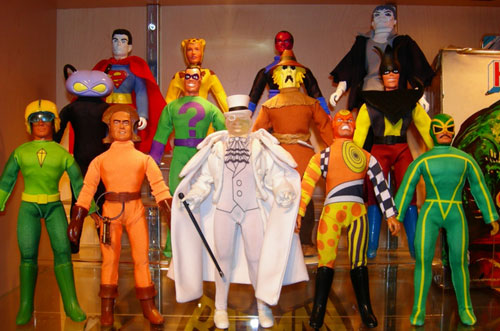 CM: What resources make it easier for you as a customizer? (is there a source for parts? Information? Etc. that aids you more than anything else?).
AH: My Dremel.
Seriously, for me, it is one and the same: the availability or custom and repro parts and services.
When I started this Odyssey ten years ago, there was not a lot to work with. You better have enough original Mego parts; a lot of artistic skills and a strong imagination or you aren't going to make a very good custom.
But now, everything is available at our fingertips. And, if it isn't, we can probably make it. From Doc Mego to CTVT; from customslab.com to reproheads.com; from Hydrospan 100 to Hydrospan 400; from silk-screening to dye sublimation, if there is something you need chances are you can find a way to get it done.
A big "Thank You" to all the folks who have stuck their necks, and pocketbooks, on the line so customizers like me can keep my habit going.
CM: What is your favorite custom you've done and do you think it's your best work? If not, what do you think is your best work?
AH: The best or my favorite? Hmmm, I love them all because they are all mine, but I would have to say my best custom would be one of my most recent: movie Captain America, Savage Aquaman, X-Men Evolution Wolverine or Jack o Lantern (I just love the paint job I did on his head). My favorite custom is probably my Pied Piper from Flash's Rogues Gallery because I feel he looks most like the comic and I always wanted Mego to make the Flash's Rogues Gallery.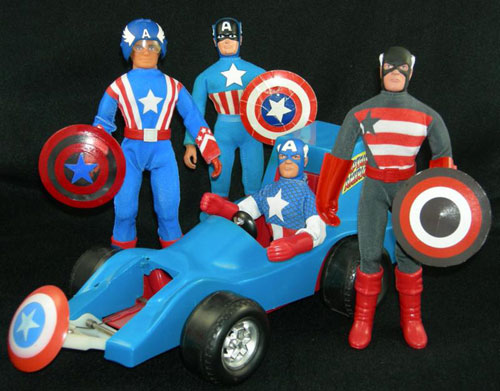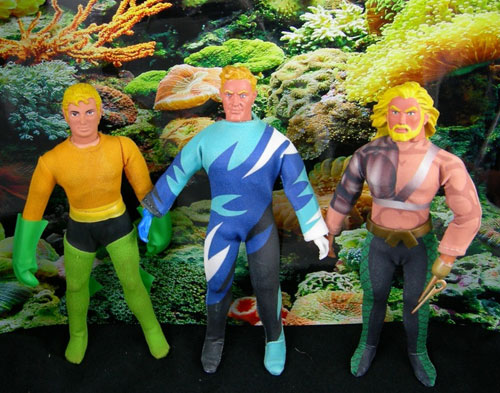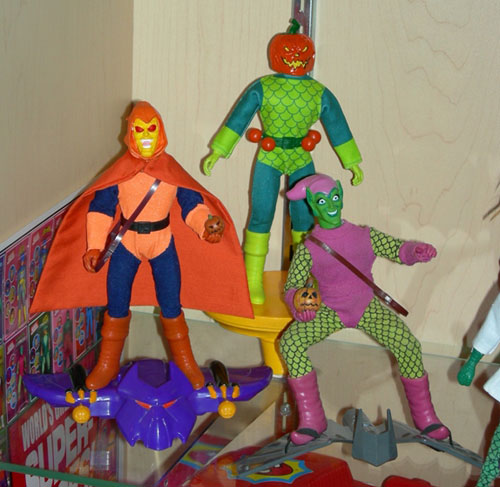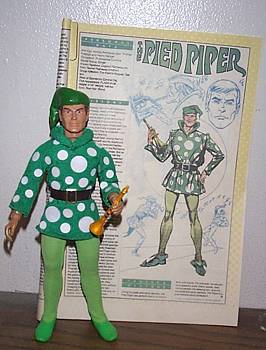 My favorite group of customs is my Wrecking Crew. The Crew holds a place near and dear to my heart because they were in the very first comic I remember buying as a child in 1975. My Grandma gave me $0.50 to get a candy bar and a comic book and I went to the drug store (by myself) and bought a Marathon bar (remember those?) and Defenders 17 with the WC on the cover!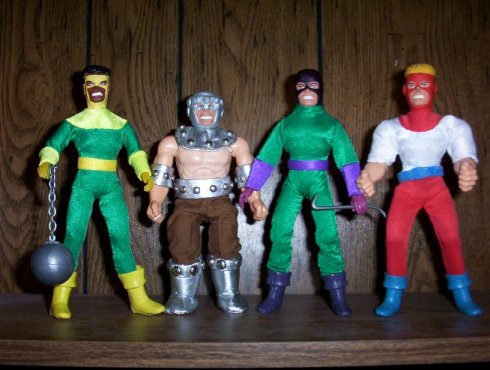 Second place would be the Circus of Crime who I remember crashing Wasp's and Yellow Jacket's wedding.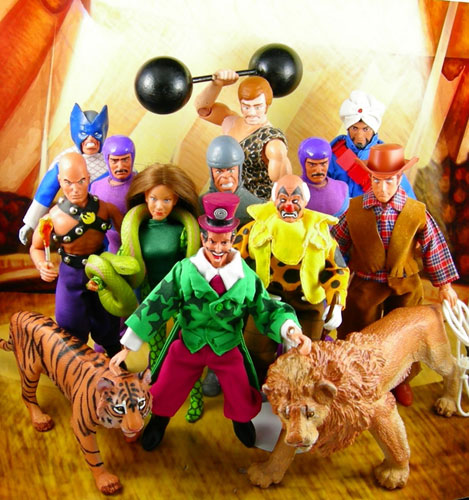 CM: Why do you choose the projects you choose?
AH: I have a list of customs I want to make set up in a Microsoft Excel spreadsheet. I have them categorized as "A, B, C, D, and E". 'A' is the list of customs that should take the least time to do, 'B' a little more time, and so on. Each character is named on a row and the columns are headed: body type, head, boots, gloves, etc. letting me know what I need for that custom to make him complete.
If I followed this list, I would probably be done with about 50 more customs already, but I often get distracted and stray from it.
There are probably (no lie) over 100 customs I have in my basement that are started, but nonetheless somewhat incomplete. I keep each 'in progress' custom in its own Ziploc bag along with any and all parts I have for it and I have them clipped on hangers hanging from the pipes above my workstation.
I believe I MUST have ADD because I bounce around from custom to custom like Joker in his padded cell. Most of the time I can stay focused to the list of characters I want to make, but sometimes something will trigger an impulse in me and I will have to drop everything and work on a custom I never thought I would want. A great example of this is the Movie version of Captain America. I saw a picture of him one day and said, "I just have to make him." I dropped everything and designed his suit, worked on his helmet, started jotting down ideas about his motorcycle, etc. etc. So not only do I think I have ADD, but I also think I am Obsessive/Compulsive, too. J
And the real weird thing about this version of Cap is that I do not have any affection towards that representation of the character whatsoever. I do not even remember the movie. It was very unlike my pursuit of the Wrecking Crew or Rogues Gallery
date, I have only focused on Super-Heroes. I only had the WGSH line when I was a kid. I never collected POTA or Trek or any of the TV related figures. Super-heroes were my life, until Star Wars came out, of course.
Justice League of America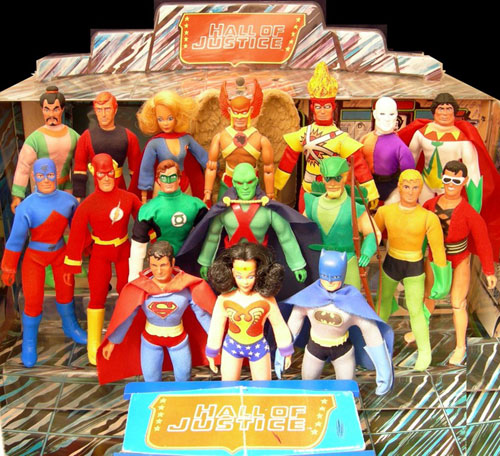 Avengers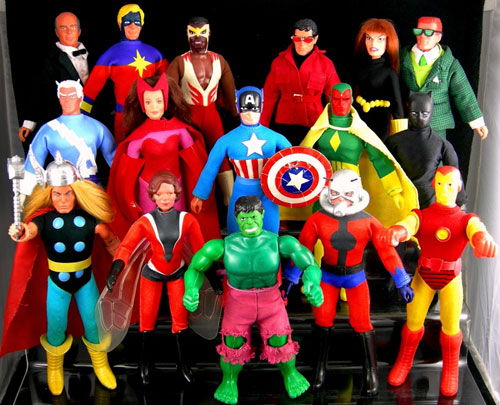 But, ironically, I have no interest in making any Star Wars customs. Right now, for the foreseeable future, I am only going to make DC and Marvel Super Hero customs. Once I complete all the characters on my DC and Marvel "to do" list, I would love to make some Dick Tracy customs. I was never into Tracy as a kid, but my Dad loved him. And, I always thought he had awesome villains: Flat Top, Prune Face, the Brow, etc.
CM: What are your favorite customs others have done and why?
AH: Well, I stated that Metzger, Jaycox and Flatt were early influences. So, most anything by those guys.
Currently, I really like (in no particular order) the work of: JMC, Black Knight, Tbolt, BobBait, David Lee, Dave Mc, James Brady, Derek Richardson, Tim Arnold, Toyroom, Ed Nagy, Jim Hampton, and some new guys, Illegalmego, Mego Spidey and Black Kryptonite. Gosh, there are so many talented people out there. I am sure I am missing a bunch.
As for individual figures, the first ones that come to mind are Thunderbolt's Metamorpho, Type3Toys Mysterio, Black Knight's Deathstroke (Ironically, 3 figures that are not al all "Megoesque")
I am also a big fan of the collaborative effort on Firestorm a while back between, Dave Lee, Paul Evans and Dave Mc. That could be my favorite custom of them all and I do own one.
CM: What is on your "to do" list in the near future?
AH: I have just finished a bunch of customs in my "the many faces of Spider-Man" series.

The Royal Flush Gang is also something I plan on finishing. This set is very important to me and I am going to take my time to make it right. Here is a "work in progress" photo: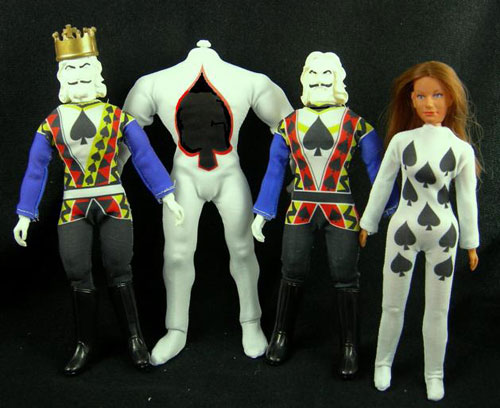 After that set, I plan on working on a set of Marvel's Serpent Society. Never had an interest in these guys, but my son Kyle loves snakes and I think these would be cool to do. Not to mention the hundred or so individual figures that are already in "body bags" in my basement.
CM: How do you think customizing affects the mego collecting hobby?
AH: I think it can only affect the hobby in a positive way. We only have a limited amount of original Mego action figures, but with customizing, that number becomes limitless. I just hope we can continue to bring more and more new customizers into the fold or I am afraid our hobby will die a slow death.
CM: Any tips or words of customizing advise to new customizers?
AH: Yes. Jump in the water's fine. Do not be afraid to ask questions. Chances are they are questions that have been asked 100 times. But, you need to ask because you need to know. So just ask and do not be afraid of looking "stupid". Trust me we've all been there.
CM: Do you sell custom figures or parts? If so, why?
AH: I sure do! Most people are familiar with www.reproheads.com. That is my site. Originally, I was only offering heads, and then with the notdolls.com acquisition came cloth emblems, weapons, and boots. I added repro Hulk Bodies, head painting service and the icing on the cake, professionally printed suits. I have tried to make the site a one stop Custom Shoppe. Below are samples of custom figures I have sold in limited runs.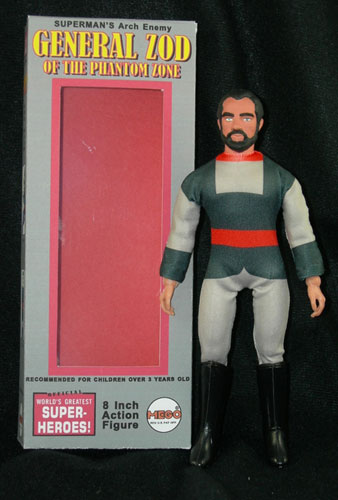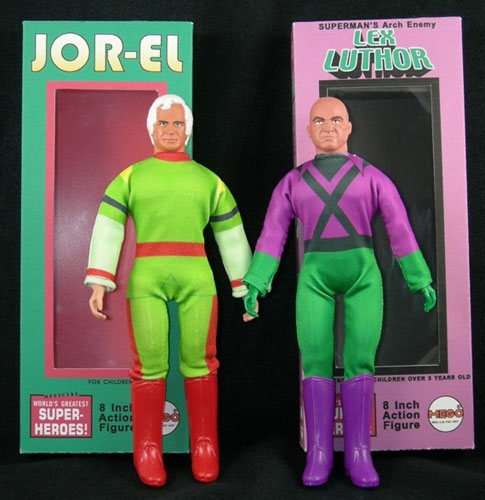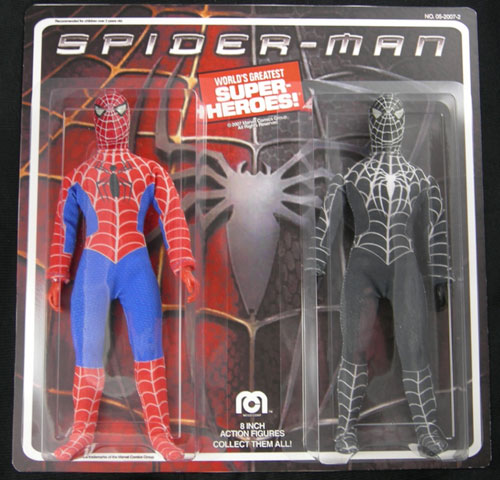 Our next custom figure will be a carded Silver Surfer from the new FF movie this summer.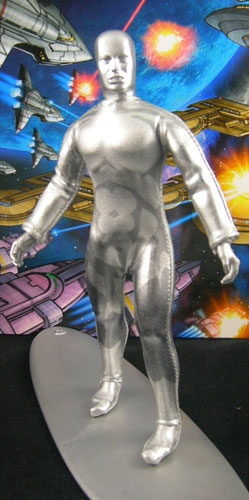 CM: What does your family/friends think of your mego custom work/hobby?
AH: They think it is the coolest thing. At least to my face they say that. Actually, my wife is very supportive. She says, "Could be worse, you could be spending all your money at the 'strip clubs' with Daremo and Meule."
My kids and their friends especially love it. My three boys have all worked with me making their own customs through the years. I even went to my son Kyle's school to talk to all the third grade classes on "how to make custom action figures". That was a day I will never forget.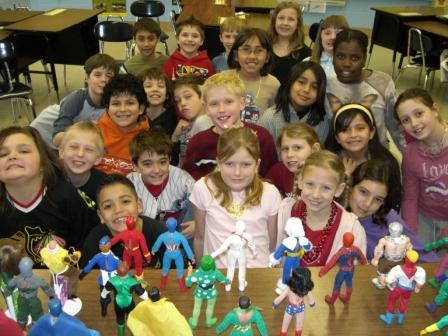 When you enter my house, you have to pass right by my office, where all my customs 'live'. So, all the kids stop and stare and ask to come in every time they are over. It is a great feeling.
CM: Thanks for taking the time to talk with us Austin. Anything you would like to add?
AH: I just want to give some mad props out to a few people who are not just acquaintances any more, but people I consider 'true' friends.
I have known "Hawk" Mike Barrett for almost ten years and we have only met once, but he is definitely one of my very best friends. We talk weekly via telephone.
Speaking of best friends, when Daremo came into my Mego life I thought he was just another obsessed customer. But, it was a huge turning point for reproheads and me personally. With his designing skills and desire to create, the costume options we are able to make available to customizers today is second to none. Besides that, he has become one of my very best friends. He, his wife and daughter are frequent guests at stately Hough Manor.
Matt Jaycox has been a close friend ever since I stopped by his apartment in Lansing, Mich., when he was a med-student at MSU and I was passing through on a business trip. He and his wife are simply wonderful people and they now live close to me in Chicago.
Scott Arendsen and I have been pals for years. I do not know how our relationship started, but I am glad it did. We talk weekly. Kolin "Wyatt" Erb and I go to as many Kane County toy shows as possible. He is a great guy and is a wonderful family man.
David Lee (as I mentioned earlier), Jason Schiermeyer and Russ Pittman are three of my closest confidantes. Thunderbolt, Huedell and Ed Nagy are also guys I have a special bond with.
I hope most Mego customizers have relationships like this where they do not meet, but still connect with someone via email or over the phone.
And, a big SHOUT OUT to all those who patronize my site, www.reproheads.com. Thank you so much for your support.
And the common thread running through us all is MEGO! Thanks Mr. Abrams! J And thank you all for bestowing the honor of Customizer of the Month on this freckle-faced kid from Chicago.J
I leave you with some new customs: