Customizer of the Month- October 2006- John Farley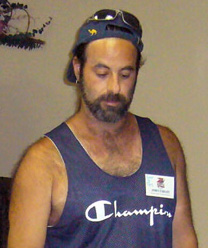 Name: John Farley (Type3Toys)
CM: Any Personal Info you are willing to share: (married? Kids? Pets? Occupation? Where from? Other hobbies,/Interests?)
JF: I was born on March 12, 1962. I have made my living for the last 13 years installing windows. Probably the most important thing about me is that I am a recovering addict. September 30, 2006 will be 14 years clean and sober for me. I have recently been reunited with my high school girlfriend. It is really nice to be back together with the first girl I ever loved. She has two children; a boy and a girl, that are just about the coolest kids I have ever met. At this point, I have to say that my future is so bright I have to wear shades!
CM: How did you get started collecting mego?
JF: Collecting stared as a kid for me in the 70's. I was into Mego stuff as well as the 12" GI Joes. If I remember right, a friend of mine came over one day with an Ape and a few WGSH figures. That was all it took!
CM: What is your favorite original mego figure and line?
JF: You would never guess this by the customs I make, but my favorite Mego figure is the Human Wolf man. Actually, the wolf man is my favorite toy ever. The Mad Monster Line is also my favorite set.
CM: What is, in your opinion, the biggest "hole" in mego's original lines. (what figure or figure line is missing that should have been done)
JF: I would have liked to see more Marvel villains in the WGSH Line. Dr. Doom, Mysterio, Doc Ock. All three of those would have been doable. I would also have liked to see the Mad Monster line expanded. That could have also been done. Look at what Cast-a-Way and CTVT did with the monsters.
CM: What motivated you to start customizing?
JF: Danger Dan. His custom work was the first stuff I saw on e-bay way back when. They really looked like Mego made them and I liked that. That is how my stuff started out; closer to Mego. Anyone remember Werewolf62 on e-bay, that was me!
CM: What was your first custom ?
JF: My first 8" custom was Doc Ock. I used a Dr. Mego body and Flatt Doc Ock head. I also bought the suit and boots from Dr. Mego. The tentacles were old window springs!
CM: How did it come out? (looking back on it now)
JF: Doc Ock came out OK. I had a lot of fun making him and a lot of fun watching the auction on eBay. Most of my early stuff came out pretty crappy in my opinion.
CM: What have you done/learned that has improved your customizing skills?
JF: As I already mentioned, in the beginning, I bought most, if not all, of the parts I used. Clothes, boots and even the bodies. Although Mego figures ruled as a kid, as an adult and a customizer, I wanted better articulation. That is when I stumbled upon the Flattworld Bela Lugosi. I went to the site and started ordering undressed bodies from Cal Weaver. When they ran out, I hit e-bay. I met a dude who seemed to have a supply of these complete Belas and he actually hooked me up with Charlee Flatt. I sent Charlee my phone number and he called me. So I started buying Belas by the case, removed the clothes and sold the clothing and coffins on e-bay and that would pay for the bodies I used on my customs. By this point, I had begun to do all my own sewing and sculpting. My sewing was OK, but my sculpts were awful. So one day I get the word that these Belas were going to run out. That is when, almost on a dare, a friend suggested I design my own custom body. I started with Mego pieces, then resculpted all the muscle groups on each body part. I redesigned the knee joint to fit on the lower leg like an "H". I also designed the ankle joint so the foot would pivot "in". I think I ended up with 28 points of articulation. That was January 2004. I came up with my name, Type 3 Toys to actually pay tribute to the Mego Type 2 Body. I have been building my customs on the Type 3 body since.
CM: What areas of customizing is your strongest points, or favorite things to do?
JF: I used to think that sewing was my best asset, but I have really been working hard on my sculpting skills. If you look close at my Green Goblin, Morbius, Deathlok and Man-Wolf hands and feet, you can really see how I have improved since my Werewolf62 days. These are by no means, the best sculpts out there, but they are the best I have done so far.
CM: What resources make it easier for you as a customizer? (is there a source for parts? Information? Etc. that aids you more than anything else?)
JF: The internet. You can find any material, part or info right from your keyboard. It also helps if you make most of your parts yourself. Now we have some killer sites that can help new customizes dive right in. There is Customslab, Austin, Toyroom and Mego73, just to name a few.
CM: What is your favorite custom you've done and do you think it's your best work? If not, what do you think is your best work?
JF: My favorite piece that I have made is the FOXTV Werewolf. I love that figure! The best work I have put out so far is Deathlok. You really need to see this one up close to appreciate the detail in this figure.
CM: Why do you choose the projects you choose?
JF: I am strictly into Marvel Characters, that is what I read as a kid. I have done around 35 different characters, all of them Marvel, with a monster or two for good measure.
CM: What are your favorite customs others have done and why?
JF: This would be the hardest question so far. The level of talent in the Mego Museum is unbelievable. There seems to have been an explosion in the last couple years that shows no sign of slowing down. The stand out custom figure for me would have to be Brad Welford's Curse of the Werewolf figure. This piece was just insane - He flocked the hair on the head, chest and hands!
CM: What is on your "to do" list in the near future?
JF: At the time of this interview, I am building seven Type 3 bodies; Three of them will be Capt. America's. I am going to re-do the head sculpt for this set. The other four bodies I am thinking will be Hob Goblin.
CM: How do you think customizing affects the mego collecting hobby?
JF: This is probably the most important question in this interview. Customizing is the future of this hobby. There are no new 8" clothed figures (WGSH) being produced. We have CTVT doing various things that hold little interest to many collectors. Some of the stuff - Brady's, I Love Lucy, etc. - look great, but I would never consider collecting. I gravitate to things that I had or would have wanted as a kid. At 10 years old, I would not have had the Brady's vs. the Bundy's, like I had the Mad Monsters vs. WGSH. I did, however, totally enjoy and buy most of the Castaway figures. I feel that 8" format is in real danger. Sure, we, on the MegoMuseum, love them; but today's kids, who will be tomorrow's collectors, have no idea that 8" clothed figures existed. When the folks who grew up with Mego go away, so will the figures. Look at Barbie or GI Joe; they have continued to produce and crossed the generation barrier. We played with them, our children played with them and our grandchildren played with them. That's 40 years of the same toy! (That's 3 generations!) Mego had one generation of players/collectors; so 20-30 years from now, most of us will be on our way out! Many will have stopped collecting long before that, but 20-30 years from now in Barbie/GI Joe Land, today's kids will be hunting down their childhood memories on e-bay, just as we did. Anyhow, the 8" custom figure is where this hobby is headed. The custom world allows the collector to fill the gaps that Mego left. The custom world offers something for every style and taste; from authentic packaging and custom figures that capture original Mego style, to over the top realistic work that brings the comics to life.
CM: Any tips or words of customizing advise to new customizers?
JF: My best advice is don't give up. Don't rush through anything. Making a custom figure is not a race. Take your time and don't put it down until you are satisfied. Although I am one of the few people who make all the parts themselves, as I had no choice. Today's customizer can buy the most amazing parts imaginable! So don't give up. See out what your needs are and don't stop until you are happy!
CM: Do you sell custom figures or parts? If so, why?
JF: I don't sell the body parts or suits I make. I do, however, sell completed figures. The Toyroom makes all the boxes for me.
CM: What does your family/friends think of your mego custom work/hobby?
JF: My girlfriend and her children really love the customs I do. The kids already have a few original Megos as well as a custom I have made.
I hope I was able to shed some light on who I am, where I came from and where I am headed with this hobby.
Thanks for taking the time to talk with us John!
To see more of John's work, visit
http://community-2.webtv.net/Type3Toys/Type3ToysCustom8/
http://photoshow.comcast.net/watch/ia8wg9fA
http://www.aupublishing.com/flatt/content/4images/categories.php?cat_id=4&sessionid=5b77b55f0950ad87cc6734144cb9924e