Batgirl was released in the 1974 Supergals wave along with Wonder Woman and Supergirl. She is an absolute fan favorite. The figure itself presented a unique attempt to create a Removable Cowl, the helmet is removable but the face mask is painted on. The outfit is highly detailed with a purse with attached bat belt (often snapped off on loose examples) and "bat boots".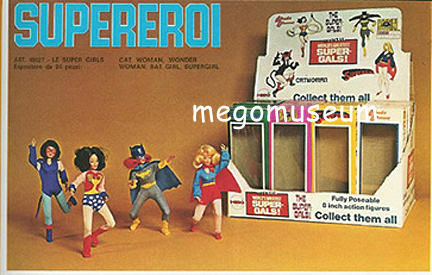 The Supergals wave was released in their own store counter display box: Very few survived. To learn more about Mego
Store displays click on the above pic.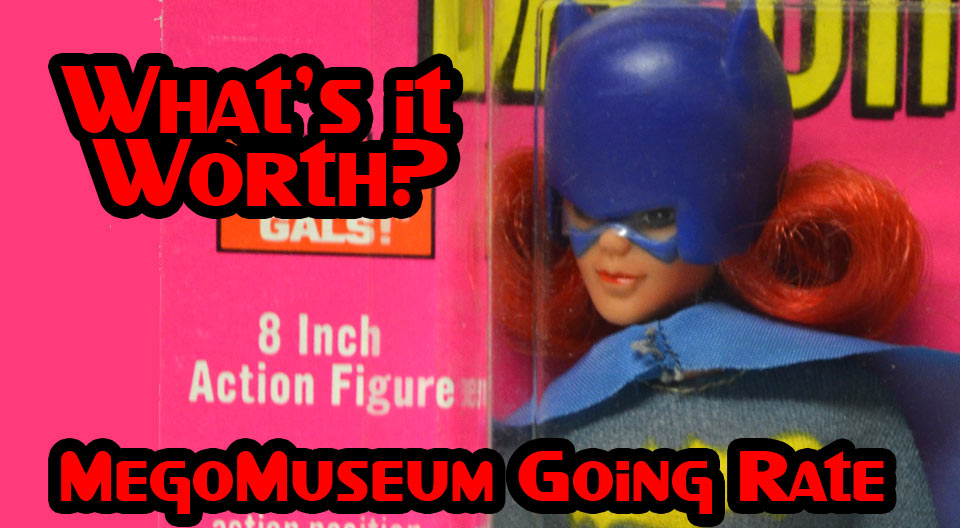 Find out how much Mego Batgirl has sold for in the past with our archive of Ebay auction results.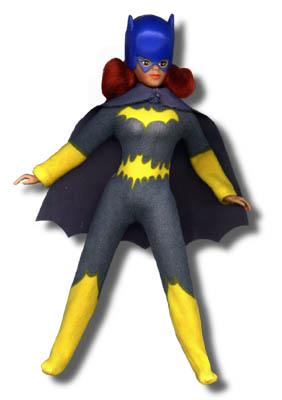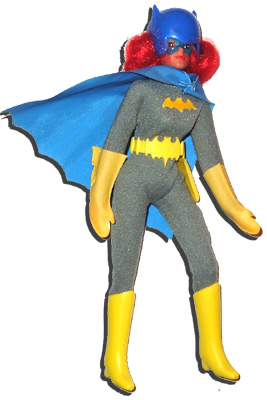 On the left , Painted-suit Batgirl. The earliest version of the figure, she did come with gloves, but is pictured without them to illustrate the sleeves. The painted suits (or silk screened supergals) were made this way so they could be rushed to the marketplace for Christmas (Mego couldn't wait for tooling!) Didn't come with boots. I must say, and this is not a phrase I use often, but in this place it's just so true: The yellow on the painted suit? Like Butter….Rich, creamery butter.
To the right, the last edition (straight arm) Batgirl. Mego switched the body styles of the Supergals by the end of the run, while it is possible to find Supergirl, Wonder Woman is tough to find in this later body style.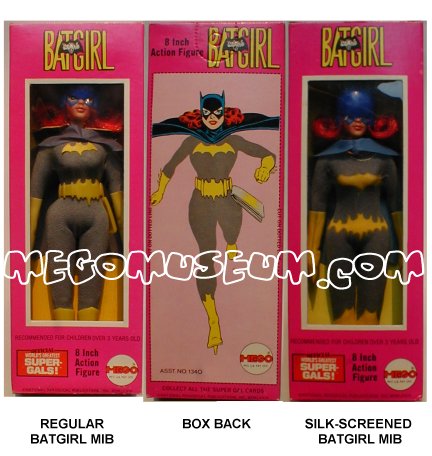 Examples of the two styles of Batgirl available boxed, the later body style Batgirl only came carded. Batgirl is one of the easier found Supergals but is also highly desirable by collectors so demand often affects price. It is interesting to note that despite her card having the 1979 artwork, Batgirl's card has a date of 1977. It's possible that someone goofed while printing as this particular Batgirl has the dreaded graying of the head common with '79 carded heroes.(photos courtesy Tom)
This shot is courtesy of Heroes West Coast (hey! Shop there).
A black bat-logo overlays the Batgirl name on boxes and Kresge cards. It didn't appear on later packages.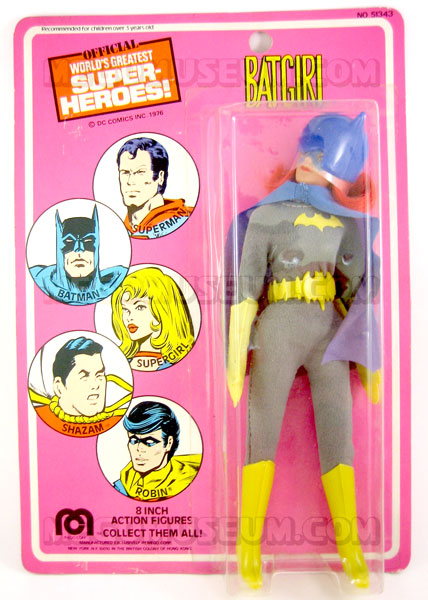 Batgirl came on a 1976 artwork card and a 1979 smiley face artwork card, but not on a 1977 artwork card.
However, her 1979 artwork card is dated 1977.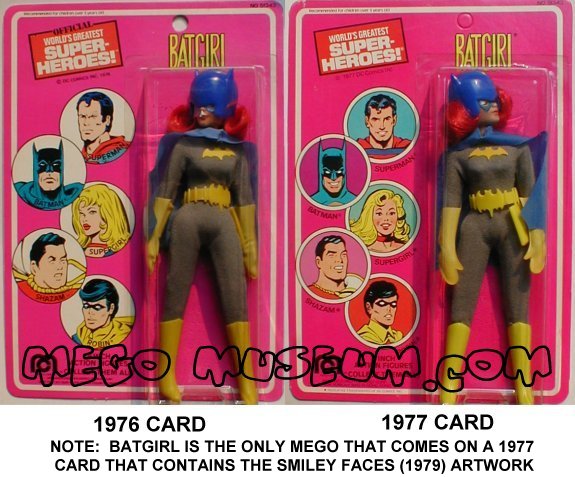 The US card styles of Batgirl courtesy of Tom.
1979 Red Card Batgirl is a difficult to find. It is believed these unmarked red cards were created as a means to clean up inventory of WGSH that had been cut from the offering. Other known red carded heroes include Green Arrow and Aquaman.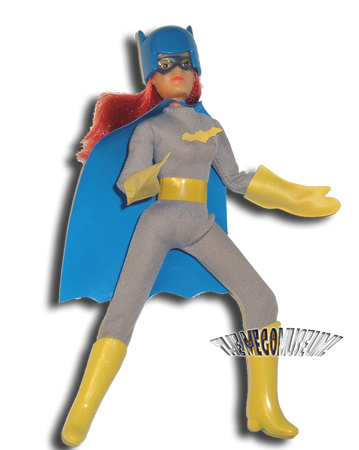 Here is Lili Ledy Batgirl (Batchica) in all of her glory.
The Batgirl clip art was different on the Lili-Ledy boxes. She is the only character so distinguished. A boxed example has not surfaced.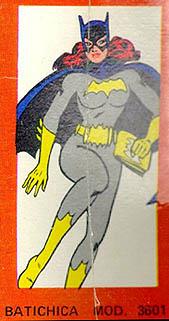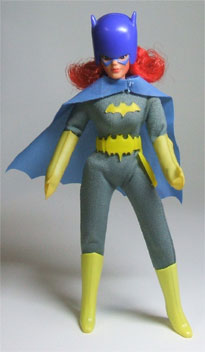 50