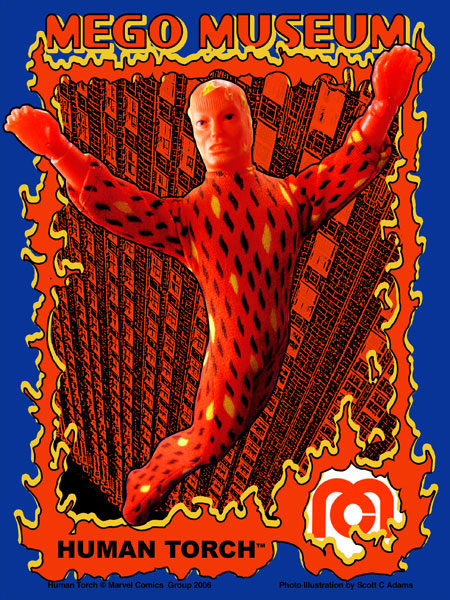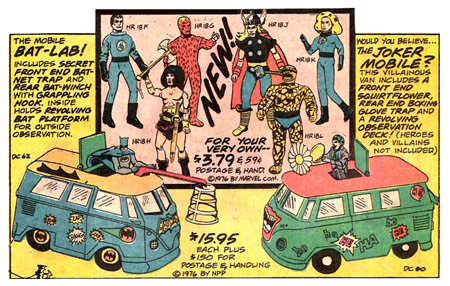 The Human Torch was released in the great 1976 wave of WGSH and represented a challenge to Mego: "How do you make a figure of a character that is on fire?"
Mego could have copped out and created a Johnny Storm figure using the Mr Fantastic outfit but they rose to the occasion and created the Torch figure that was fully "Flamed On!"
Despite the knocks this figure takes, it is actually quite well done. The Head sculpt is a faithful rendition of the character, the body suit a convincing attempt to capture the essence of the comic.
He was released on 1975 and 1979 US cards as well as window boxes, but like all Fantastic Four figures is most commonly found on 1979 Pin Pin French cards which were widely distributed at a discount in the early 1980s. Sadly, it is these figures that suffer from vinyl migration in the heads, AKA zombie disease and Human Torch bodies of that variety tend to be very fragile at the knees.
The Human Torch was introduced in 1976 as part of the last wave of new 8″ WGSH characters.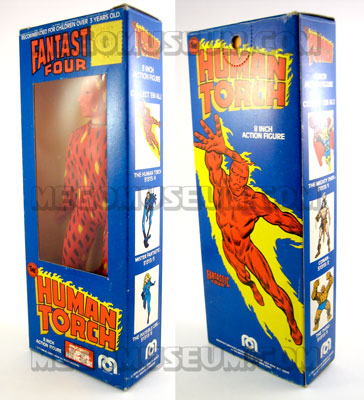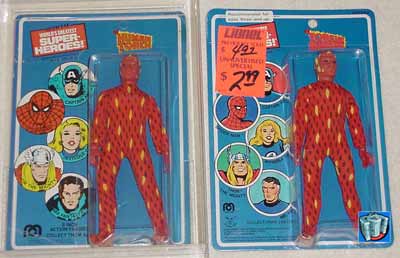 Mego Human Torch on his 1975 US card and 1979 Pin Pin card where he is La Torche Humane. Pics courtesy of Dan (Dumbldor)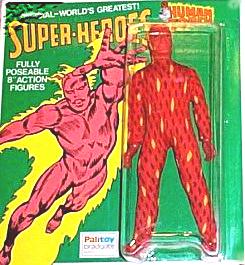 This Dandy Palitoy Mego UK Torch is a real tough one to find, courtesy of Raoulduke.

In Italy, Harbert just placed an Italian language sticker over the US Mego cards and boxes until they eventually produced their own line of cards. Below is a nice set of those stickers on their own, cards and stickers are courtesy of Dan.