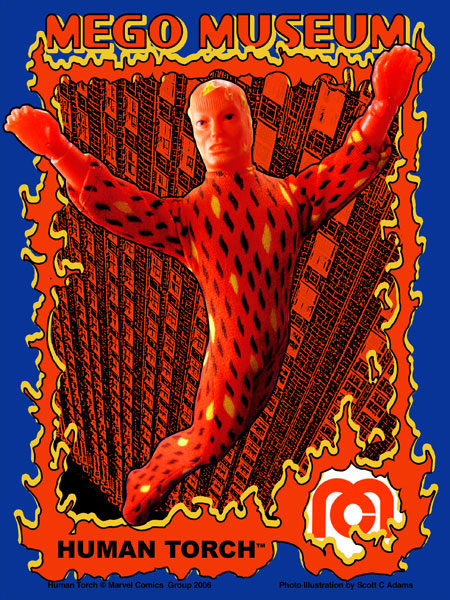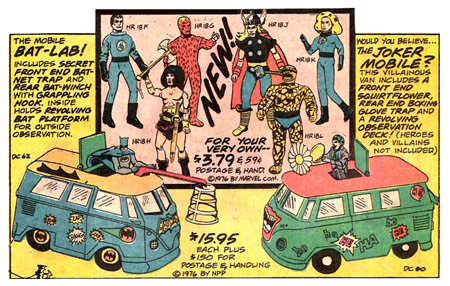 The Human Torch was released in the great 1976 wave of WGSH and represented a challenge to Mego: "How do you make a figure of a character that is on fire?"
Mego could have copped out and created a Johnny Storm figure using the Mr Fantastic outfit but they rose to the occasion and created the Torch figure that was fully "Flamed On!"
Despite the knocks this figure takes, it is actually quite well done. The Head sculpt is a faithful rendition of the character, the body suit a convincing attempt to capture the essence of the comic.
He was released on 1975 and 1979 US cards as well as window boxes, but like all Fantastic Four figures is most commonly found on 1979 Pin Pin French cards which were widely distributed at a discount in the early 1980s. Sadly, it is these figures that suffer from vinyl migration in the heads, AKA zombie disease and Human Torch bodies of that variety tend to be very fragile at the knees.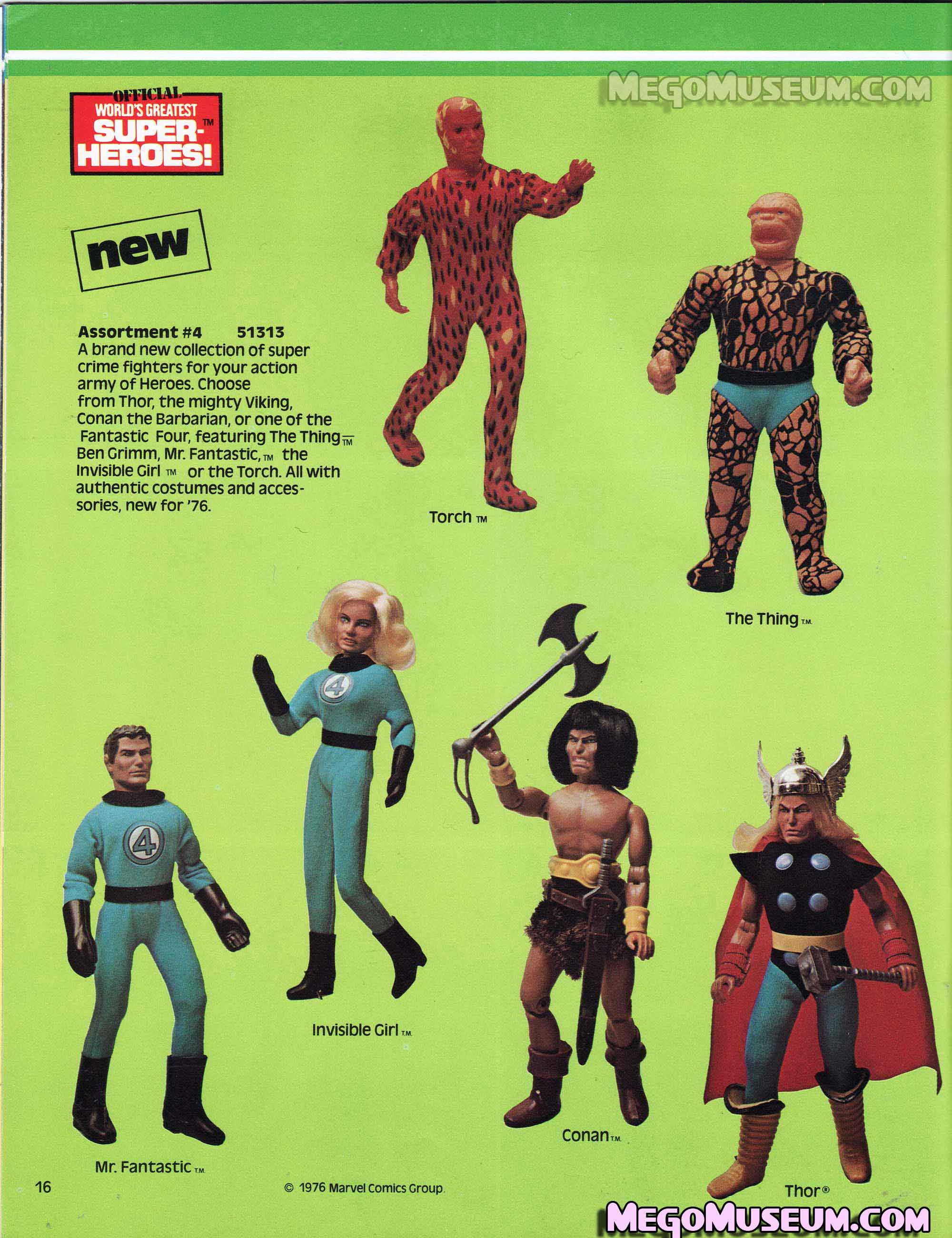 Mego Human Torch was released in 1976.The Human Torch was introduced in 1976 as part of the last wave of new 8″ WGSH characters that included the Mighty Thor and Conan. These would be the last new 8″ WGSH based on Marvel characters that would be introduced by Mego.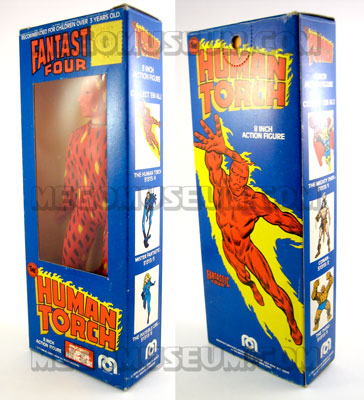 The Human Torch was released in a window box in 1976, the only variation to the box is the insert colour, which vacillates from blue or orange. Harbert, Mego's then distributor in Italy also added an Italian language sticker to the boxes and this can be found on the secondary market.
The Human Torch was released on three known card backs,
1975 trademarked card back with scowling heroes (of which there are two minor variants)
1979 Trademarked card back with smiling heroes (which was also released by Pin-Pin of France)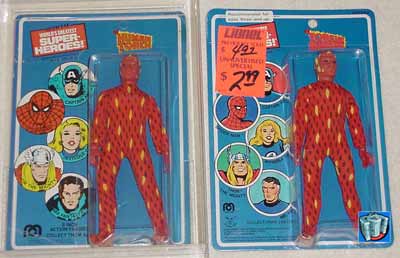 Mego Human Torch on his 1975 US card and a 1979 Pin Pin card (France) where he is La Torche Humane.
In the early 1980s, Mego liquidated Superhero product meant for the French market into the United States. These toys are often mistaken for being "Canadian" but are actually from France. It is common to find the Pin Pin carded figures with large red clearance stickers like the ones above.
Pics courtesy of Dan (Dumbldor)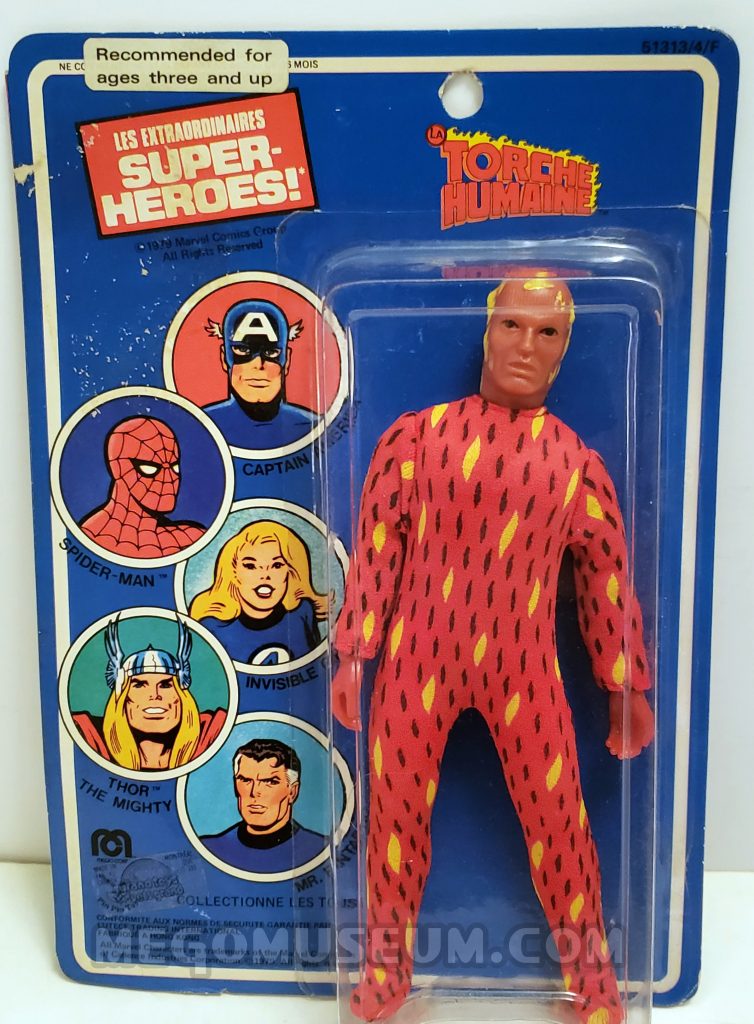 This extremely rare Grand Toys card for the Human Torch is a true rarity, the first I've seen since I saw it hanging at Dominion Playword in the 1970s. Grand bought very limited quantities of this assortment so instead of creating their own card, they used Pin-Pin Cards from France (which were bilingual, important to Canadian laws) and put their own label on it.
The major irony of this is, the French Pin Pin toys cards have often been mistaken as being Canadian in origin, making this myth at least partially true, as long as it bears this elusive Grand Toys sticker. Many thanks to Mark S for this wonderful opportunity to showcase this incredible rarity.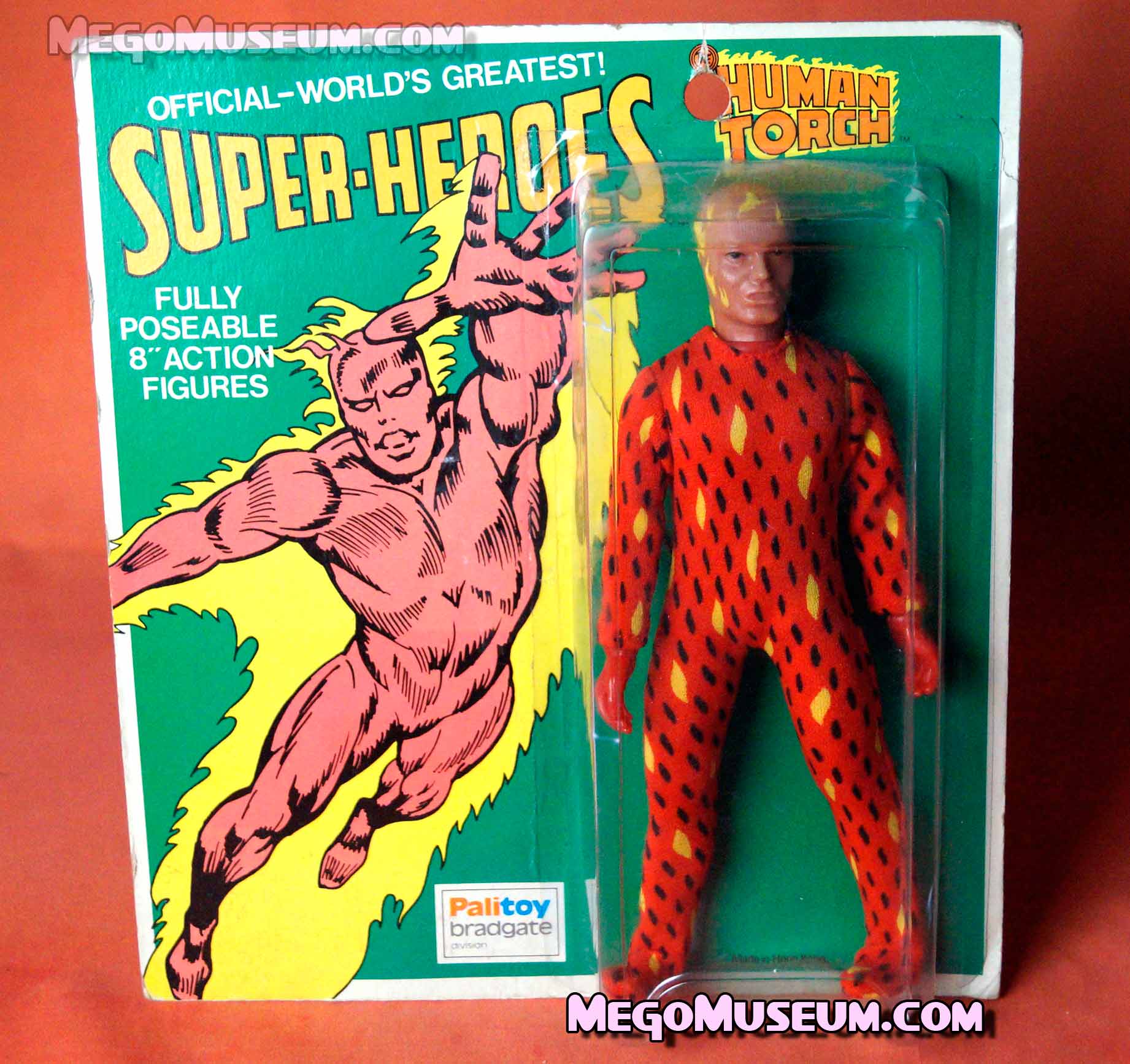 In the United Kingdom, distributor Palitoy Bradgate chose only to carry the Human Torch and The Thing (I guess that makes them the fantastic two?). This green card which is unique to the English market is the most difficult packaged Human Torch item to find. Photo courtesy of PlaidStallions.com

In Italy, Harbert just placed an Italian language sticker over the US Mego cards and boxes until they eventually produced their own line of cards. Below is a nice set of those stickers on their own, cards and stickers are courtesy of Dan.