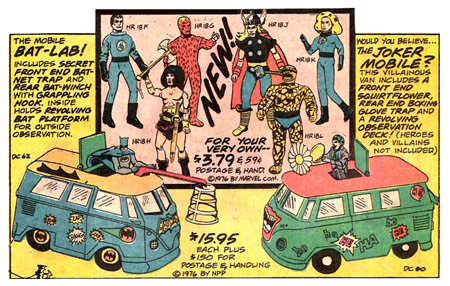 The Invisible Girl was the sole female Marvel character and was released in the great 1976 wave of WGSH.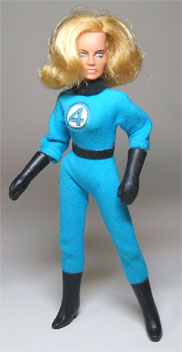 She has a more refined head sculpt than earlier Super Gals, with more realistic facial features.
She was released on 1975 and 1979 US cards as well as window boxes, but like all Fantastic Four figures is most commonly found on 1979 Pin Pin French cards which were widely distributed at a discount in the early 1980s. Sadly, it is these figures that suffer from vinyl migration in the heads, AKA zombie disease. Additionally, these late issue Invisible Girls come with straight-arm female bodies.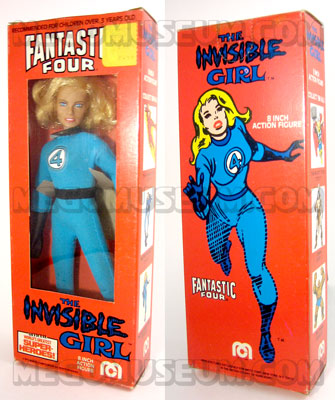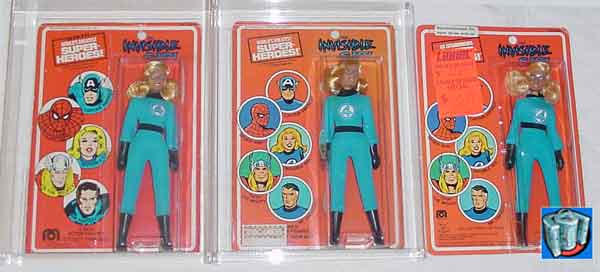 Sue Storm on her 1975 US card, 1979 US and finally her 1979 Pin Pin card. It is very difficult to find Sue on any card other than a Pin Pin. The greatest Appeal of getting a 1975 card is  that she doesn't have a grey face. Pics courtesy of Dan (Dumbldor)

In Italy, Harbert just placed an Italian language sticker over the US Mego cards and boxes until they eventually produced their own line of cards. Below is a nice set of those stickers on their own, cards and stickers are courtesy of Dan.