Highly sought-after for their rarity, the Teen Titans are undoubtedly very cool Megos, especially all together. Very bright and colorful, their 7 inch scale makes them extra-special. They were the only DC characters to get the molded glove treatment. One can only wonder what might have happened had Mego continued releasing new characters or (heaven forbid!) revising older models. A seven inch Robin is on many wish-lists.
The gloves and boots on the Titans are soft molded rubber, very colorful and appealing, and it seems like Mego was experimenting with more effective ways of portraying super-costumes. The drawback on the Titans is that the boots were so formfitting that they didn't allow for tights that went all the way to the foot. The results are pants at the knees that tend to ride up. The other drawback is that the soft rubber can tear if you are not careful removing and replacing the boot!
Titans are also susceptible to head graying, particularly Wondergirl. That, combined with a limited run make them harder to get than most Megos. I have no explanation whatsoever as to why most incomplete Kid Flashes are missing their left glove if they are missing anything.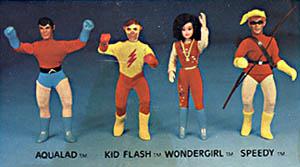 The photo from the back of the Titan card shows Wondergirl with sleeves on her unitard. This is thought to be a prototype, not a produced variation.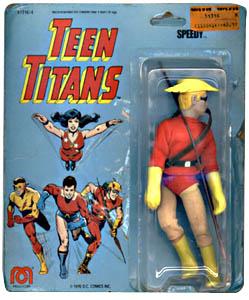 $2.99 at Toy "R' Us. Uh-huh? Right. You and your time machine fantasy again.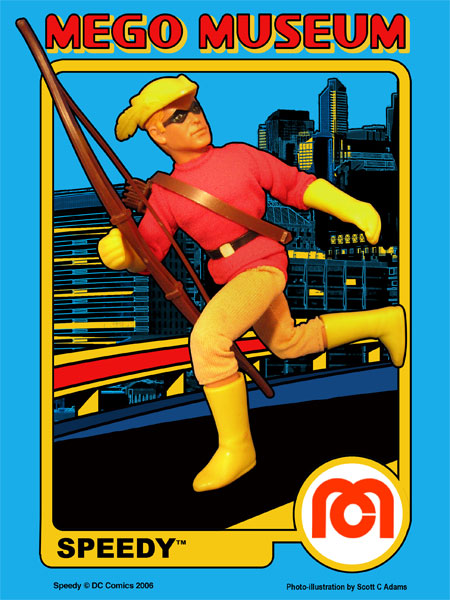 Green Arrow's sidekick Speedy is probably the best Titan. Great face, the mask is raised. The belt is stunningly sturdy, with heavy teeth in the clasp. He wears the same quiver the Robin Hood fellows do, and he carries the same bow. It's a little big, but with those gloves, it doesn't really matter.
The hat is the piece de resistance, and the first thing missing. Given the accessory-risk this figure has, his value is quite real.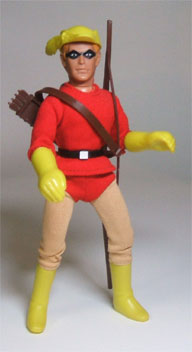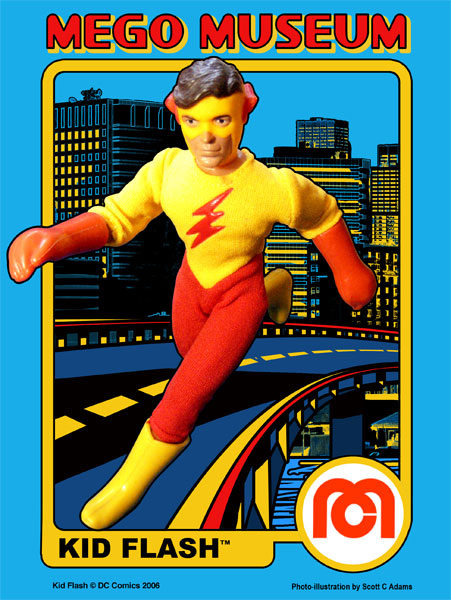 Kid's insignia is a rubber-type material that is actually "fused" (?) into the fabric. No sticker.
The base plastic for his head is yellow, so he doesn't gray, but has plenty of paint-rub problems.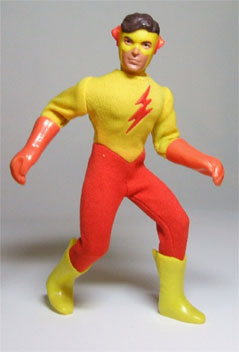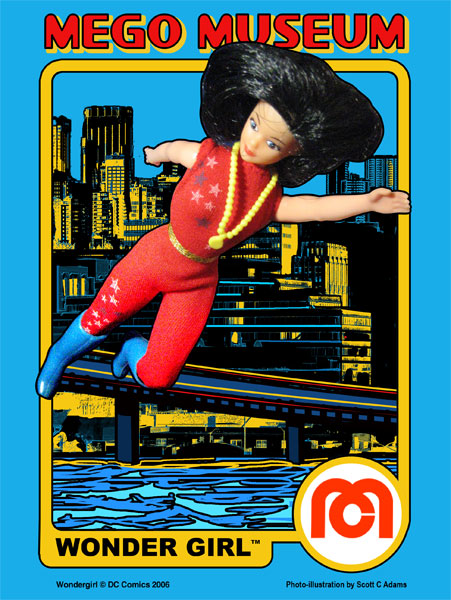 You might feel taken if you buy a Wondergirl. Sure, she's rare, hard to find mint and complete, but it's a lame Mego.
First, there is no articulation in the arms. Second, she looks like she's twelve. Very cute face, usually terribly pale.
The stars on her costume are screen printed. The necklace is stiff yellow plastic, but it's formed to follow her breast line, which is a nice touch I suppose.
Pictured on the right is the only known sleeved Wonder Girl, this popped up in a lot on ebay several years back. Thanks to Keene Silfer for the photo.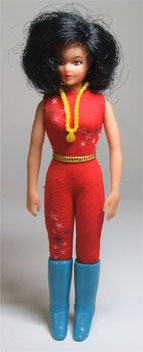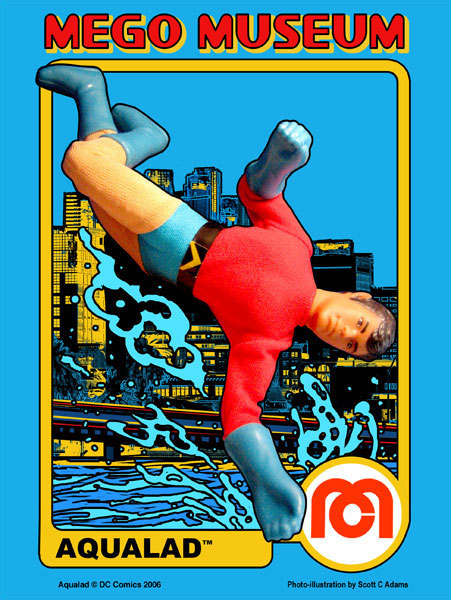 Looks like a kid I knew in Junior High that always got picked on. He's simply…"dweeby".
HE had a sticker on his belt, a yellow a similar to Aquaman's.