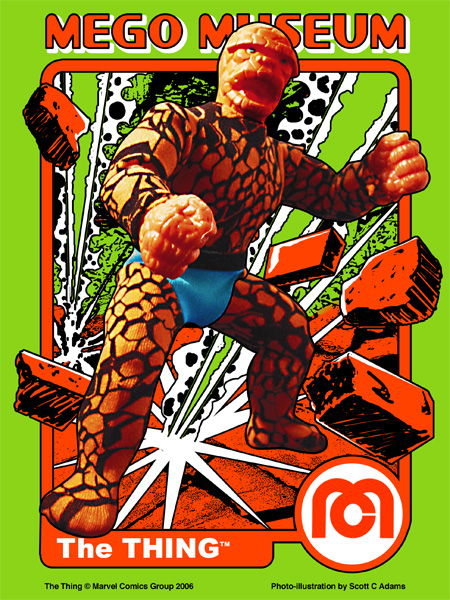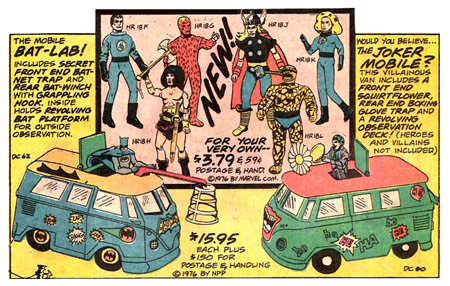 The Thing, along with his Fantastic Four counterparts were released in the final wave of new 8″ WGSH characters in 1976.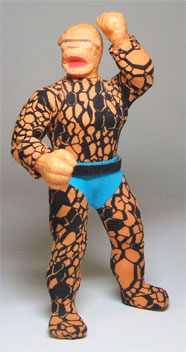 The Figure has a head sculpt that seems to suggest the character is yelling or cracking wise, which shows real attention to detail.
The Thing shares the same squat muscle body as The Hulk but his forearms are unique to give the impression of his tough hide
There are some reported minor variations in the Things bodysuit but they do not warrant a great deal of collector attention. The Thing came with no accessories.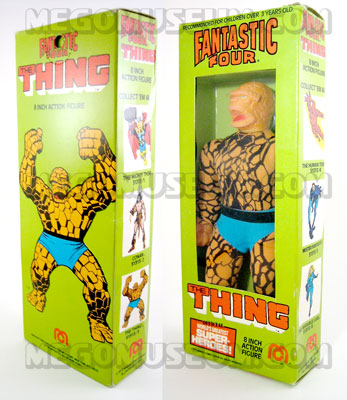 1975/78 US card and 1979 French
PinPin Card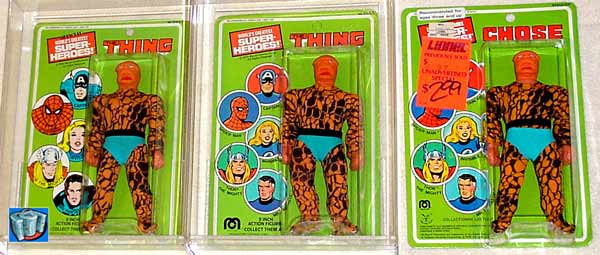 Mego Thing on his 1975 US card, 1979 US and finally a 1979 Pin Pin card where he is "La Chose". Pics courtesy of Dan (Dumbldor)



In the United Kingdom, Palitoy Bradgate christened all of the World's Greatest Superheroes with beautiful new card backs, all in this stunning green colour. The Fantastic Four became the "Fantastic Two" as the UK toy distributor opted out of Mr. Fantastic and the Invisible Girl and only released the Thing and Human Torch into their Mego Super Hero Offering. (Carded Thing courtesy of www.plaidstallions.com)

In Italy, Harbert just placed an Italian language sticker over the US Mego cards and boxes until they eventually produced their own line of cards. Below is a nice set of those stickers on their own, cards and stickers are courtesy of Dan.