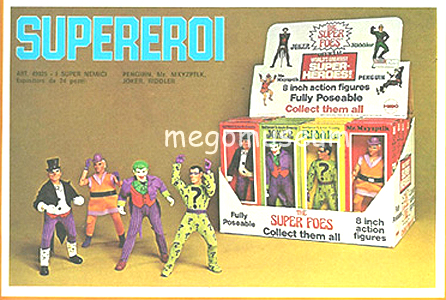 The Super Villains wave was released in their own store counter display box, very few survived.
The Joker was released in the 1974 wave
of "Super Foes", with the exception of one character, all of the Foes were Batman Villains.
The Joker shows that Mego had made some advancements in the silk screening process, his outfit consists of a drawn on suit complete with removable jacket and shoes. This colorful character was an "Home run" for Mego as it captured the clown prince of crime perfectly
Despite his being in the offering from 1974 to 1981, the Joker is most commonly found on a type 1 body.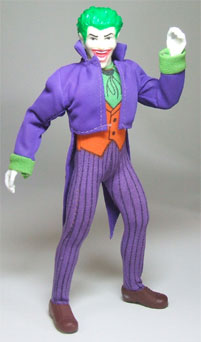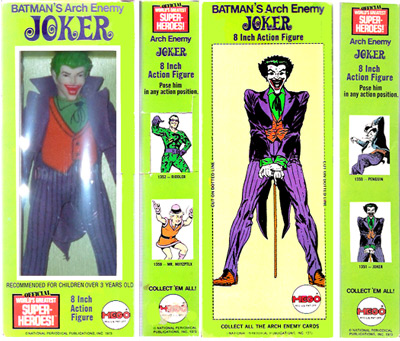 Joker's packaging art much like Riddler and Penguin is taken from some sixties merchandising artwork by Carmine Infantino. For information click on
comic book origins.

The 1st Issue carded packaging. Commonly referred to as a Kresge card, though only a card with a Kresge logo in the bottom center of the card back qualifies. This example does not have a Kresge logo.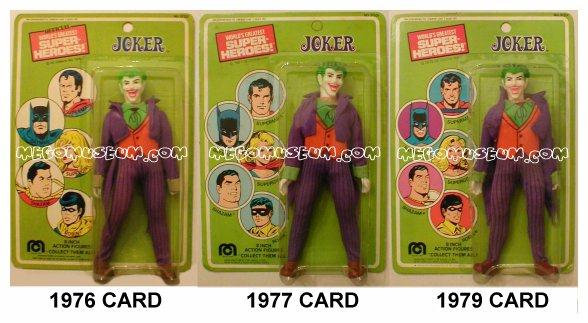 Joker's US cards show the characters popularity, from left to right, 1976, 1977 and the 1979 versions of the card.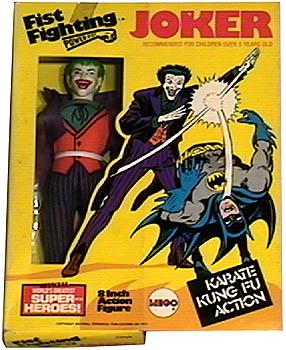 Joker was part of the short lived US Fist Fighters line in 1975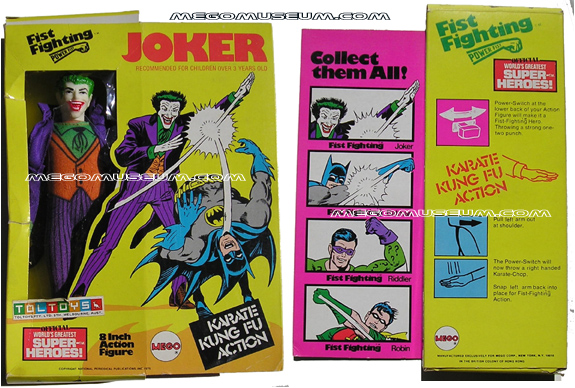 This Boxed Toltoys (Australia) Fist Fighting Joker provided by Raj. Toltoys often just placed a sticker over US packaging, this was also commonly done in Italy.
For more information on the Fist Fighters see their exhibit page!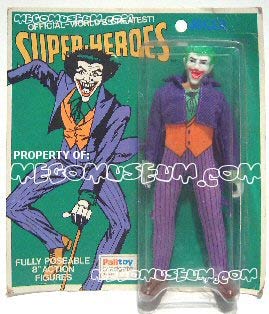 Palitoy UK released the Joker on their standard Green card, a carded Fist Fighting Joker is rumored but has never surfaced. Penguin is the only other DC villain to be released on a Palitoy Card. (Courtesy of Tom)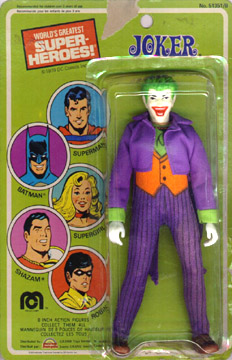 Grand Toys took over distributing the WGSH in Canada around 1979, carded examples can be tough to find however the Joker appears once in a while. (Courtesy Scott Arendsen)
To this date, no evidence has been found for a Lily Ledy Joker, it is not mentioned in any of their sales material nor has anything surfaced in the market. This is puzzling considering Joker's importance and popularity, and the fact that lesser characters received the Ledy treatment. Many still hold out hope that the Joker will be found hiding out South of the US Border.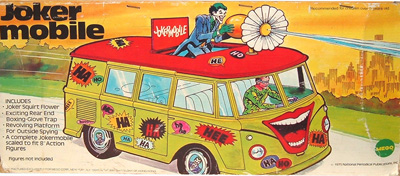 Joker was the only Mego Villain to get his own wheels.