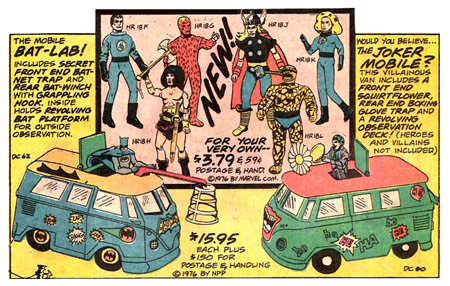 Mr. Fantastic was introduced in the last wave of 8″ WGSH figures in 1976, he is one of the very last new characters made available to the series.
Mego introduced the character in a now famous toy fair reel that stated Mr. Fantastic had the power of Invisibilty(!) Probably better to misinform than to have children try and stretch the figure apart.
Despite this, the figure itself shows how much Mego had matured; the head sculpt is exceptional and the figures boots and gloves are miles away from the oven mits of the early figures.
He was released on 1975 and 1979 US cards as well as window boxes, but like all Fantastic Four figures is most commonly found on 1979 Pin Pin French cards which were widely distributed at a discount in the early 1980s. Sadly, it is these figures that suffer from vinyl migration in the heads, AKA zombie disease.
Mego was at it's zenith in 1976.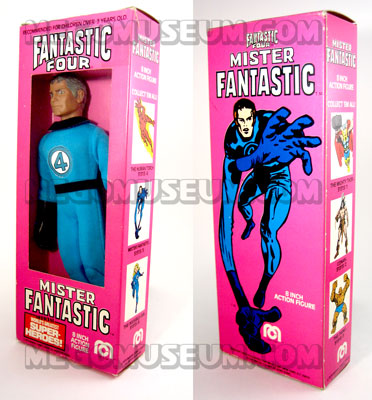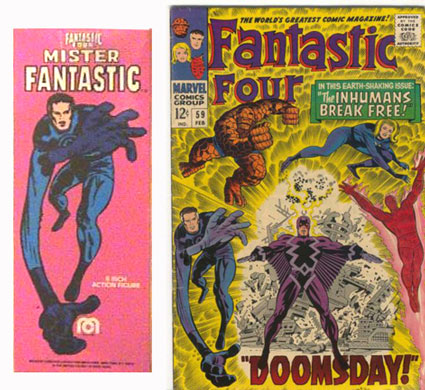 Mr. Fantastic Box Art (Fantastic Four Feb 1967) King Kirby himself had a hand in the creation of the Fantastic Four box.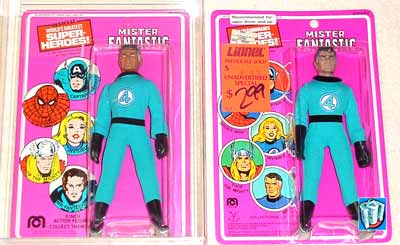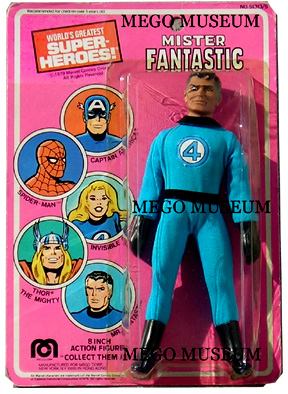 Here is Mr Fantastic on his US 1975 marked Card (the left) and on his Pin Pin (France) 1979 card (the). Mego had an overstock of inventory meant for France that was eventually dumped into the US market often mistaken for Canadian issue (they're not!) These shots were courtesy of Dan (Dumbldor). The 1979 US card at the bottom is tough to find in any shape.

In Italy, Harbert just placed an Italian language sticker over the US Mego cards and boxes until they eventually produced their own line of cards. Below is a nice set of those stickers on their own, cards and stickers are courtesy of Dan.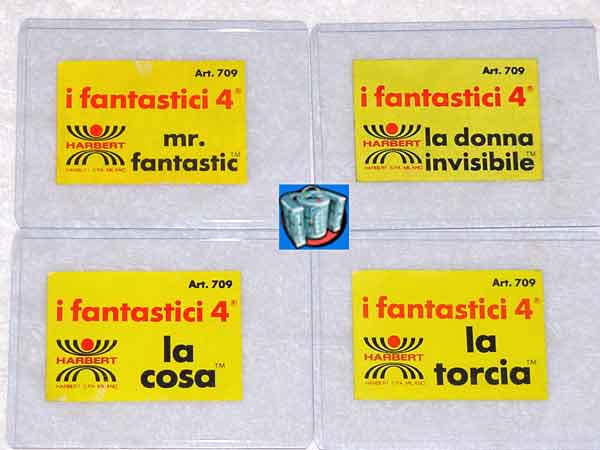 I think "La Torcia" and "La Cosa" sound really cool.