Customizer Gallery - Albert Penello
I would not call what I do "customizing" in the traditional sense; I do very little actual manipulation or creation of parts. The problem is that my skills in customizing are far below the result I see in my minds-eye. I generally leave things like painting or casting to the experts (like DaveMc!) because when I do it myself, I tend to be disappointed.
What I really like to do is Kitbash – find existing parts and mix-and-match them to create entirely new figures. With the proliferation of parts and figures from Classic TV Toys and Doc Mego, you can find an amazing array of ways to create new figures that look like they were manufactured by Mego. Many of my customs use 100% manufactured parts with just simple painted heads. I also prefer to try and capture the simplicity that original Mego figures have – the unique ability to create a distinct likeness of a character using minimal details.
I also try and do custom cards for all my figures to finish the 'illusion' that the figures are original.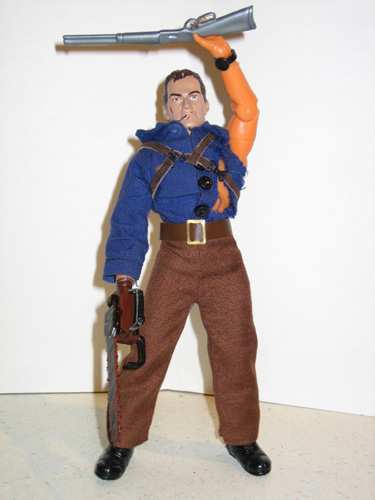 Ash - Army of Darkness
Here's a character I always wanted a toy for. Wasn't until the mid 90's when McFarlane finally made one. When I got the shrunken 8in Flash Gordon Head for my Captain Atom figure, the second I saw it in person it dawned on me it was a dead ringer for Bruce Campbell. The likeness is uncanny. It took me like a year to finally put this all together. I just love this pose - "Allright you primative screwheads - LISTEN UP! This is my BOOMSTICK"
Parts Used: Type 2 body, Shrunken Flash Gordon Head w/ painting from DaveMc, Brown Herman Munster pants, Black POTA Soldier Ape Boots, Blue LJN SWAT shirt with appropriate cuts, Chainsaw from McFarlane ASH figure, CHiPS watch, Paco Shotgun, Custom-made shotgun harness.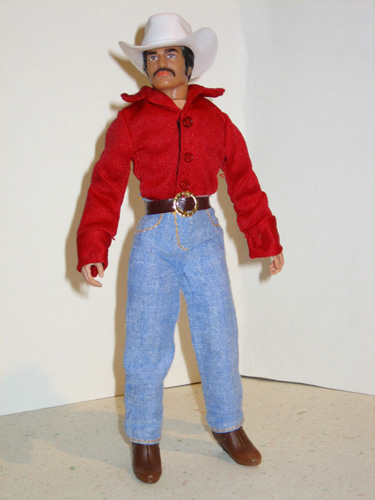 Bandit - Smokey and the Bandit
This one I have to give 100% credit to Megonaut on the museum forum - I totally ripped him off. I had seen him do this and had all the parts lying around. My only change was a Paul Morrow head, which I ALWAYS thought looked like Burt even on the original figure. I like him because he is 100% manufactured.
Parts Used: CTVT Body, Red Bratz Shirt, CTVT Brown Cowboy Boots, White PACO hat, Luke Duke Jeans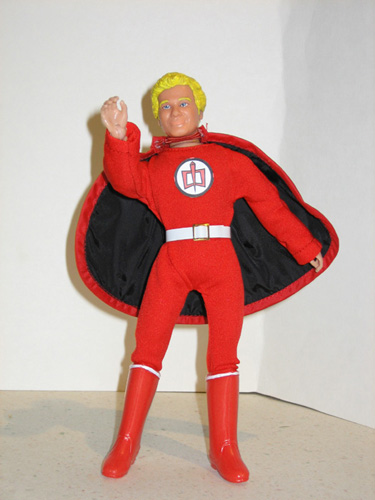 Ralph - Greatest American Hero
One of those action figures I always wanted as a kid. This one sort of occurred to me one day – the key to a good GAH is that cape. Since I can't make a cape to save my life, I was looking at my figure collection and realized that the Mego Dracula cape was a *really* close likeness. That was all I need to push forward since CTVT reproduces the Dracula cape I wouldn't have to ruin an original! I'm still not 100% satisfied with the head, but it actually looks better in person than in the picture. I thought that the curly Ralph Malph hair would be a close match.
Parts Used: Type 2 Body, Doc Mego Red Jumpsuit, CTVT Red Hero Boots, White Vinyl Belt (CTVT Brady Figure), CTVT Ralph Malph head with hair painted yellow, Custom Emblem.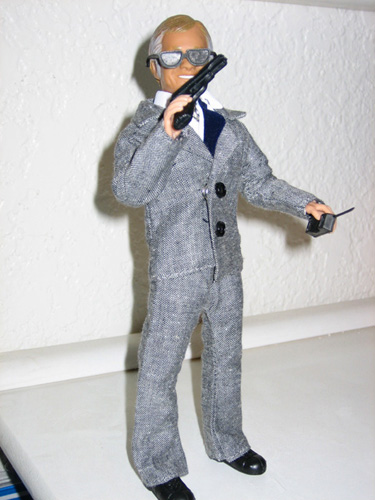 Bill Maxwell - Greatest American Hero
Needed Ralph's partner to try and make a set! This was a complete off-the-shelf figure made entirely of vintage and repro parts. The head is a "Sarge" CHIPS head I had, and the hair and coloring is very similar. With the sunglasses on I think it's a good likeness.
Parts Used: Type 2 Body, Doc Mego Grey Business Suit, Black Dress Shoes, Sunglasses, Walkie-Talkie and Gun from some Action Jackson sets.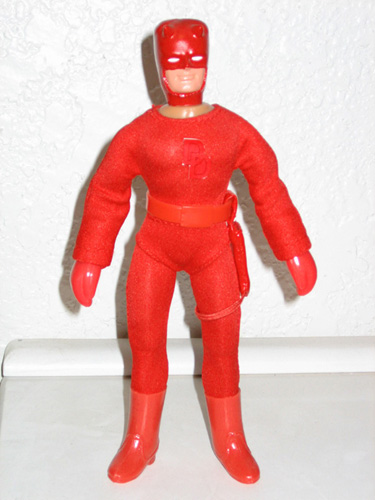 Daredevil
This was my 1st custom and I think I did a pretty good job. For the most part, I used Dr. Mego reproduction parts available from Paul Evans. The only real "customizing" I did was to the Batman head. Basically, I took a Batman head I had where one of the ears was slightly chewed off. I cut the ears off and filled the holes with Milliput. I also made the horns from Milliput. For painting, I used several thin coats of red enamel car paint. I got some putty and carefully formed it around the face since I didn't want to re-paint that area (I ended up doing it anyway). The cool side effect of this was when I removed the putty around the face area, the build-up of several coats of paint created the effect of a "mask" around the face. Look closely at the head and you'll notice it.
Parts Used: Type 2 Body, Repro Red Bodysuit, Repro Red Shorts, Repro Superman Boots (cut about 1/4 inch off the top), Famous Covers Daredevil belt, Red "Mr. Fantastic" Repro Gloves", Custom "DD" sticker.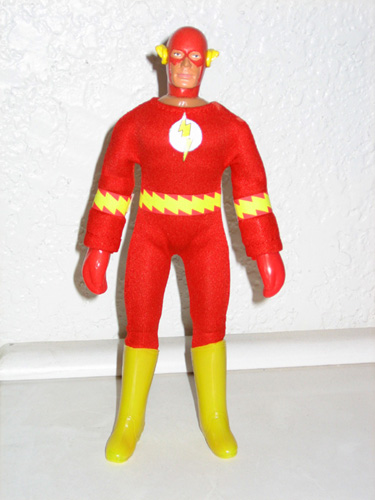 Flash
Another super easy custom. This is actually an early version of the figure. The suit has since been replaced with a reproheads.com silk-screen suit.
Parts Used: DaveMC Painted DM Flatt Head, Red Bodysuit (Currently uses a reproheads.com suit), CTVT yellow hero boots, Red Mr. Fantastic Gloves.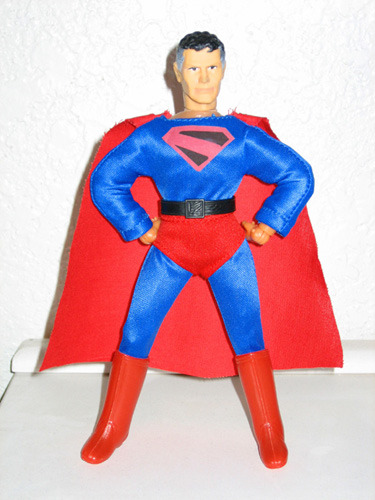 Kindom Come Superman
This one I've had for a while. Many "off the shelf" parts, except the body is heavily modified between Mego, LJN Swat Body, and an Action Jackson swivel neck. Painted the Mr. Fantastic hair very similar to original. Gave him blue eyes and cut the cape out from a template on CustomMego.com
Parts Used: Modified LJN "Swat" Body, Doc Mego Mr. Fantastic Head, Cobalt Blue Body Suit, Red Hero Boots, Red Shorts, Black Robin Belt, Custom KC Superman Emblem, Custom Cape.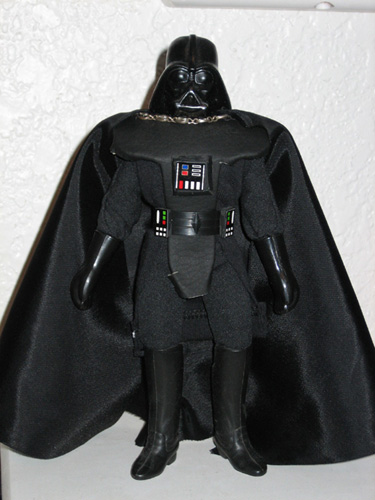 Darth Vader - Star Wars
This is probably the most extensive of the custom work that I do. Paul Evans cast Pez Vader head. Suit and Gloves are Doc Mego. Belt is Mugato. CTVT Klingon boots. Center section was custom made from cardboard and vinyl, with breathing accessories hot-glued on. Stickers by Paul Evans. Cape is hand-made.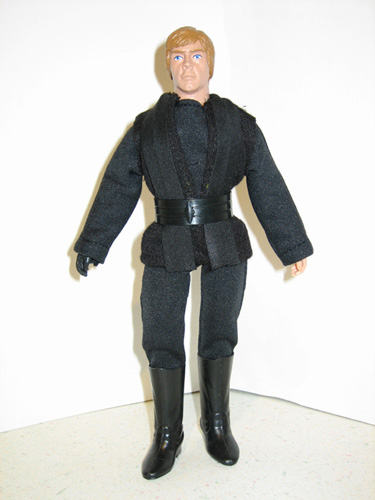 Luke Skywalker, Jedi Knight - Return of the Jedi
In my never ending quest for simple, mego-like customs and my eternal love for the original Star Wars trilogy resulted in this super-quick Jedi Luke Skywalker. The vest is actually a Cochise shirt where I removed the arms, and just put a simple black fabric 'round the neck. Turns out that DaveMc and I arrived at the same place, although I'd never seen his figure before.
Parts Used: Doc Mego black hero suit, Chips boots, Doc Mego Andorian repro belt, Black CTVT hand, Modified Cochise Shirt, Dave Mc cast and painted head.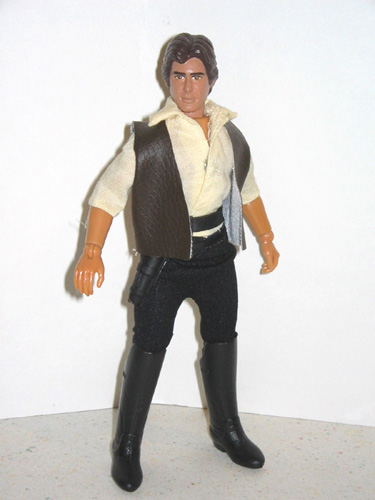 Han Solo - Star Wars
Here's his Han Solo head from a shrunken Kenner Head. I really like how this looks because it's super "mego-like" This is a really simple custom to go with my other Star Wars guys.
Parts Used: DaveMc cast/painted head, CTVT Wild Bill outfit for Pants, Vest and holster, Black Doc Mego belt, CTVT Klingon boots, Luke Duke Shirt.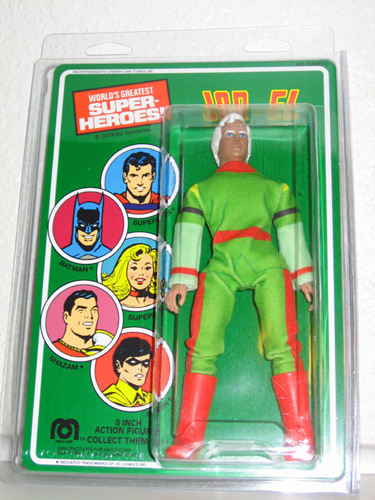 Jorel - Superman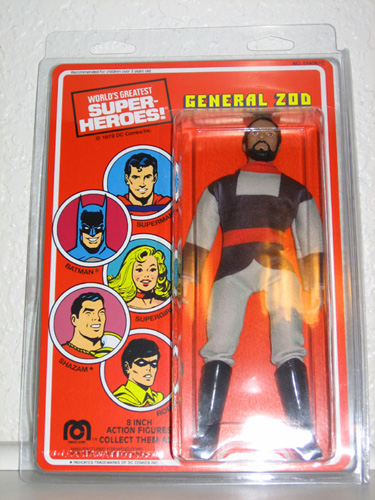 General Zod - Superman
General Zod and Jor-El were done at the same time. Using Austin 's awesome suits and Dave's awesome painted heads, I now have 8in Jor-El and General Zod figures scaled from the 12in versions.
Parts Used: Reproheads.com Silk-Screened Suits, DaveMc Painted Heads, CTVT Hero Boots.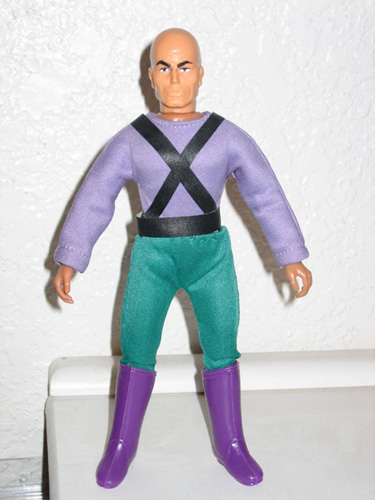 Lex Luthor - Superman
Another early custom. Doc Mego had the suit on his site, so this figure was basically all ordered. Like my other early customs, this figure now has a Reproheads.com silk-screen suit.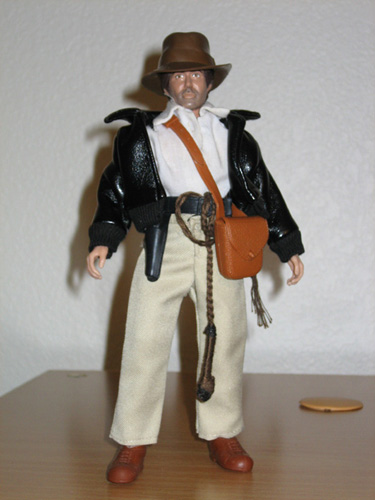 Indiana Jones - Raiders of the Lost Ark
One of my favorite customs and another figure that's gone through several improvements and modifications. I had the 12" Kenner Figure as a kid and it was one of my favorite toys! An early version just had a Kirk head and then I noticed that DaveMc has a shrunken Kenner Han Solo head which I thought would be perfect with a little 5 o'clock shadow. The Whip is hand-made from string that was wrapped and tied off to look right. Shirt is an LJN white shirt. Bag is unknown origin but perfect. I found a Mego-scale black 6-shooter that's a perfect replica of his gun. It's not a CHiPs gun, but it looks similar. Belt and Holster, I believe, are from an LJN cop. Jacket is a CTVT Fonzie jacket until someone makes one in Brown. Hat is an original Mego Dr . Who fedora (which was really hard to track down!) For the card, I was trying to mimic a cross between a Mego card and the vintage Kenner Indy figures. The character images are arbitrary; I just liked the assortment and how the fit on the card.
Parts Used: DaveMc Head, Dr. Who Fedora, CTVT Fonzie Jacket, LJN White Shirt, CTVT Tan Pants, Brown Dress Shoes, Hand-Made Whip, Unknown Gun, Unknown Bag, LJN Holster.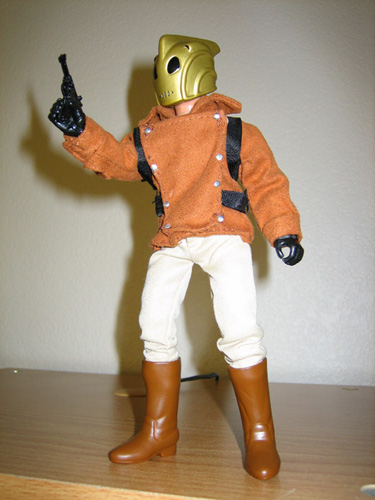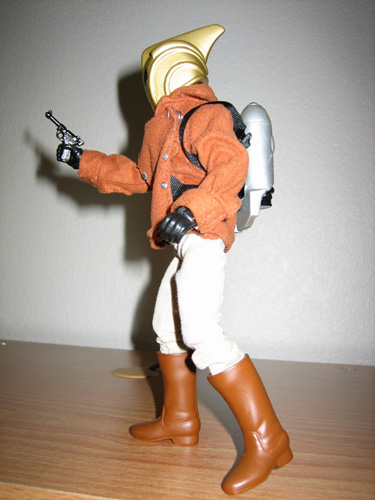 The Rocketeer
One of my favorite characters and probably my 2nd favorite figure after my Lone Ranger and Tonto customs. I was inspired by a 9" custom that Thunderbolt had done. The key to this figure was always the mask which I didn't think would work if I had to make it by hand. Turns out there is a 9" Applause figure that has a perfect scale helmet and backpack. I couldn't have done without the help and inspiration of thunderbolt.
Parts Used: Helmet and backpack from an Applause figure, CTVT gloved hands, CTVT Richie Cunningham pants, Castaway Brown boots, Doc Mego hand cast Luger, Jacket and harness are custom modified by Thunderbolt.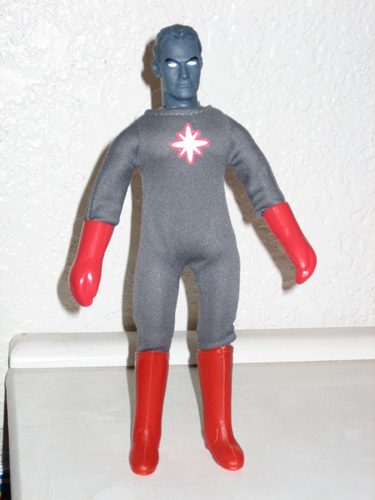 Captan Atom
Fell in love with this character on Justice League Unlimited. Saw the shrunken 8in Flash Gordon Head and thought it would make a great Atom. I also used this head for my Ash figure.
Parts Used: Type 2 body, Shrunken Flash Gordon Head from DaveMc, Grey Body Suit, Red Superman Boots, Red Mr. Fantastic Gloves, Custom Atom Emblem.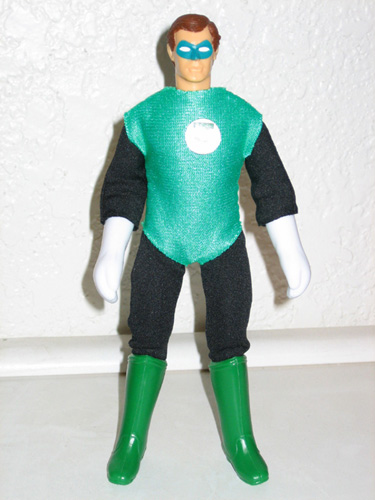 Green Lantern
An easy "custom" since all the parts are available already reproduced. This is simply a matter of ordering the right parts from Dr. Mego and/or Paul Evans, and putting it all together. My latest version of this figure wears a Reproheads.com silk-screen suit.
Parts Used: Type 2 Body, Charlee Flatt Green Lantern Head (DaveMc paint), Green Lantern Body Suit (Doc Mego), White gloves (now white hands), CTVT Green Hero Boots, Custom GL emblem.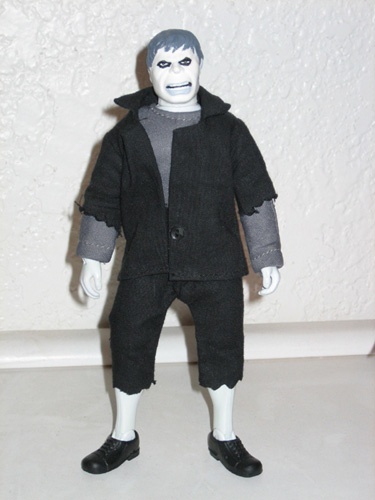 Solomon Grundy
This is a complete ripoff from a DaveMc custom. I was on a Justice League kick and he was super-simple to put together.
Parts Used: Painted Hulk Head, White DocMego Body, Black Dress Shoes, Black Business Suit, Grey Bodysuit.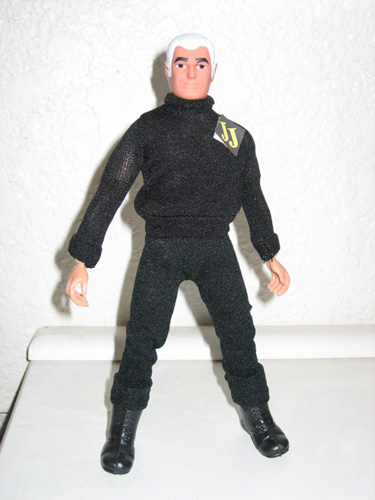 Jet Jungle
Is this even a custom? I don't think so. All vintage MEGO parts except for the CTVT repro head.
Parts Used: Vintage Type 1 Body, Vintage Action Jackson Spy Outfit and Boots, Repro Emblem, CTVT JJ head,.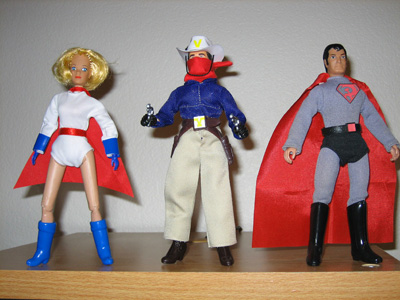 Power Girl, Vigilante, Red Son Superman
POWER GIRL - Once Doc Mego completed the Rotocast Heads and CTVT had the female bodies, I wanted to do this figure to complete the "supergals". Since PowerGirl and SuperGirl are so closely related, I tried to keep the costumes similar.
Parts Used: CTVT Female Body, Doc Mego Head, CTVT White Bodysuit and White Shorts, Doc Mego Catwoman Boots, Doc Mego Supergirl Cape, Blue Female Hands, Catwoman gloves cut down for cuffs.
RED SON SUPERMAN - I had just read this comic and got inspired. Wish the body was a bit more 'built' - but again this was in the spirit of keeping it simple. Threw this together really quickly – I think it came out just OK.
Parts Used: Doc Mego Clark Head, Doc Mego Grey Bodysuit, Doc Mego Black Shorts, Doc Mego Black Belt, CTVT Hero Boots, Custom Cape, Custom Emblem.
VIGILANTE - Very straightforward. Liked this character on Justice League. Made some custom stickers everything else is off the shelf
Parts Used: CTVT Fonzie Head, Paco Hat, CTVT Wyatt Earp Shirt, CTVT Tan Paints, CTVT Brown Holster, CTVT Brown Cowboy Boots, Paco Guns, Custom Stickers and Handkerchief.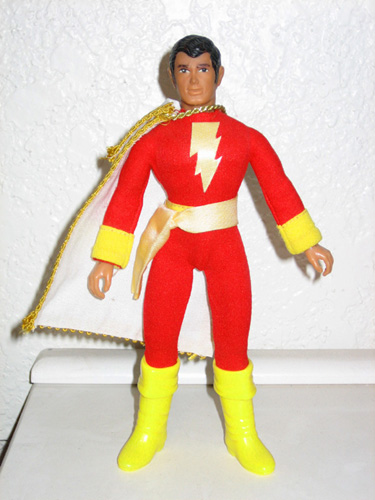 Captain Marvel
I use the term "custom" loosely - I did a couple of subtle changes which I think made a difference. Having recently picked up Alex Ross' Shazam: Power of Hope (A very cool comic, BTW). I realized how OFF the Shazam figure is compared to his comic counterpart. Mego, as always, did a great job capturing the "spirit" of the character if not his exact look. There were three things I changed which I think really improve the figure. 1. New Cape : This was easy. Some white fabric, gold trim, and thin gold string that looks like rope. All were put together using fabric glue. 2. Belt: Not really a belt, this is more like a scarf tied around his waste. Some creative folding and a little fabric glue hold it together (not glued to the original suit, of course) 3 Lightning Logo: For this, I took some sticker paper and glued some of the gold fabric too it. I then cut out the logo and it's now a cloth sticker that looks much better!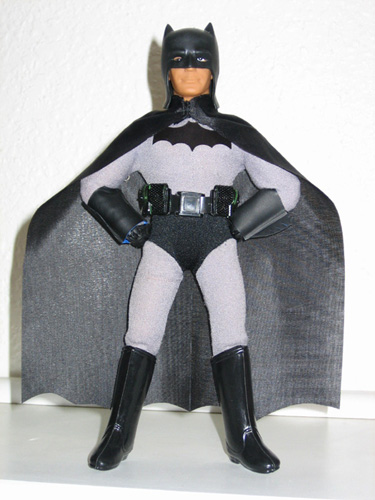 Batman - The Dark Knight
This figure has probably gone through 4 or 5 iterations to get it where I was finally happy. This was probably the 2nd custom I ever did and I've continually improved it to get the look I wanted. Now I'm pretty much satisfied. I really like the way the whole outfit works. This was also where I learned the down-and-dirty cuff modification. Since I can't sew, I just cut the tips off the 'oven mitt' gloves and slip them over the hands. Then I can use colored hands and still get the look I want.
Parts Used: Modified LJN "Swat" Body, Original Batman Suit, Black CTVT hands, Black DocMego repro cowl, CTVT hero cape, CTVT hero boots, Painted Doc Mego Batman 'oven mitts', Vintage Mego Action Jackson army pouches glued to Robin Hood belt.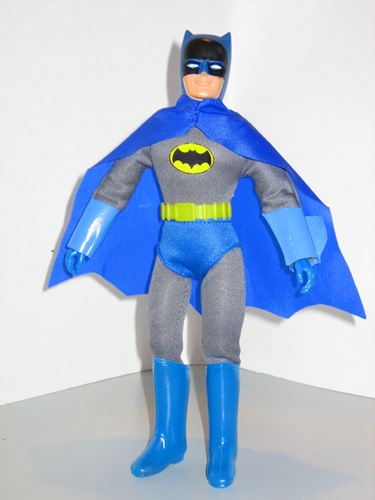 Batman - Superfriends
Been wanting to do this for a while - not sure why it took me so long to get around to it... very simple and the only thing I had to make was the emblem - 600dpi laser printed I think it came out nice...
Parts Used - Painted Vintage Batman Head, Doc Mego Cape, Doc Mego Bodysuit, Doc Mego Shorts, Doc Mego Belt, CTVT Hero Boots, CTVT Batman Gloves Cut, CTVT Blue Hands, Custom Emblem.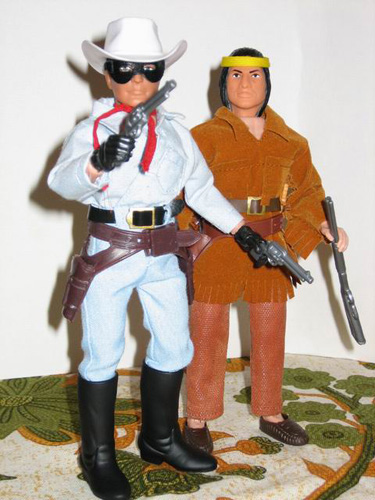 Lone Ranger and Tonto
LONE RANGER SET - This is one of the most extensive custom 'sets' I've done. I just got inspired for a while by the vintage Gabriel Lone Ranger figures and with the proliferation of Western parts from CTVT, these came together great. I really wanted to capture the original figures in Mego-scale since those are so ingrained in my childhood memories! The head I used is a vintage Mr. Scott. I tried a bunch of different heads, but I really like how this looked. First, it's the closest head in resemblance to the classic Marx figure. AND, it really looks like Clayton Moore with the square jaw (http://pet-portraits.net/lone_ranger_art.jpg) I was so pleased with the original Lone Ranger and Tonto figures, I wanted to complete the rest of the Gabriel Lone Ranger line as Mego figures to keep my LR and Tonto happy. Between Paco's and CTVT Westerns there are lots of great parts going around. I spend hours online looking for images of the real figure I also wanted to keep with the 100% manufactured theme. Almost every figure not only resembles the original Gabriel figure, but is based off manufactured parts! I'm really, really happy with how these came out and they're definitely my favorites. What's great about them is anyone can buy the parts to assemble these guys! They are absolutely, 100% manufactured parts and frankly CTVT could mass-produce these if they wanted to!
Lone Ranger - The Masked Rider of the Plains. Parts Used: CTVT Glove Hands, CTVT Mr. C Shirt, CTVT Ralph Series 4 pants and belt, CTVT Wyatt Earp Bandana, CTVT Wyatt Earp Holster, Doc Mego Robin Mask, Castaway Chips Boots . Tonto - The Lone Ranger's faithful Indian companion. Parts Used: CTVT Body, CTVT Cochise head, DM Yellow Elastic Robin belt for headband, CTVT Daniel Boone outfit (I cut the sleeves and belt back for a better fit), CTVT dagger.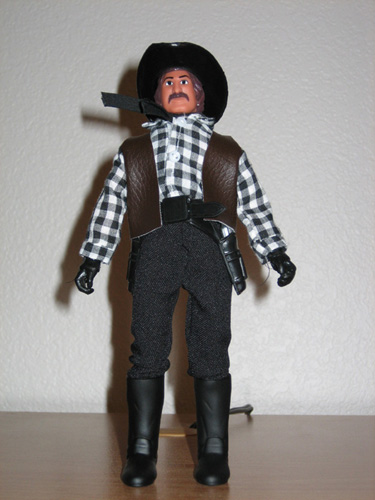 Butch Cavendish - Lone Ranger
The Lone Ranger's enemy in the fight for law and order Putting this at the top since it's my least favorite of the bunch. Because of parts availability I had to switch the checkered vest and shirt. And there isn't really a face that's mean enough.
Parts Used: CTVT Wild Bill Head, CTVT Wild Bill Hat, CTVT Plaid Shirt, CTVT Black Dress Pants, CTVT Black Gloved Hands, CTVT Black Gun Holster, CTVT Wild Bill Vest, Castaway Guns, Castaway Black Boots.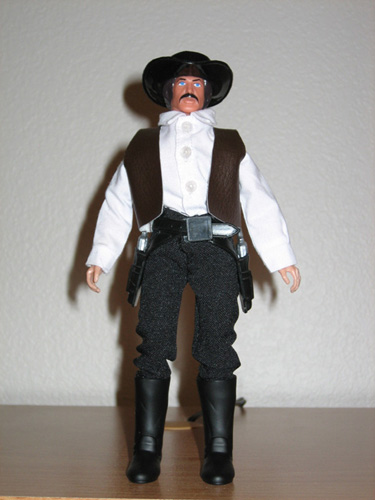 Tex Dawson - Lone Ranger
Sheriff of Carson City, trusted friend of The Lone Ranger - Really easy to do and again I'm happy there are some details that make them very similar. Like the button-down shirt from a CTVT tuxedo matching perfectly the Gabriel figure.
Parts Used: CTVT Wyatt Earp head, CTVT Tuxedo Shirt, CTVT Wild Bill Vest, CTVT Black Dress Pants, CTVT Black Gun Holster, Castaway Guns, Castaway Black Boots.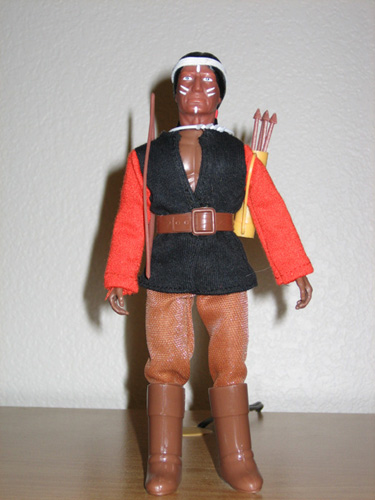 Red Sleeves - Lone Ranger
The Fierce Apache, Able Foe of the Lone Ranger - Considering how specific the detail is on the Gabriel figure I'm really happy how he turned out - many very similar parts are available in Mego scale. Good thing the CTVT Cochise has red-sleeved shirt! Head is from a Paco and I was really happy the face-paint was so close. I also like the darker skin to really separate him from Tonto.
Parts Used: Paco Indian Head, CTVT Brown Body, CTVT Cochise Shirt, CTVT Davy Crockett Pants, CTVT Cochise Necklace, Paco Western Bow/Arrow, CTVT Robin Hood Boots.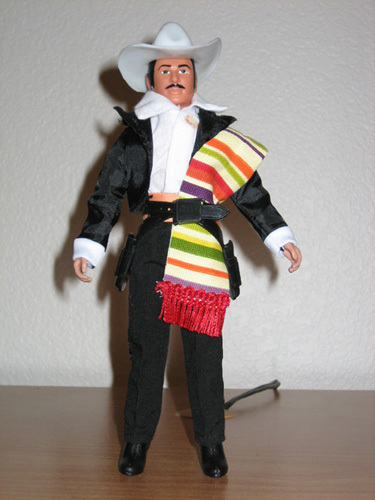 El Lobo - Lone Ranger
The Mexican Outlaw, Scheming Enemy of The Lone Ranger - My favorite of the bunch. I still have to paint the hat to look more like the sombrero, but otherwise lots of nice details in this figure. Tuxedo paints and Paco white shirt, along with Penguin Jacket with the tails clipped give the same white sleeves. Found orange cloth (also used for Danny Reid's neckerchief. Made the poncho-like sash myself
Parts Used: CTVT Jean Lafitte head, CTVT Buffalo Bill Hat, Paco Shirt, CTVT Tuxedo Pants, Doc Mego Penguin Jacket, CTVT Black Gun Holster, Castaway Guns, CTVT Black Cowboy Boots.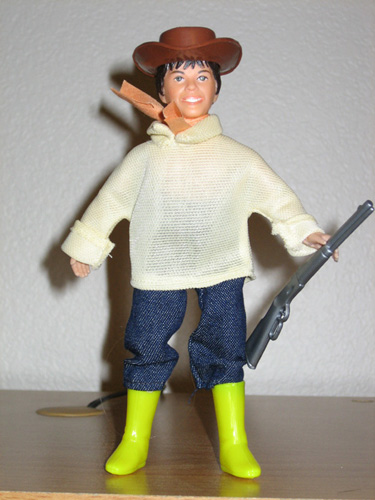 Danny Reid - Lone Ranger
The Lone Ranger's long-lost nephew - Steve Moore did a more show-accurate version of the figure - I went for the direct Gabriel look. Actually, this one came out really close except for Bobby's - er, I mean Danny's - hair color. But I think it looks fine.
Parts Used: CTVT Bobby Brady Head, CTVT Tex Willer Hat, CTVT Wild Bill Shirt, CTVT Bobby Brady Pants, Castaway Shotgun, Doc Mego Teen Titans Boots.
Albert's site's - www.albertpenello.com/mego www.megocards.com