Customizer of the Month- March 2009- Art Baltazar (MegoMilk)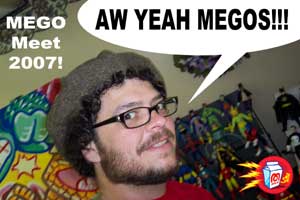 Name: Art Baltazar (MegoMilk)
CM: Any Personal Info you are willing to share: (married? Kids? Pets? Occupation? Where from? Other hobbies,/Interests?).
AB: Aw Yeah Man, I'm married to the lovely Miss Rose. I have a little boy, Gordon, and a little girl, Audrey, and step son, Sonny. I work as a cartoonist for DC comics and Disney! I am artist/writer for DC's "Tiny Titans", and Disney's "GORILLA GORILLA".
AW YEAH TITANS!
I'm from the southside of Chicago! I grew up near ol' Comisky Park and I'm a lifelong White Sox fan! AW YEAH 2005! I have been collecting comics and action figures for as long as I've been alive. Can't see my life without comics!
CM: How did you get started collecting mego?
AB: Well, it all started one Christmas morning when I was 5 years old. The Batman TV Adam West show was HOT, and me and my li'l brother, just got Batman and Robin MEGOs for Christmas! YES, they were the removable mask ones, and yes they were Type one bodies! After breaking the T1 bodies and losing their masks, Mom and Dad bought me new megos, this time adding Spidey to the mix. After losing Spidey in my Dad's toolbox, we got new ones again. Therefore begins the Mego madness.
Next Christmas is when we got the rest of the figures. THING, Goblin, Falcon, Aquaman, Superman, Conan, Torch, Green Arrow, HULK, Mr. Fantastic, SHAZAM!
When I was a teenager I got my first job at White Castle. I made some money and I started venturing out to toy shows and comic shops and managed to pick up some characters I never had as a kid. LIZARD, Penguin, Iron Man, Invisible Girl.
CM: What is your favorite original mego figure and line?
AB: Because of the cartoon show, my favorite mego was SPIDER-MAN! I had a few of them through the years because we kept losing them and the costumes would rip. BUT, when they ripped and tore, my Grandma would make new clothes for our Megos. So, maybe she was one of the first Mego customizers! AW YEAH GRANDMA! Obviously, my favorite Megos were THE WORLD'S GREATEST SUPER HEROES!
CM: What is, in your opinion, the biggest "hole" in mego's original lines. (what figure or figure line is missing that should have been done).
AB: MORE BAD GUYS!! Lex, Brainiac, Bizarro, Doom, Scorpion, Doc Ock, Super Skrull, Red Skull, Mysterio, Vulture, Electro!! We used to have some MEGO Apes and Star Trek aliens. We would team up these guys with Joker, Riddler and Green Goblin and make a new Legion of Doom. Keeper was like the Beyonder.

CM: What motivated you to start customizing?
AB: In 2006, I stumbled across Dr. Mego's table at the FX show in Florida. I was in awe as I gazed at his display to see ALL the Batman boots and capes sitting on his table! HOLY COW! "Where did you get all these boots?" I asked. I didn't know they were repro parts, I thought they were really really nice, clean originals. I didn't know! WOW! These pieces are so hard to find but this guy has ALL of them! So, after a few minutes of convincing him I wasn't a spy for Disney or DC, I bought a whole bunch of stuff! FINALLY, my Green Arrow was complete, Cap had a shield, Mr Fantastic had new gloves, and Goblin had his purse! Doc, then made me an offer I couldn't refuse. Right before my eyes he created a removable cowl BATMAN! This is a figure I haven't seen since I was 6 years old! He said the price, (my little secret), and I said YES! Bruce Wayne Batman was mine! Then Doc handed me his catalogue! Holy MEGO! ALL the super heroes Mego never made were on the cover! My mind was exploding with MEGO ideas! Characters who I never had as a kid were screaming to be created!
Later, after checking out the websites on Doc's catalogue, I visited the Mego Museum site and realized..THERE'S A WHOLE COMMUNITY OF MEGO PEOPLE JUST LIKE ME!!!! This guys sold costume, this guy sold heads, this guy made boots! So I started shoping and buying and making MEGOS!
AW YEAH, DOC, AUSTIN, DAVE, LAURIE, BRIAN, RUSS, DAVID, TROY, VINCE!
CM: What was your first custom?
AB: My first custom was Removable Cowl BATMAN from Doc Mego. So, I guess it was the first custom I bought and made my own. I painted the cowl and made the Bat Logo. I don't know who came next. I think it was Flash and Green Lantern and Red Skull and Teen Titans too.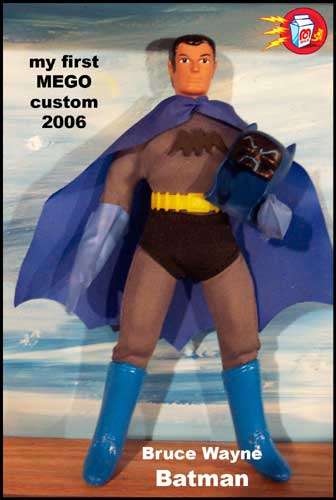 CM: How did it come out? (looking back on it now)
AB: I love the way they came out. But as I make more and characters, I sometimes go back to the first ones I made and tweak 'em and improve them when I can. I improve GL by giving him a suit from Austin.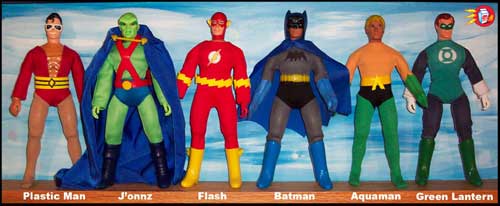 CM: What have you done/learned that has improved your customizing skills?
AB: Go simple. The simpler, and cleaner, the better. Do what's comfortable. I realize after doing customs, you will develop a style. I think my customs look a lot like my drawings. I love to add paint to the figure whenever possible, whether it's his head or his costume. I splashed lots of paint on my Two-Face and my Sandman. I learned how to paint eyes better too.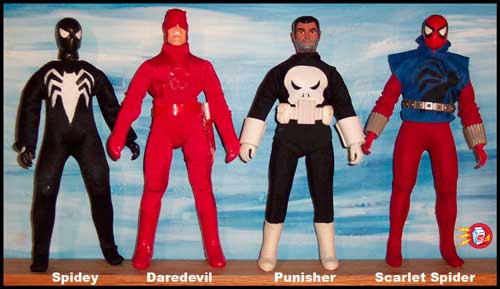 CM: What areas of customizing is your strongest points, or favorite things to do?
AB: I love painting heads. A head could make or break a figure. Painting adds a lot to the perfect head! Also! Color choices for the costume is a big thing. And sometimes the right accessory is the key!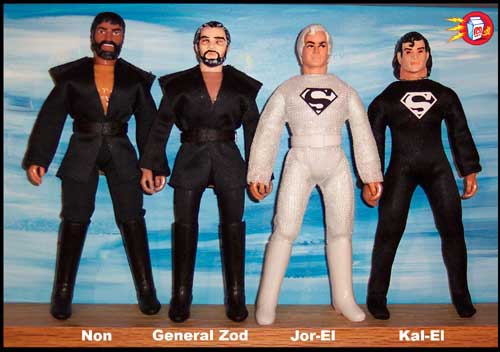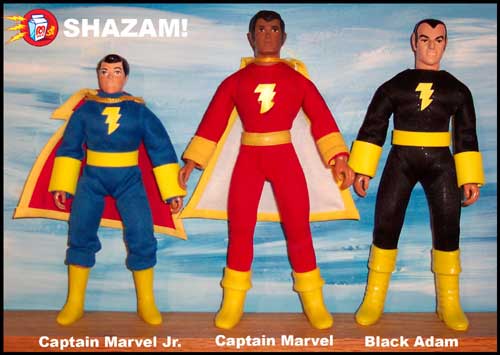 CM: What resources make it easier for you as a customizer? (is there a source for parts? Information? Etc. that aids you more than anything else?).
AB: YES! I buy from all the people online. Doc, Reproheads, Castaway, Toy Fanatic, Brian Leitner, Aquatroy, Vince Callaghan, CTVT,,,and whoever else I find. The Mego Museum custom gallery is very inspirational! I wanna customize now even! ALSO! The Mego Meet is the most rockin-est place on the planet! There is a sweet customizing vibe in the air!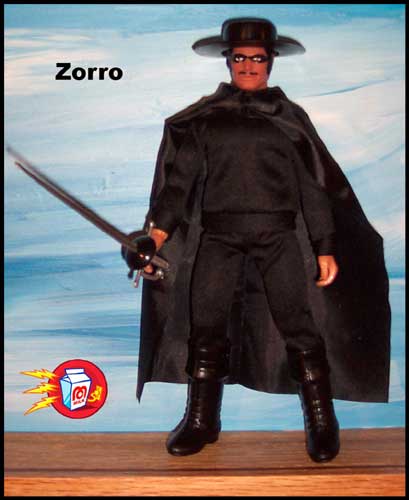 CM: What is your favorite custom you've done and do you think it's your best work? If not, what do you think is your best work?
AB: I really like my Titans and my X-Men. It was fun to make Speedy and Aqualad and especially Beast Boy. AW YEAH TITANS! I like how Angel and Iceman came out too. I have a new Cyclops head from Aquatroy that I will be switching soon. See, always tweaking.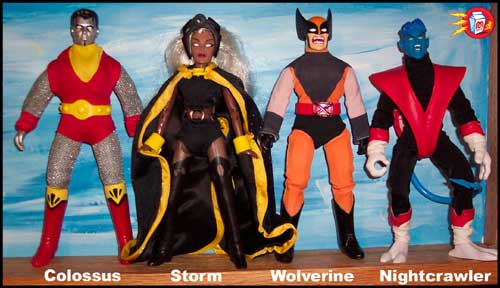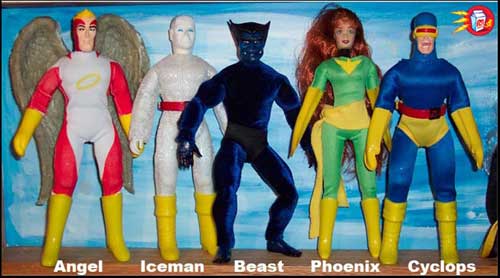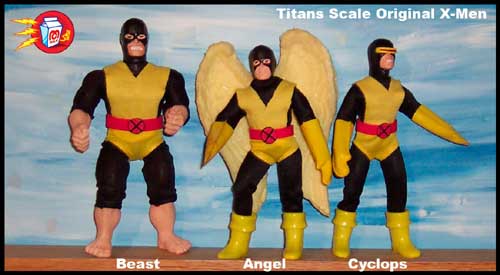 CM: Why do you choose the projects you choose?
AB: I started by making characters MEGO never made. Now I look at parts and wonder who I could make next. It's amazing how much fun it is making a characters who never existed as an 8 inch figure! It's like something happens as you start customizing, you get the spark and it's very difficult to stop. I'm even making characters beyond superheroes. I'm working on Planet of the Apes, Indiana Jones, and Monsters too. The power comes from within.

CM: What are your favorite customs others have done and why?
AB: I'm a fan of Derek Combs and Austin Hough. Derek takes his customs one step beyond mego and makes 'em BAM! In yer face! They are big, bold, and heroic! I saw his Cap and Batman at the Mego Meet and I was an instant fan. I think Austin rocks too. I saw his customs and wanted them all! It's like he is continuing where Mego left off. Austins customs for the Mego 78 catalogue are awesome! I only wish they were real!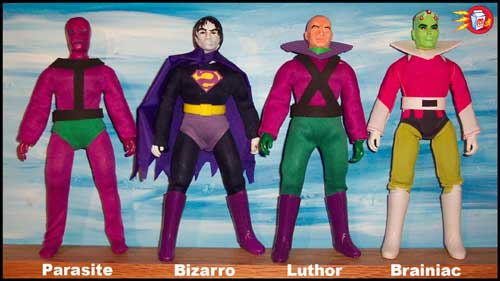 CM: What is on your "to do" list in the near future?
AB: I'm working on an Indiana Jones custom and some Planet of the Apes apes and astronauts. Also, I have a Creature from the Black Lagoon whose part I bought at Mego Meet. Also working on Secret ID's, Matt Murdock, Steve Rogers, Movie Logan. Vulture, Mimic, Tarzan First appearance Superman, Bullseye….the list goes on.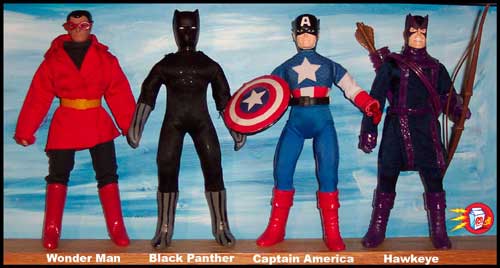 CM: How do you think customizing affects the mego collecting hobby?
AB: I think it brings people back to Mego! I knew of Mego since I was a kid and I just found out about Customizing in 2006…and I already have 180 customs! Also, I picked up a few new Megos to upgrade some of my originals…like Spidey and Thing. So, yeah, I think it has some positive effects on Mego collecting.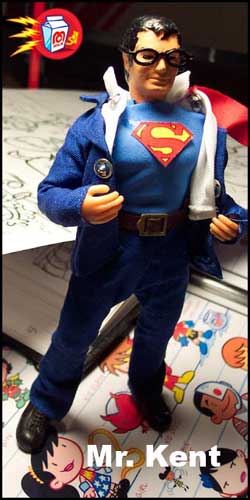 CM: Any tips or words of customizing advise to new customizers?
AB: Yep. Have fun! Be an artist! It's like creating a painting except your canvass is 8 inches and fully poseable.
CM: Do you sell custom figures or parts? If so, why?
AB: Nope, I had a few requests though. I'm thinking about making an exclusive for the next Mego Meet. Hhmmmm….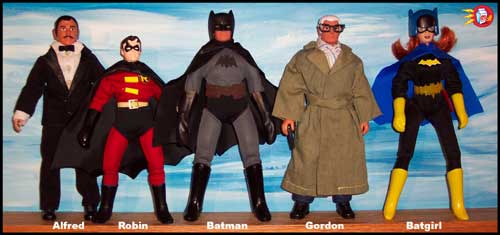 CM: What does your family/friends think of your mego custom work/hobby?
AB: My kids dig it. My wife likes that I like it. My Mom thinks it's cool. My cousins and friends I grew up with think it's the awesomest of awesomeness!
CM: Thanks for chatting with us, Art!
AB: Just want to say… I LOVE the Mego Museum site!! It's so awesome to be a part of the MEGO Makers! Thanks for reading my COTM! It's an honor! Support all the guys making new Megos too!
AW YEAH EMCE! AW YEAH CASTAWAY! AW YEAH MAN!
www.artbaltazar.com/mego