Customizer of the Month- January 2009 - Wayne Kew II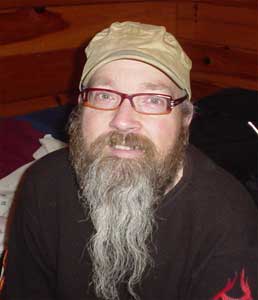 Name: Wayne L. Kew II (Qdogg)
CM: Any Personal Info you are willing to share: (married? Kids? Pets? Occupation? Where from? Other hobbies,/Interests?).
WK: I'm not the marring kind, and I'm currently solo. I don't have any kids of my own but I have two great nieces. I have two dogs, Sara a 13 year old black Lab, Evie a 5 year old beagle two cats, Sassy 15 years old and Eartha who is 5 years old. I've been working in the shipping industry for about nineteen years, and have done a bunch of other jobs along they way! I'm originally from a small town in western New York called Silver Creek, But I have been living in the Harrisburg, Pa area since 81. Besides custom/kitbashing Megos, I've been along time comic book collector, I like to paint and draw, dig movies, going to concerts, and working on cars.
CM: How did you get started collecting mego?
WK: I'm not so much of a collector of original Megos, but as a kid I did have the Star Trek figures, Apes, WGSHs's and Action Jackson.
CM: What is your favorite original mego figure and line?
WK: I would probably have to say the Star Trek figures and especially Mr. Spock were my favorites. I have always been a big fan of the original series.
CM: What is, in your opinion, the biggest "hole" in mego's original lines. (what figure or figure line is missing that should have been done).
WK: Wow, I'm not sure on this one! I guess I who have to say Star Blazers. I loved that cartoon, and I always wished they had them and a ship kind a like the Star Trek Bridge.
CM: What motivated you to start customizing?
WK: The MegoMuseum. About two years ago I found a Captain Kirk and Mr. Spock in my basement and decided to restore them. While looking for parts on eBay, I discovered the museum and saw some really neat customs. I decided to do customs instead of restorations.
CM: What was your first custom?
WK: I made this dude I called Orion the Hunter. He was basically a repainted Spock head and Mego Store parts. I can't find a picture of him, sorry! My second custom was a guy called Minty Molotov, basically Mego Store parts and a head I sculpted from Apoxy Sculpt.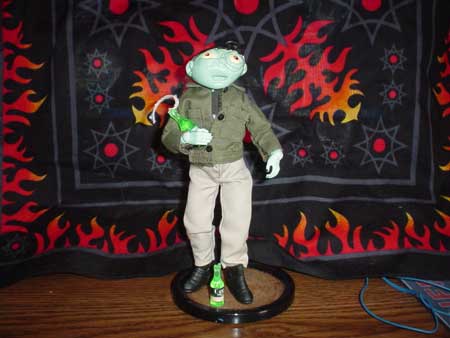 CM: How did it come out? (looking back on it now)
WK: Alright I guess!
CM: What have you done/learned that has improved your customizing skills?
WK: I'm still learning, I think!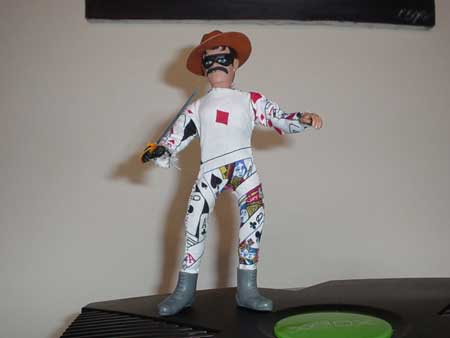 CM: What areas of customizing is your strongest points, or favorite things to do?
WK: I would probably have to say painting resin heads, mixing and matching parts, and creating original characters with interesting back stories. Still can't sew well, but I did just get a sewing machine.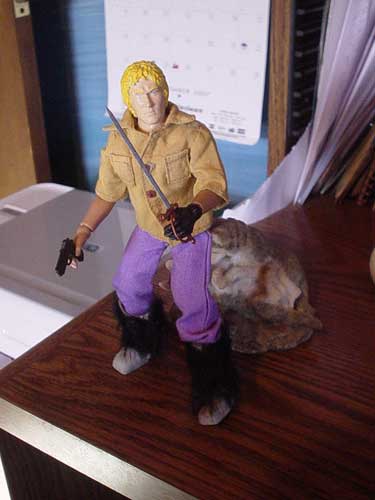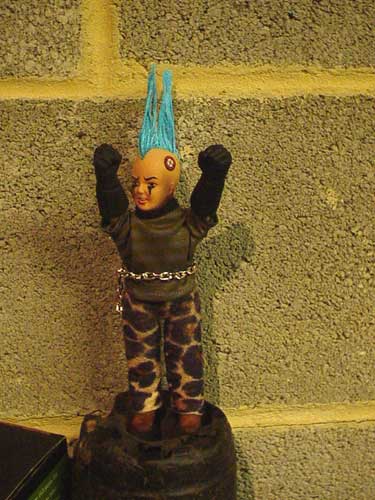 CM: What resources make it easier for you as a customizer? (is there a source for parts? Information? Etc. that aids you more than anything else?).
WK: Customego and advice from all my friends on the forums have been very helpful. For parts I like to keep it in the "family," so to say. Laurie from Toyfanatic, Russ at Customslab, Austin at Reproheads, Joe aka T-bolt, Jason aka BK, Brian Leitner, Paul Lepage, Dave Mc and Paul Evans, Jessica Matt aka Spiderrouge, Ian aka Yanouli, Don aka ctc, Fred aka BlackKryptonite, you get the picture!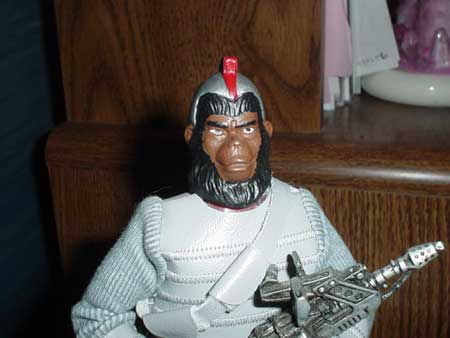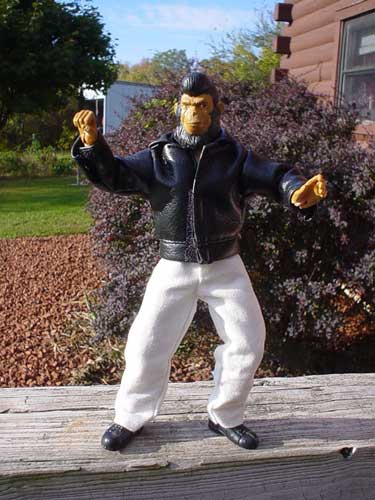 CM: What is your favorite custom you've done and do you think it's your best work? If not, what do you think is your best work?
WK: Hmm! I'm not sure if I have created my best yet, but my favorite so far is probably Ovie, the under the bed monster. But my Che is pretty cool too!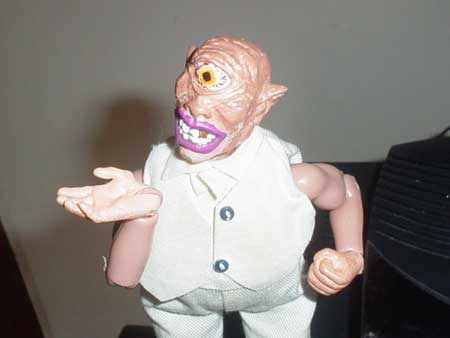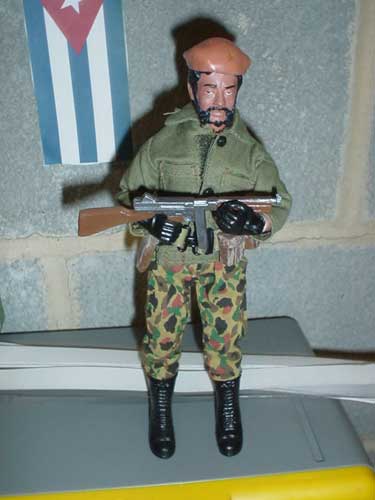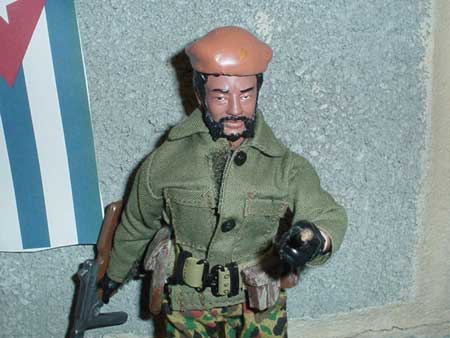 CM: Why do you choose the projects you choose?
WK: I really don't know! I guess I get an idea in my head and just run with it. Since I rarely do established characters my motivation can come from just about anywhere!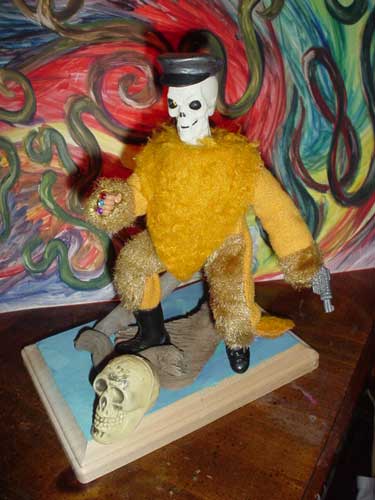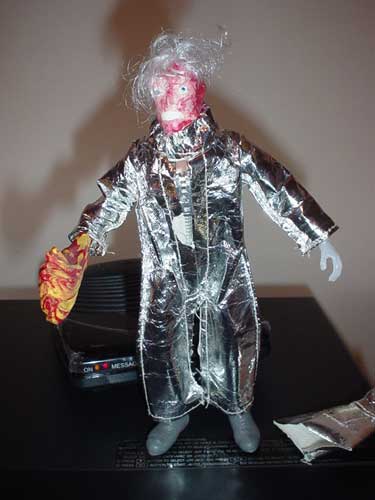 CM: What are your favorite customs others have done and why?
WK: Wow, another hard question! I really enjoy all the customs that show up on the forum, especially if they are true originals! To throw out a few names without slighting anyone, I would have to say T-bolt's steampunk/noir customs, Laurie's zombies, BK's heroes, Al's obscure Marvel customs, John's werewolves, Matt's 9 inch stuff, Dave's Star Trek customs, just to many to list!
CM: What is on your "to do" list in the near future?
WK: I have been thinking of doing some Dune customs, dogg style JLA, and maybe some historical figures!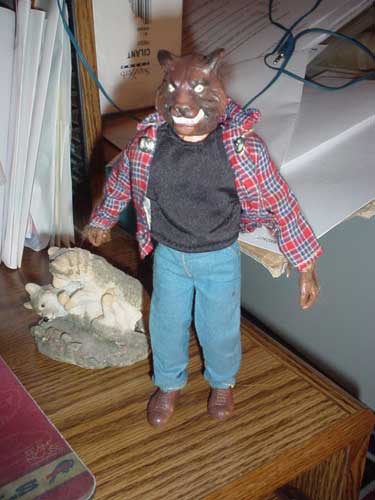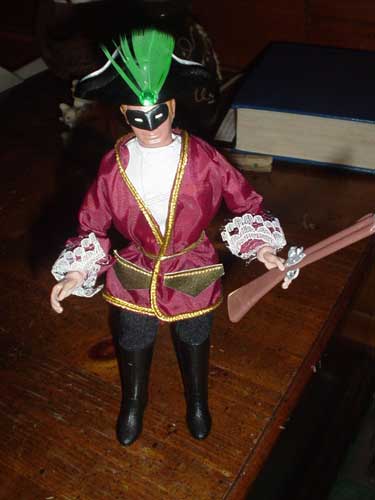 CM: How do you think customizing affects the mego collecting hobby?
WK: Keeps it alive and fun!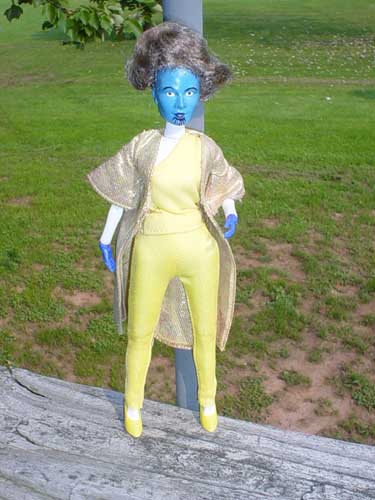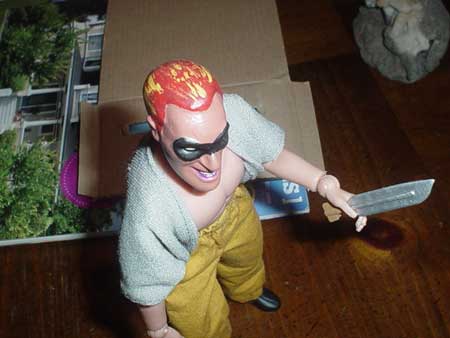 CM: Any tips or words of customizing advise to new customizers?
WK: Just do it! Have fun with it. Keep improving your strong points and try and better your weak ones. It's a great hobby and you get to meet a great bunch of people.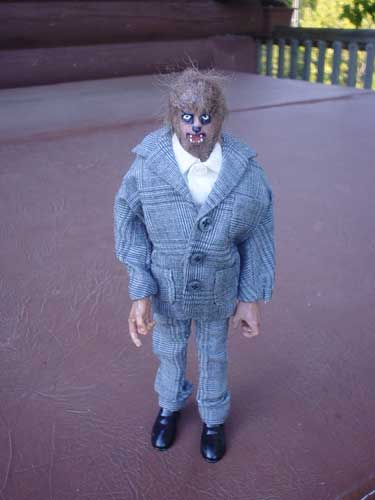 CM: Do you sell custom figures or parts? If so, why?
WK: I really don't make custom parts, can't sculpt all that well and haven't stepped up to casting yet! I'm not into selling my customs, but trading and just giving them away is not of the question. Don't be afraid to ask!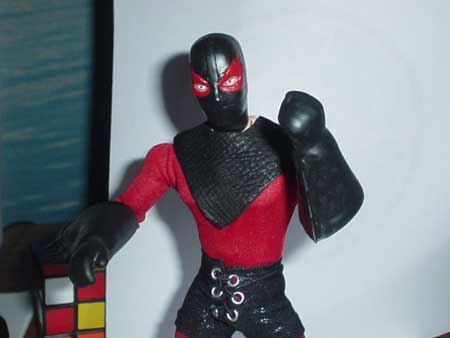 CM: What does your family/friends think of your mego custom work/hobby?
WK: They think its great, just another extension of my general strangeness! My mom and eight year old niece are probably my biggest fans!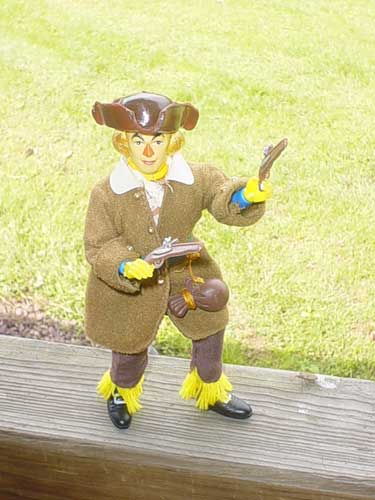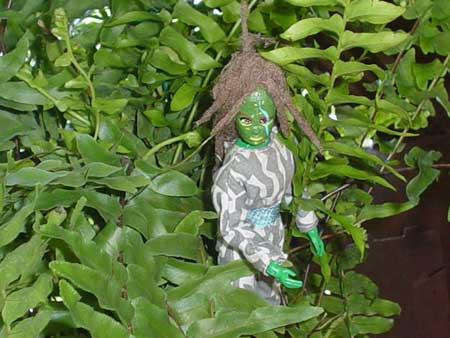 CM: It's been a pleasure to "meet" you Wayne!
WK: I just want to say thanks for all the positive words and advice I have received. The MM is just a fun place with a lot of fun people. I just truly honored to be involved with it. I really been a blast, so to everyone thanks a bunch!