Customizer of the Month- April 2007- Chris Meimann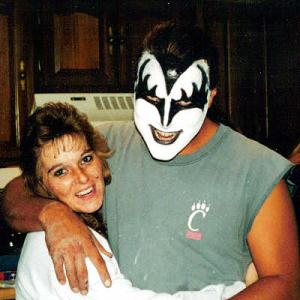 Name: Chris Meimann (AKA Captain Mego)
CM: Any Personal Info you are willing to share: (married? Kids? Pets? Occupation? Where from? Other hobbies,/Interests?).
Chris: I am 39 years old, born in St. Augustien Florida and moved to Northern Kentucky when I was 4 years old. I married the girl next door literaly. She inspires me to create and keep my art alive, if not for her I would have given up on it long ago. She is a religious person and her good nature makes me strive to be a more open giving person. I truly beleve if not for her I would not be here today doing what I do. My Mom, what a great lady and wonderfull person. I owe her everything. She has been an artist of many talents for years. She introduced me to sewing years ago and a whole host of arts and crafts, too many to list. So again if not for her I would not be able to do what I do ,so thanks Mom. I have 3 boys and one girl, love them all dearly.. My youngest boy has started to build figures and shows alot of promise. He has mastered the Flatt style suit. I was inpressed that he even improved the design. I may end up Private Mego at some point if he takes over ..lol But for now girls have his attention so I may have some time still. Smart money says my little girl will be the one to really take to all this and blow my stuff out of the water. She is the most facinated and deticated artist in the house, so my money is on her right now.
My hobby out side of customiizing figures is kyacking. I have been at it for 16 years and it never gets old. Anyone I have ever taken with me has become a kyacker. I always say welcome to your new addiction...lol
I first started playing with Megos when I moved to Kentucky. I moved onto a little side street where I met my Mego buddies Todd and Troy...The times we had ... our Megos had so many adventures. We lived on street out of the way kinda like Mayberry . So we had little bridges over streams and plenty of country side so it was a Planet of the Apes, Bigfoot Steve Austin, Big Jim Adventure, Mego paradise.
Oh and go Joeeeeeeeeeeeeeeee...lol..
We had it all. It was great. Every christmas we would all ask for different Megos so our collective collection was vast. My very best Mego memory was 1975. I was snowed in at my Grandma's house. It was my birthday, I figured no cake, no presents. I was sitting there watching Batman on channel 19. In walks my Grandpa, he sits down a big box in front of me and says, "boy look in the box..." To my suprise it the was a Batman Batcave, with a Batman and Robin, Batmobile, Batcycle, the Joker, the Riddler, and the Penguin. That was the greatest mego day for me of all time.
CM: What is your favorite original mego figure and line?
Chris: My all time favorite mego line was Star Trek. It was my favorite show and the most realistic looking Megos made in my opinion.
CM: What is, in your opinion, the biggest "hole" in mego's original lines. (what figure or figure line is missing that should have been done).
Chris: The missing link in Megos for me ,hmmmmmmmm,,,Welp I was very disappointed there was no Flash figure. I would have loved to have seen Lost In Space or Johnny Quest. The most disappointing one had to be they didn't get to make the Star Wars figures. Yes that for me go would have been the holy grail of Megos. Can you imagine what they would have done with them? The Trek figures look great and they were leaning towards a more realistic looking mego.. So in my opinion Mego would have been the best way to bring Star Wars to the action figure world.
CM: What motivated you to start customizing?
Chris: I had a captain kirk given to me that had no clothes. I think It was about 7 years ago. I went to the net to see if I could even find Megos on ebay . Thinking maybe I could score on a old Trek figure to hijack the clothes from.. And low and behold, wow! I found a whole Mego world. I started looking around and came arcross custom Megos. Being an artist I was fascinated when I saw them. So i decided ot give it a try.
CM: What was your first custom?
Chris: My very first attemp at a custom was a Thor turned into Gene Simmons. My first real custom was a Doctor Octopus. I used a Doc Mego body ,a Flatt head, craft foam for armor, real stainless steel tenicals, and I took a green suit form a Famous Covers Vision. I was happy with it but knew I had alot of work a head of me if I was ever going to end up with anything close to a Charlee Flatt figure.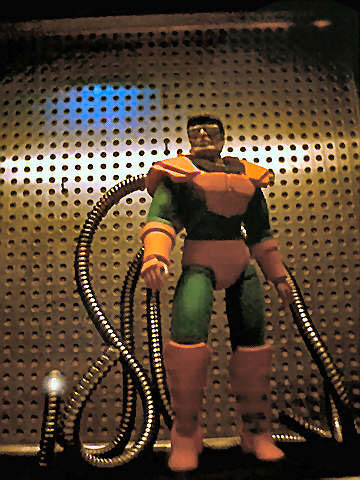 CM: How did it come out? (looking back on it now)
Chris: Looking back on some of my old figures now, I like some of them and some I cant even imagine what was I thinking at the time. I guess my favorite of my first year in as a customizer had to be Boba Fett. I still like that one after all these years.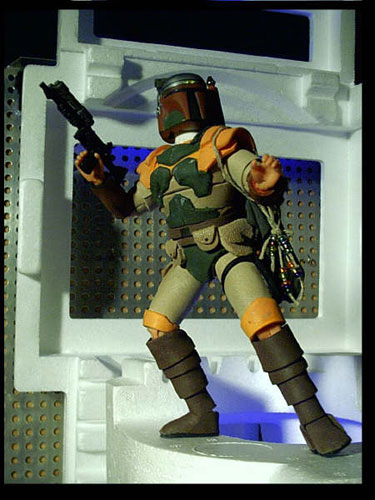 CM: What have you done/learned that has improved your customizing skills?
Chris: I guess the things that have helped me the most in the beginning were imagination, sculpting and painting ability. Learnig how to sew on a machine was a big help ,but learning how to make molds and pour my own parts was priceless. These are all qualities that will be great assets to any new customizer that wants to create a custom. They all take time to learn but will serve you well in customizing a figure. Dont get down becasue your first attempts may not be what you want, mine were not either. Remember it takes time and practice so don't get discouraged. My first attempts were not the best but I kept at it.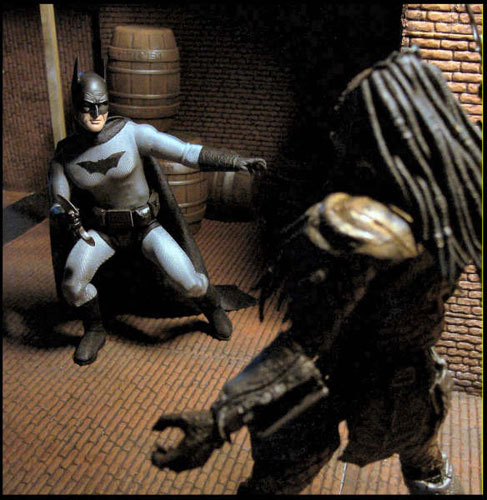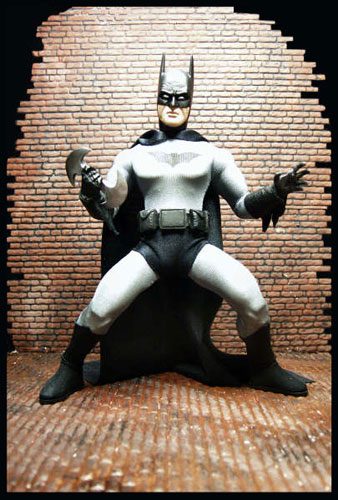 CM: What is your favorite custom you've done and do you think it's your best work? If not, what do you think is your best work?
Chris: My all time favorite custom was Iron Man.. Reason being he took all my skills to the limit. He has always been a favorite of mine but untill this point, he was out of my reach to make.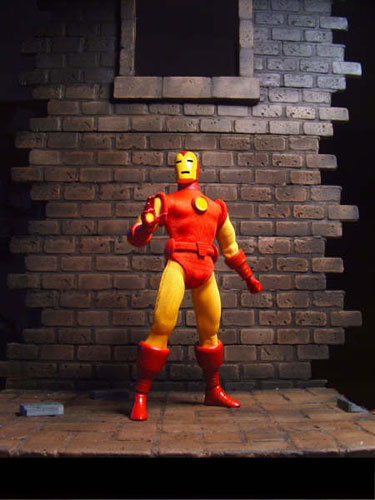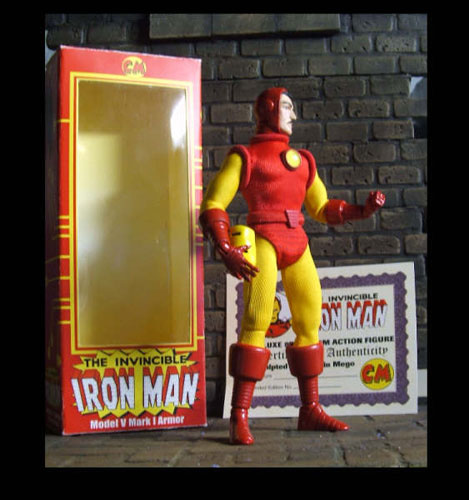 CM: Why do you choose the projects you choose?
Chris: I tend to like making things not done before, stuff that I wanted as a kid . I also like to take characters that are not popular and remake them .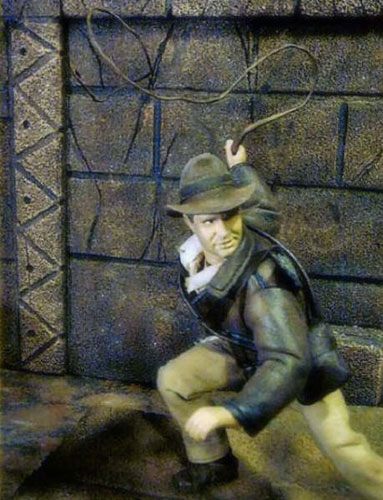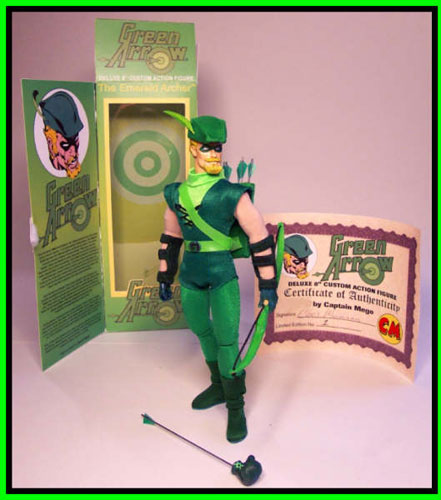 CM: What are your favorite customs others have done and why?
Chris: My persoanl favorite customizer is Charlee Flatt. In my opion, he was the grandfather of custom Megos and I always liked the fact he was so innovative. He most inspired me and my work. My favorite custom was Dr. Doom by Mr. Flatt. I have many favorite customizers but too many to name.
CM: What is on your "to do" list in the near future?
Chris: My to do list goes on and on..lol. I guess at this moment they would be my Star Trek figures.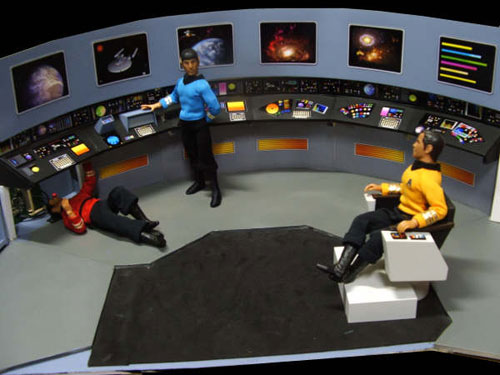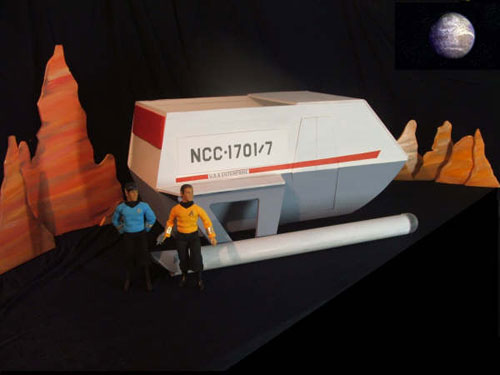 CM: How do you think customizing affects the mego collecting hobby?
Chris: I have always believed customs have enhanced Mego collecting more than it has hurt. Customizers are able to fill in the gaps Mego didn't make.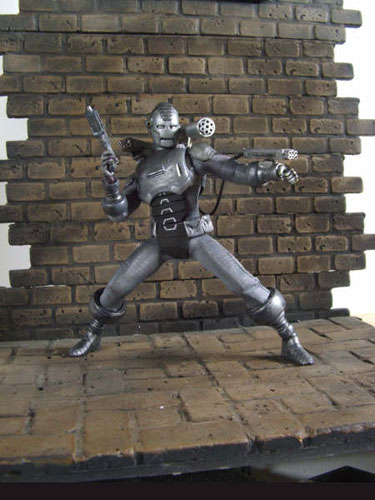 CM: Any tips or words of customizing advise to new customizers?
Chris: My advise to new customizers is stay at it, don't give up and work hard to innovate and not follow the beaten path. Think outside the box. Do your home work and ask questions. There are so many options we didn't have when we started at this so its a great time to be new .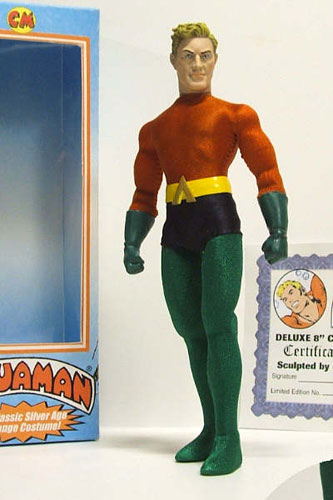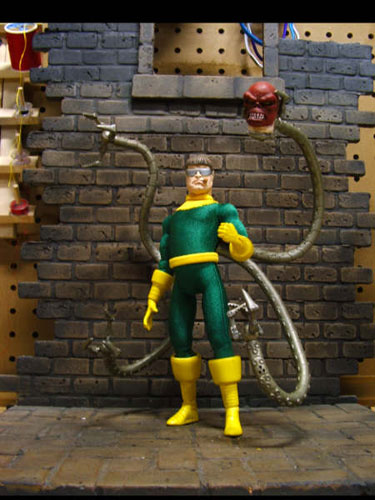 CM: Thanks for taking the time to talk with us Chris! To see more of Chris' work, visit his gallery